February is a big month in our home.  Birthdays, anniversary and more… With all of the hustle and bustle, school and work schedules, it is a wonder we manage to get anything done.
Still, especially when it comes to birthdays, it is important to give each event the special attention it deserves.
This year my second oldest daughter turns eight.  In our family, in our church, this is a tremendous milestone.
This year she has the opportunity to be baptized, and for this we are expecting family from all over the state to come celebrate with us.
Eight is the year we have designated as the time when our girls can get their ears pierced.  If for no other reason than because it is the same age when I got my ears pierced, eight is our year.
Eight is also a year when she will be given more responsibility around the house…her little chores will become more purposeful as will our ability to rely and trust on her, dependent upon her actions.
Eight is a great year, and one we decided to start off with a bang.
When my daughter asked me to make her a strawberry cake for her birthday, I was not certain she and I had the same goal in mind.
I do believe her idea of a strawberry cake resembled more of the pink, sugar filled, overly sweet version you can find ready-made in the store.
In my mind, I imagined something leaning more towards strawberry shortcake.  Fruit sweetened and light as air.
But because my daughter, this daughter, was diagnosed with a milk allergy at just 17 months old, knowing what soft, pillowy sponge cake layered with strawberries and whipped cream tasted like was not something she could fathom.
In the end, I believe this cake is a bit different from what either of us imagined, yet is every bit as delightful as what either of us hoped for.
Undoubtedly the sponge cake can be made into two thicker layers, although I cannot offer a bake time on those.  For this cake and the purpose of several layers of rich, luscious whipped cream intertwined with strawberry, the four thinner layers work perfectly as a method of flavor delivery and presentation.
Gluten-Free, Dairy-Free, Nut-Free, Grain-Free,  Soy-Free and Paleo Friendly, could this be a wish come true?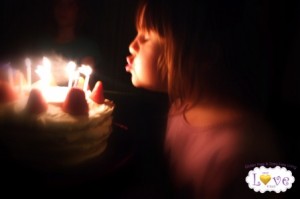 …I think so.  🙂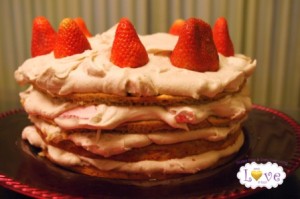 Whipped Coconut Strawberry Cake (Gluten-Free, Dairy-Free, Nut-Free, Paleo Friendly)
Ingredients
Cake:
12 Eggs, separated
½ c Coconut Milk
¾ c Strawberry Puree (about ½ lb blended into a simple puree)
½ c Agave Nectar
1 tsp Vanilla Extract
1 tsp Sea Salt
1 c Coconut Flour
1 tsp Grain-Free Baking Powder (I use The Spunky Coconut's recipe with arrowroot powder. It comes out perfectly every time.)
 
Whipped Cream with Strawberry Filling:
6 cans Full-Fat Coconut Milk, chilled at least 24 hours
1 c Arrowroot Powder
1 c Palm Sugar
2 Tbs Coconut Flour
1 lb Strawberries, reserving 8 for garnish, slicing the rest
Instructions
Preheat oven to 350f. Separate the eggs using the method shared here, placing yolks into large mixing bowl and the whites into warm metal stand-up mixer bowl.
Whip egg whites into stiff peaks and set aside.
In large mixing bowl, whip together yolks, butter-flavored shortening, coconut milk, strawberry puree, agave nectar, sea salt and vanilla extract. Add in coconut flour and baking powder. Gently fold mixture into egg whites and spread batter evenly between four greased 9 inch cake pans.
Bake at 350f for 20 minutes, or until they pass the knife test.
 
Prepare whipped filling. Open chilled coconut milk, removing as much of the cream from the top as you can without getting too much of the coconut water below. Place cream into large, chilled mixing bowl for stand-up mixer. Using medium speed, whip cream until light and fluffy.
While this is happening, blend together arrowroot powder and palm sugar until they resemble powdered sugar, approximately 15 seconds.
Turning the mixer speed to medium-high, slowly add in coconut flour and powdered sugar, doing no more than ¼ powdered sugar at a time. Use as much or as little of this mix as you prefer. Because I was aiming for something between frosting and whipped cream, I used the entire batch for ours.
Once whipped cream is sweetened to your liking, remove from mixer and gently fold in sliced strawberries.
Refrigerate until cakes are completely cooled.
Once cool, layer cake and whipped filling, using ¼ filling mixture between each layer and the remainder of the filling on top.
Garnish with whole strawberries and refrigerate until ready to serve. Makes 16 Servings.
Copyright And Love it, Too! May not be published or duplicated without written permission.
Whether you use this to surprise your sweet valentine or simply wish to enjoy a dish that is truly over-the-top, I hope you enjoy this lovely dessert as much as we have.
Don't forget to stop by the Ingredient-Challenge Monday post from last week and share your favorite fennel recipe.  We would love to feature your recipe on our site!
Have a wonderful week. xoxo