🙂 I have had the intention to make Gluten Free-Dairy Free Nut Butter cups for my kids for a while now.  With Easter quickly approaching, the television heavily laden with Reese's commercials and the grocery aisles loaded with these smooth, creamy treats, well…it seemed about time to make my kids a treat they so readily deserve.
Quick and easy, these treats include the Raw, Vegan Almond Butter I shared earlier tonight.  Without any added sugar to the nutty filling and just a touch of nutritional yeast, these dark-chocolate versions of the classics provide a nutritional boost to an old time classic your entire family can enjoy.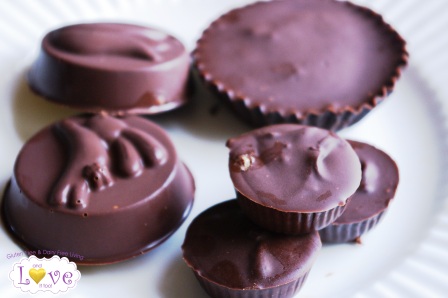 Vegan Nutty Butter Cups
1 ½ Tbs Nutritional Yeast
2-10 oz bags Vegan Chocolate Chips
First, mix together the almond butter and the nutritional yeast.  The nutritional yeast will help to absorb some of the naturally occurring oil from the almond butter, keeping the almond butter from softening the chocolate, and adding a bit of nutrition as a hidden bonus! (Love that!) The mix should form a bit like dough, soft but not crumbly.  Add more almond butter/nutritional yeast as needed (refrigerated left-overs make great almond butter balls to snack on).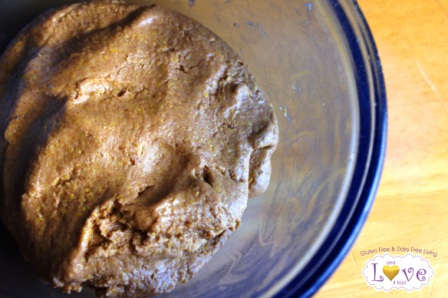 Next, melt your chocolates.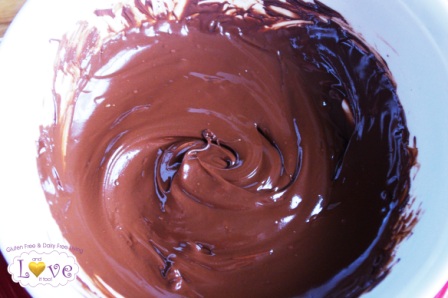 There are two basic methods for melting chocolate chips.
Microwave in a ceramic or glass bowl for 2 minutes, stopping every 30 seconds to stir and removing the chocolate once the mix is melted but before getting too hot.
On the stove, using either a double broiler (preferred) or small saucepan, melt your chocolate over medium heat, removing once all chips have melted. 
Either way, do not over heat the mix and do not allow any water to enter the pan.  Both will ruin the chocolate (and nobody wants that!).
Now, choose your method/candy type: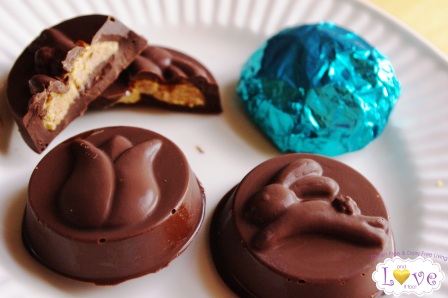 These cute Easter candies are made with a candy mold designed to make chocolate covered cream cookies.  Found at my local craft store, I found these were the perfect size (not too big, not too little) to make these treats.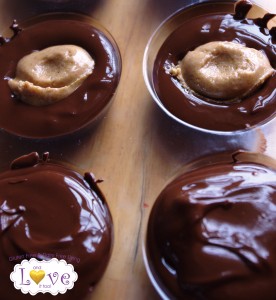 For these I layered 1 Tbs melted chocolate with 1 tsp almond butter mix, topping with 1 Tbs chocolate.  Allow to cool in the refrigerator for approximately 15 minutes before removing from mold and covering in wrapper.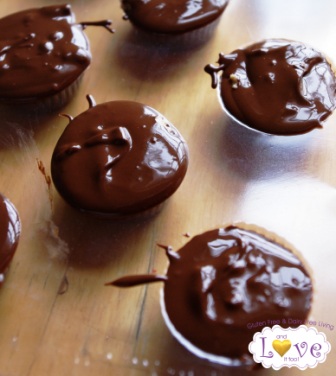 These miniature cups were also made with a candy mold purchased at my local craft store months ago (after which they promptly went to rest on my supply shelf until I found the ideal moment to use them…darling, this was the moment!).  For these, I used 1 tsp chocolate, ¼ tsp almond butter mix and covered this with 1 tsp chocolate.  I believe these measurements would work well with miniature cupcake liners as well.  Allow to cool in the refrigerator for approximately 15 minutes before removing from mold and covering in wrapper.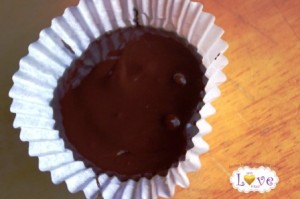 The large, more traditional nutty butter cups were made with regular size cupcake liners.  For this, I used 1 ½ Tbs chocolate, ½ Tbs almond butter mix and 1 tbs chocolate to cover.  Again, allow to cool in the refrigerator for approximately 15 minutes before removing cupcake liner and wrapping in foil.
Whatever you choose to do with these delightful candies, I do hope you and your family enjoy every last decadent bite!
For more Easter/Passover ideas, be sure to visit the lineup over at Spunky Coconut, and Elana's Pantry…I am amazed at what these ladies have put together!
Happy Easter!