'Tis the seasons of surprises.
Imagine how tickled I was to receive a package from Ten Speed Press with a new cookbook just before Christmas!
Denise Jardine's The Dairy-Free & Gluten-Free Kitchen is everything this lovely cover cracks it up to be…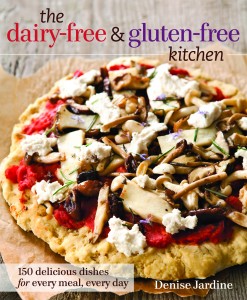 I mean, seriously, what screams gluten and dairy more than pizza?  And that cheese?  It must be goat's milk cheese, right?
Wrong.
This rustic mushroom pizza is topped with Denise's Creamy Macadamia Pine Nut Cheese… Not an ounce of mammal cheese or casein found in any recipe within this book.
Yayyyy!
While my family and I have enjoyed several of Denise's recipes since receiving this lovely book, I must say one of the features that impresses me most about this cookbook is the detail Denise offers regarding dairy-free and gluten-free living.
I was extremely pleased to find that Denise takes the time to elaborate on dairy issues including lactose intolerance, milk proteins and allergies.  She goes on to discuss various ways to obtain calcium without eating dairy, the reasons why dairy is important (beyond the bone) and gives a detailed list to help identify potentially hidden sources of dairy in packaged foods.
With nearly as many hidden terms for dairy or casein as there are for gluten…it is important to know what you are getting!
Denise goes on to discuss gluten, celiac disease, and the link between lactose intolerance and celiac disease.  As she does with milk, Denise also gives a very detailed list of pseudonyms we must know in order to correctly identify sources of hidden gluten within our food.
Throughout her introduction section, Denise manages to answer many of the questions I faced when first transitioning into a diary-free, and later a gluten-free lifestyle.
…If you were to purchase this book for no other reason, the detail on dairy-free and gluten-free living alone would make the investment worthwhile.
But then, there are the recipes.
So many beautifully recipes!
Inspiration for every meal of the day, this diary-free and gluten-free cookbook is an excellent choice for anyone who is new to, or an expert at gluten-free and dairy-free living.
Each recipe is clearly marked with a Free of label which allows you to know, at a glance, if the item you are wanting to make has eggs, soy, nuts, sugar or oil (everything is already free of dairy and gluten, so no worries there!).  For those of us who face additional dietary challenges, self-imposed or otherwise, this feature makes selecting the ideal recipe easy, and is just one of the many reasons why I thoroughly enjoy this book.
While there are not any recipes specifically aimed at the Paleo lifestyle, many of Denise's recipes fit nicely into a Paleo diet or can be easily converted…
Like the flourless  almond cake recipe below.
Oh my is this recipe wonderful!
The cake itself is almost pudding like in texture.  Topped with candy-like almond paste then covered in a luscious chocolate glaze; this cake is rich enough for the heaviest chocolate craving yet light enough to allow even the youngest child to enjoy.
I used equal parts palm sugar in place of the sugar called for in this recipe and was positively pleased at the result.
Perfect for your New Year's gathering…I hope this recipe helps to fill your home with much joy.
Oh…and don't forget to enter my giveaway, below. 😉
Reprinted with permission from The Dairy-Free & Gluten-Free Kitchen: 150 Delicious Dishes for Every Meal, Every Day. Copyright © 2012 by Denise Jardine. Published by Ten Speed Press, an imprint of the Crown Publishing Group, Berkeley, CA. Photo copyright © 2001 by Caroline Kopp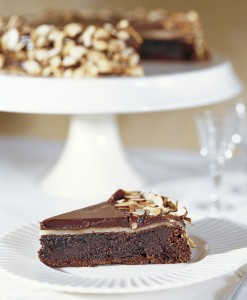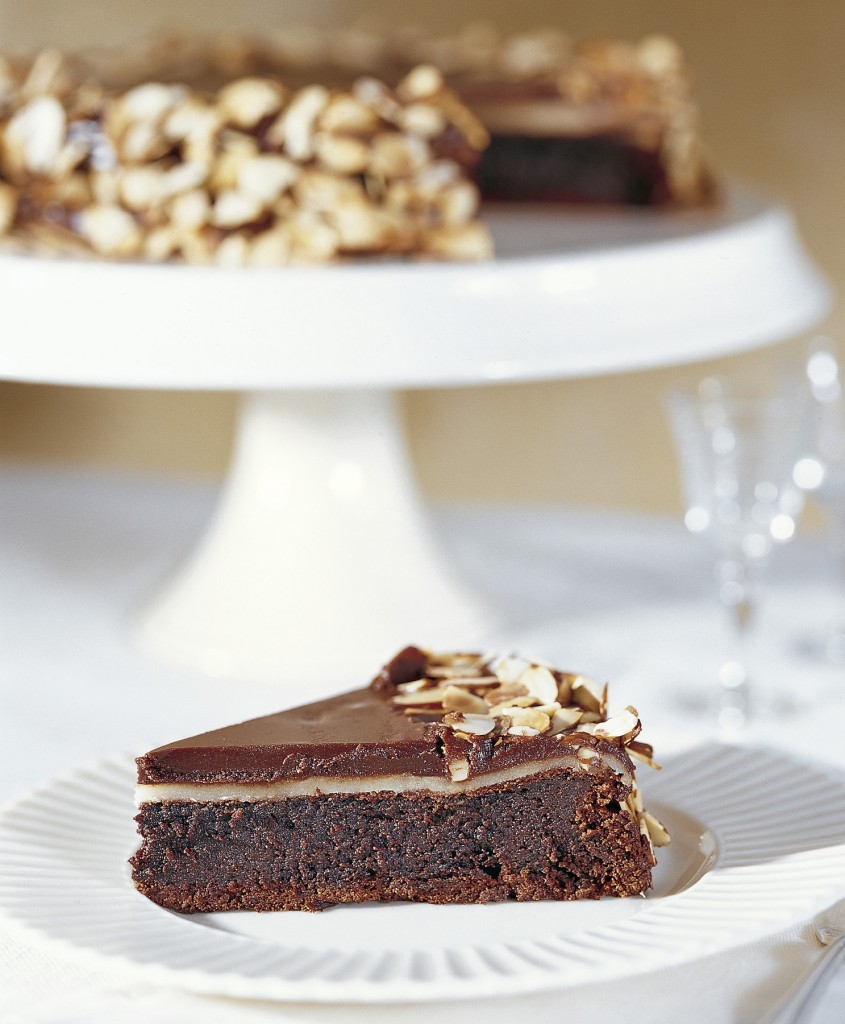 flourless chocolate almond cake
Free of      soy*     oil 
makes one 9-inch cake
cake
8 ounces semisweet dairy-free chocolate*, chopped
3/4 cup canned light coconut milk
2 teaspoons gluten-free vanilla extract
1/4 cup almond meal flour
6 large eggs
1/2 cup sugar
glaze
2/3 cup canned light coconut milk
8 ounces bittersweet or semisweet dairy-free chocolate*, finely chopped
11/4 cups sliced almonds, toasted (see page 186)
Almond Paste (page 156)
to prepare the cake: Preheat the oven to 400°F. Line the bottom of a 9-inch springform pan with parchment paper, generously grease the paper and sides of the pan, and set aside.
In a food processor, grind the chocolate into a coarse meal. Heat the coconut milk in a saucepan over medium-high heat, until it just reaches a boil. Pour the milk over the chocolate in the food processor and pulse until smooth. Transfer the chocolate to a large bowl. Stir in the vanilla and almond meal flour.
Using an electric mixer, beat the eggs and sugar on high speed for 4 minutes, or until the mixture has doubled in volume. Fold the eggs into the chocolate mixture until just incorporated. Pour the batter into the prepared pan and bake until a dry crust forms on top but the center is still slightly soft, 20 to 22 minutes. Transfer the pan to a wire rack and allow the cake to cool completely, about 11/2 hours. Refrigerate for 2 hours or overnight to set. The cake will fall as it cools. Before removing the cake from the pan, lightly press down on the top of the cake to compact it further and to even out the crusty top. Remove the sides of the pan. Using the cake pan as a guide, cut out a 9-inch cardboard round and place it on top of the cake. Invert the cake onto the round, gently brush away any large crumbs. The cake can be prepared 1 day ahead if tightly covered and kept at room temperature.
to finish the cake: Roll the almond paste between 2 sheets of plastic wrap to a thickness of about 1/8 inch. Cut out a 9-inch circle, using the bottom of the cake pan as a guide. Place the almond circle atop the cake. Transfer the cake to a wire rack and place the rack over an extra-large bowl. The bowl will be used to catch the excess chocolate glaze.
to prepare the glaze and decorate the cake: Set a small saucepan over low heat and melt the coconut milk and chocolate, stirring until smooth. Remove from the heat and cool until the glaze is almost set but still spreadable. Spread the sides of the cake with just enough glaze to even out any imperfections, taking care not to let any crumbs get into the remaining glaze. Slowly reheat the glaze over low heat until it is smooth and just pourable, but not thin and runny. Pour the remaining glaze into the center of the cake and, working quickly, spread it over the top of the cake and around the sides, working the glaze as little as possible. Allow the glaze to cool slightly. Sprinkle the almonds around the outer edge of the top of the cake, forming a 11/2-inch border. Gently press the almonds onto the sides of the cake so they adhere to the glaze. Transfer the cake to a platter and allow the glaze to set for about 30 minutes. Serve at room temperature.
almond paste
11/2 cups almond meal flour
3/4 cup sugar
3 tablespoons water
11/2 tablespoons freshly squeezed lemon juice
to prepare the almond paste: Place the almond meal flour in a food processor. In a medium saucepan combine the sugar, water, and lemon juice over medium-high heat. Stir the mixture until the sugar dissolves and begins to boil. When it begins to boil, start a timer and boil the syrup for 31/2 minutes, until it reaches the soft ball stage or until a candy thermometer reaches 240°F. (The soft ball stage is the point at which a drop of boiling syrup dropped in cold water forms a soft ball.) With the motor running, begin pouring the syrup into the processor in a slow stream, and process until fully incorporated, about 2 minutes. Spread a piece of plastic wrap on the counter and spoon the paste onto the center. Shape the paste into a log and wrap tightly in plastic wrap. Refrigerate for 1 week to cure or up to a month. To work with the paste, bring it to room temperature before rolling it out.
toasted nuts and seeds
Free of      egg     soy     sugar     oil 
to toast nuts: Place the nuts in a large skillet over medium-high heat. Toss them continuously in the skillet until the nuts begin to crackle and turn a light golden color. Transfer the nuts to a plate and spread them in a single layer to cool.
to toast sesame seeds: Place the seeds in a small skillet over medium-low heat. Toss the seeds continuously in the skillet until they begin to crackle and pop, 1 to 2 minutes. Transfer the seeds to a plate and spread them out in a single layer to cool.
to roast nuts: Preheat the oven to 300°F. Line the bottom of a rimmed baking sheet with parchment paper. Spread the nuts on the prepared pan in a single layer. Bake until they turn a light golden color, 10 to 15 minutes, depending on the size of the nuts. Nuts burn easily, so watch them closely.
to store toasted or roasted nuts or seeds: Allow the nuts or seeds to cool completely before you store them or they will become soggy. Store in an airtight container at room temperature for up to 1 week.
Before I go… I did say I was going to do a giveaway, didn't I?
🙂 Once again, the publishers at Ten Speed Press have honored me with a special giveaway copy of The Dairy-Free & Gluten-Free Kitchen to one lucky winner!
What a great way to start out the New Year!
1) "Like" And Love it, Too! On Facebook, leave a comment below
2) Follow @andloveittoo on Twitter, leave a comment below
3) Post a link to this giveaway on Facebook. Tag And Love it, Too!, and leave a comment below telling me that you did
4) Share this a link to this giveaway on Twitter, mention @andloveittoo, and leave a comment below telling me that you did
5) Tell me what your goals are for this New Year, what inspires you or where you would like to go (professionally, philosophically or in regard to traveling).
Entries will be taken through December 31, 2011 at 11:59pm and winner will be announced January 1, 2012.
Happy New Year! xoxo