Last week I shared how I managed to stretch a meal originally planned for 4 to be enough for 8 people…this week, the concept is similar.
Fruits and vegetables can make a meal stretch. Use these instead of grains and you've got a paleo plan you can afford to stick with.
Because we purchase our produce through the local farmer's market and an organization called Bountiful Baskets, we have cut our produce expenses down by hundreds of dollars a month. I make a point of befriending local farmers and ranchers and often hang out at the market until the end of the day, when they are making a push to sell the last of their produce…by doing this I have been greatly blessed with some amazing friendships and doubly blessed by reduced produce expenses. Support your local farmers, it's a win-win relationship.
In the past I have also grown much of our produce but unfortunately am just now getting our yard where it needs to be to do so here (it takes time to prep the ground!).
If you are able, I strongly recommend planting and growing what you can. You'd be amazed what a couple of tomato, watermelon, cucumber, squash and kale plants can provide. Once the ground is prepared, it all comes with relatively little maintenance as well.
That being said, these kabob's were a total hit. Even though there is relatively little meat, the fruits and the vegetables filled my teenagers bellies with ease.
Whole30 and stage2 ACD safe (pineapple is considered safe on most anti candida diets because it provides natural enzymes that help you digest your food more effectively), I hope you enjoy these grilled teriyaki kabobs as well as we did!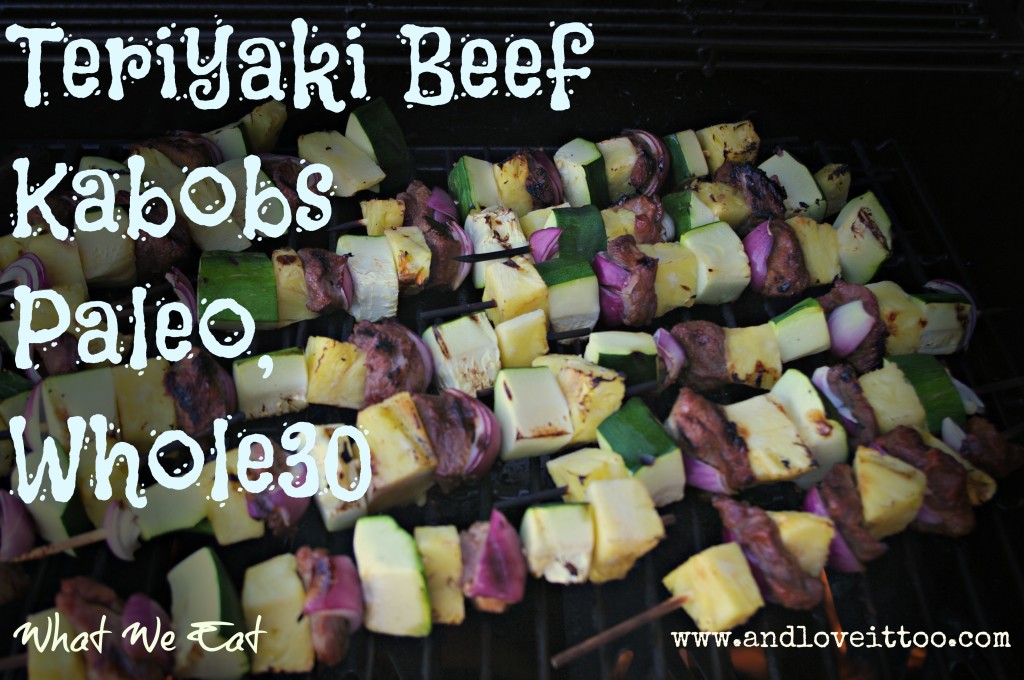 Teriyaki Beef Kabobs
2015-06-20 15:32:53
Serves 8
Nutrition Facts
Amount Per Serving
* Percent Daily Values are based on a 2,000 calorie diet. Your Daily Values may be higher or lower depending on your calorie needs.
Ingredients
2-3 lbs lean steak (we used grassfed sirloin cuts from our local rancher)
1 cup pineapple juice
½ cup coconut aminos
2 tsp garlic powder
2 tsp onion powder
2-3 lbs zucchini
2 medium-small pineapples
2 large red onions
15-20 kabob sticks
Instructions
First, prepare your steak by cutting into large, 1 in cubes. Place in a deep container to marinade like a 9 x 11 glass pan. Sprinkle garlic and onion powder evenly over steak cubes, using your hands to rub the spices in and spread evenly. Pour pineapple juice and coconut aminos evenly over steak cubes, cover and refrigerate for 2-3 hours or overnight.
About 20-30 minutes before you're ready to grill, if using wooden sticks, soak kabob sticks in water while you prepare your zucchini, pineapple and red onions, cutting each into 1 inch cubes (1 inch slices for the onions).
To prepare kabobs, follow a pattern of pineapple, zucchini, onion, meat, until the kabob is completely loaded (I was able to get 2 chunks of meat with 3-4 chunks of fruits and veggies on each).
Heat grill to medium-high and lay kabobs evenly over the entire grill. Allow each side to cook approximately 2-5 minutes, depending on how well done or rare you wish your meat to be.
Remove from heat and serve warm.
Makes 5-8 servings.
And Love it Too! http://andloveittoo.com/