Some days you wake up and just know that you're hungry for something high-powered but egg free.
Some days you really, really desire something that is both sweet and savory.
And some days you know you'll need to make a lot all at once to make your efforts worthwhile (and to ensure delicious leftovers!!).
For those days, this dish is made for you!!
The perfect balance of sweet and savory, coupled with some high-powered protein, makes it an easy meal you'll want to return to over and over!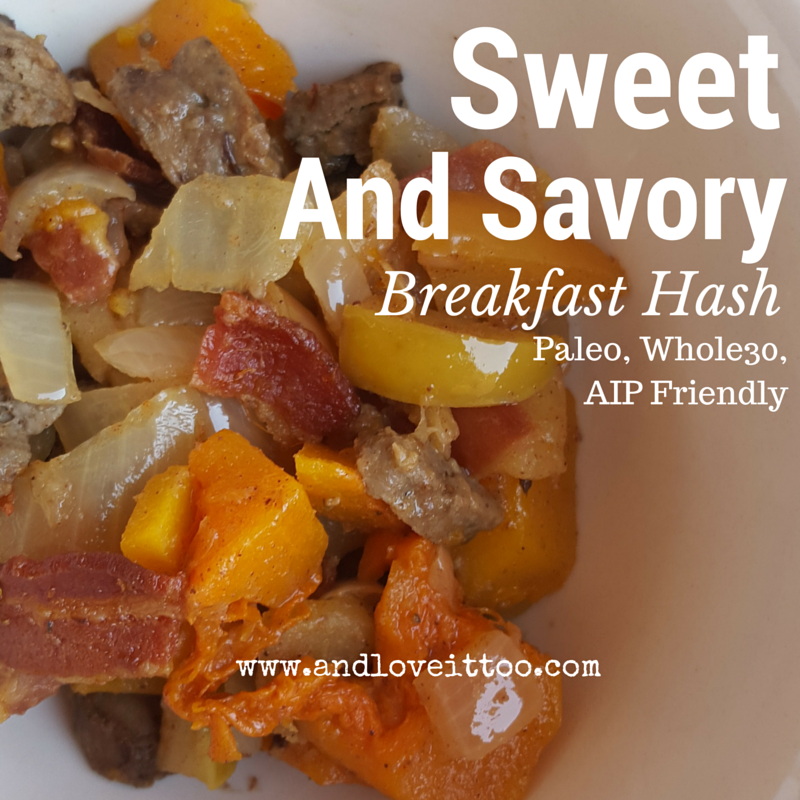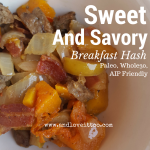 Sweet and Savory Breakfast Hash
2016-03-09 12:02:04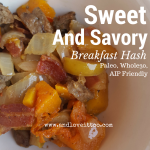 Serves 10
Sweet and Savory Breakfast Hash takes the best of butternut squash and apples and combines them with savory bacon and sausage to make for one delicious and delightful egg-free high-nutrition breakfast!
Nutrition Facts
Amount Per Serving
* Percent Daily Values are based on a 2,000 calorie diet. Your Daily Values may be higher or lower depending on your calorie needs.
Ingredients
2 large butternut squash, peeled and diced
4-5 small-medium Apples (I did a combination of red and green), diced
1 large onion, diced
2 cloves of garlic, minced
1 TBS Cinnamon
1 package sugar-free, nitrate/nitrite free bacon (I use this brand)
6 AIP sausage patties (find my recipe here), diced
Salt and Pepper to taste
Instructions
Preheat oven to 425f.
Lay bacon evenly across the base of a large 13x9 inch pan. Bake at 425f until crisp. Remove bacon and reserve grease.
Toss diced butternut squash, apples, onion and minced garlic in reserved bacon grease. Sprinkle with cinnamon and stir to coat evenly.
Bake at 425 for 30 minutes or until butternut squash is tender. Add in diced sausage and bacon crumbles and bake for an additional 10 minutes.
Serve warm and enjoy!
Store leftovers in airtight container for up to 3-5 days (if it lasts that long!). Freeze for up to 6 months.
And Love it Too! http://andloveittoo.com/