It might surprise you to learn that my husband and I don't celebrate Valentine's Day.
Nope. Never. Not once.
You see, my husband has this thing against a commercially exploited day supposedly designed to tell the person you love that you love them. He believes that love is something to be expressed on a daily basis, that one should surprise and spoil randomly and not have to have a designated day to express love.
Luckily, he follows through this belief in his actions. And even though I do know without a doubt that he loves me; and while I understand where he is coming from, the girl inside of me still wants to be pampered with roses, sweet surprises, dinner dates and all the other things you dream of when Valentine's is around the corner.
So when we were deciding on the perfect day to schedule our wedding, there seemed to be two main options; 1. Either we get married on my mother's birthday, February 13th and he could spoil me that day so I'd never feel a loss on Valentine's or, 2. We get married in March and we do Valentine's like all of the other couples we know.
Needless to say, he opted for option #1. Given that he asked me to marry him on his mother's birthday (her suggestion), it seemed only fitting to be wedded on the day of my mother's birth.
So in this week filled with love, sweets for your sweet, happy memories and wonderful surprises; we still have plenty of excuses to celebrate…even if we don't do Valentine's Day.
This year, my surprise treat for my husband came in the form of one of his favorite gluten and dairy-filled desserts…only, true to my nature, this one is Paleorific.
Boston Cream Pie comes in many ways, topped with a chocolate glaze or ganache, simply sprinkled with powder sugar, and on a more rare occasion, topped with strawberries and frosting.
My husband's favorite? The latter, more complicated recipe…but the end result is worth every second.
The added drizzle of chocolate sends this cake up over the top, and the leftover ganache can be used to cover any leftover strawberries for you to enjoy separately. Or together. Whichever you prefer. 😉
Most of this cake can be made up to two days ahead of time, although I recommend making the ganache on the day of.
I know this recipe is up too late for your Valentine's Day celebration, but why not extend your joy and give this to the one you love this weekend. Or next week, or anytime. Just because. I mean, really, doesn't the one you love deserve a sweet surprise…Valentine's Day or not? 😉
Enjoy and happy Valentine's Day!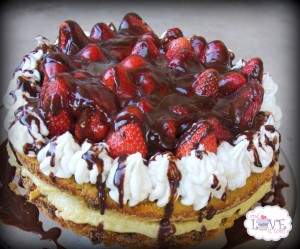 Strawberry Topped Boston Cream Pie (Gluten-Free, Dairy-Free, Nut-Free, Paleo)
Ingredients
Cake

1 c coconut flour
½ tsp baking soda
½ tsp sea salt
8 eggs
2/3 c coconut oil
½ c honey or palm syrup
4 Tbs vanilla extract
Pastry Cream Filling

2 cups whole-fat canned coconut milk
2 Tbs vanilla extract
6 egg yolks
2/3 c palm or turbinado sugar
¼ c arrowroot powder
1 Tbs coconut oil
Glazed Strawberries

1 lb ripe strawberries, hulled
½ c palm or turbinado sugar
4 ½ tsp arrowroot powder
¼ c cold water
1 tbs coconut oil
2 tsp lemon juice
Vanilla Frosting

2 cups arrowroot powder
2 cups palm or turbinado sugar
½ c palm oil shortening
¼ c whole-fat canned coconut milk
½ tsp vanilla extract
Chocolate Ganache

4 oz dairy-free chocolates (I use Enjoy Life brand)
¼ c whole-fat canned coconut milk
Instructions
Preheat oven to 350f.
Grease and flour two 9-inch cake pans, set aside.
Prepare cake by mixing together coconut flour, baking soda and ¼ tsp sea salt in medium sized mixing bowl. Set aside. Using stand or hand mixer, beat 8 eggs until fluffy then mix in remaining coconut oil, palm syrup and vanilla extract. Mix in dry ingredients and blend until no lumps remain. Pour ½ cake mixture into each prepared cake pan and bake for 20-25 minutes or until a toothpick inserted in the center of the cake comes out clean. Allow to cool 10-15 minutes before removing cakes from pan. Refrigerate up to 48 hours until ready to build cake.
In medium sauce pan, prepare pastry cream filling by bringing 2 cups of whole-fat canned coconut milk to a boil over medium heat, set aside. Whip together egg yolks, palm or turbinado sugar and arrowroot powder until light and fluffy. Slowly add in ½ cup hot milk and whip for approximately 60 seconds before mixing in the remainder of the milk. Return egg and milk mixture to saucepan. Add in coconut oil and cook over medium heat, whisking continuously until thick. Remove from heat and cover. Refrigerate at least two hours until ready to build cake.
Prepare glazed strawberries by mixing palm or turbinado sugar, arrowroot powder and cold water together. In medium sauce pan, bring sugar mixture to a light boil over medium heat and add in coconut oil and lemon juice. Quickly add in hulled strawberries and continue to cook, stirring gently to not smash the strawberries, until sauce becomes thick. Remove from heat and allow to cook. Use immediately or refrigerate up to 24 hours until ready to use.
Prepare frosting by mixing together arrowroot powder and palm or turbinado sugar until powdered sugar texture has been achieved. Set aside. Using an electric or stand mixer, cream palm shortening until smooth and creamy, 2 to 3 minutes. With mixer on low speed, add in 3 cups or sugar, milk and vanilla, mixing until light and fluffy. If necessary, slowly add in remaining cup of powdered sugar until you have achieved your desired consistency. Refrigerate up to 48 hours, removing at least two hours before you are ready to build your cake.
Once you are ready to put your cake together, prepare ganache in medium sauce pan by melting semi-sweet chocolates and ¼ c whole-fat coconut milk over medium-low heat, mixing continually until chocolates are completely melted. Set aside.
Build your cake by placing one layer of cake on to serving platter. Spread pastry cream evenly over the first layer then carefully place the second layer of cake over pastry cream, pressing gently to ensure cake is level. Gently clean off sides, removing any pastry cream that has seeped out during the preparation process. Leaving about a ½ inch gap along the edge, arrange strawberries in one large circle first, filling in the center with the remaining strawberries and spreading any remaining glaze evenly over the strawberries.
Fill in the remaining gap along the top edge of the cake with frosting by preparing piping bag with a coupler and a large closed star, open star or french tip. Fill with frosting and decorate as desired.
Carefully drizzle ganache over the cake, creating a zig-zag or checkered pattern. Use as much or as little of the ganache as you please for this step. I ended up using approximately 3/4th the prepared ganache and used the remaining sauce to cover leftover strawberries which we enjoyed at a later time.
Refrigerate until ready to serve.
Makes approximately 8-10 servings
Copyright And Love it, Too! May not be published or duplicated without written permission.