I first discovered coconut butter at my local health food store.  Purchased more out of curiosity than anything, one little bite and I was positively hooked!
This Strawberry Coconut Butter came after experimenting with this brilliant Coconut Butter recipe from Lexi's Kitchen.  Filled with nutrient dense coconut and coconut oil, coconut butter is one of those perfect foods that is loaded with medium-chain fatty acids, lots of fiber, protein vitamins and minerals.
Somewhere between strawberry mousse and strawberry cream cheese, this spread is perfect for your grain-free biscuits (recipe coming soon), grain-free waffles, pancakes or simply straight off the spoon!  However you use it, I hope you find this spread as easy and delicious as we have!
Enjoy!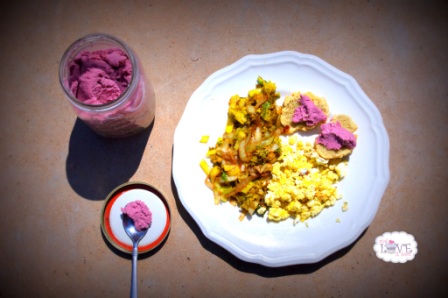 Strawberry Coconut Butter
Ingredients
4 c Unsweetened Shredded Coconut, divided
2 c Strawberries (fresh or thawed if using frozen)
¼ c Coconut Oil
Instructions
Add 3 cups shredded coconut, strawberries and coconut oil to high speed blender.
Blend on high until smooth, tampering as needed.
Add final cup of flakes and blend on high until smooth and creamy.
Transfer to mason jar and store in your refrigerator until ready to serve.
Makes approximately 3 cups.
Copyright And Love it, Too! May not be published or duplicated without written permission.
Do you have a favorite coconut recipe?  Don't forget to enter this month's Ingredient-Challenge Monday, just four days left for you to enter for the chance to be featured on next month's ICM Ingredient Announcement!
This recipe is also being shared at: Friday Foodie Fix, Wellness Weekends