Spring is beautifully upon us.  Flowers are blooming, birds are singing.  Children are ready to shed their winter gloom to get outside and play.
Then there is the yard.  Lawns need to be mowed, weeds need to be pulled.
Or do they?
One advantage to living in a drought ridden area is the fact that grass has become faux pas.
Instead of wasting precious resources on frivolous things like having a green lawn, I get to focus on my garden. Watering things that help to feed and nourish my family has always been more important to me than maintaining a lawn, I'm happy to say that decision is now officially socially acceptable in my area.
But then there are weeds.
No matter how little water we have received, weeds always seem to find a way to grow.
There are some plants that I pull without hesitation.
But then there are those plants that are instead put to good use.
Unlike most, I smile when dandelions begin to appear.
Far more than an early sign that spring is on the way, dandelions are food for the soul, good for your liver and delicious to the tongue.
Every part of the dandelion can be enjoyed. Roots can be dried, ground and used as a tea with a similar flavor to coffee; or you can boil the roots and enjoy them like a small potato.  The leaves are delicious either raw or cooked, but they are best if picked before flowers begin to bloom.  And finally the yellow flowers offer a beautiful garnish for the most simple salad, sweet to the tongue, delicious in more ways than one, wow your friends with your gourmet flair and put those dandelions to good use.
In time you may start to see the dandelion for what it is, a gift of nutrition that is free for the taking.
To ease your family into your new love for these delicately delicious delights, mix the greens with more familiar lettuces like in this Spinach, Kale and Dandelion Green Salad with Blood Oranges, Candied Pecans and Blood Orange Vinaigrette.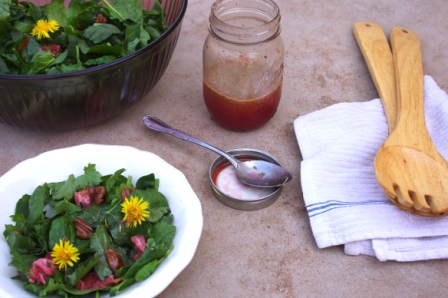 Spinach, Kale and Dandelion Green Salad with Blood Oranges, Candied Pecans and Blood Orange Vinaigrette
Ingredients
Blood Orange Vinaigrette

½ c Juice from Blood Orange
¼ c Olive Oil
2 Tbs Apple Cider Vinegar
2 Tbs Agave Nectar
1 tsp Rosemary, crushed
1 tsp Thyme
½ tsp Garlic Powder
1/8 tsp Salt
1/8 tsp Pepper

Salad

2 c Dandelion Greens
2 c Shredded Kale, thick stems removed
10 oz Spinach
1 Blood Orange, Peeled and Diced
½ c Candied Pecans
Dandelion flowers for garnish (optional)

Candied Pecans

½ c Pecans
¼ c Water
Instructions
Prepare vinaigrette. In pint-sized mason jar, add juice of blood orange, olive oil, apple cider vinegar, agave nectar, rosemary, thyme, garlic powder and salt and pepper. With lid on jar, shake vigorously then store in refrigerator until ready to use.
Prepare candied pecans. In small non-stick pan, combine pecans, palm sugar and water. Over medium heat, bring mixture to a boil, reduce heat and allow to simmer for approximately 1-2 minutes, stirring constantly until pecans begin to lightly brown and sugar syrup appears dry. Watch closely as the sugar tends to burn quickly. Remove from heat and spread coated pecans over parchment lined cookie sheet. Allow to cool completely.
Prepare salad. In large salad bowl, combine dandelion greens, kale, spinach, diced blood orange, candied pecans and dandelion flowers for garnish (optional). Serve with blood orange vinaigrette.
Delicious alone or with eggs and roasted chicken breast for a complete meal.
Serves 6-8
http://andloveittoo.com/spinach-kale-and-dandelion-green-salad-with-blood-oranges-candied-pecans-and-blood-orange-vinaigrette/
This recipe is also connected to: The GFE Virtual Gluten-Free Support Group , Allergy Friendly Friday and Wellness Weekend