Just a few days ago, I talked about how my family has honed in on one essential oil brand that we trust. With this, I promised to share some of my favorite oils and different ways that we use them.

This recipe is made with our protective blend. Filled with essential oils of: cinnamon, clove bud, eucalyptus globulus, rosemary and wild orange, our protective blend has been shown to help boost the immune system and we use it all over the home!
This blend happens to be one that we diffuse and consume more often than any other particular blend.
Any time we feel a need for an extra boost, we generally will add one or two drops of our protective blend to a warm drink…Natural options like herbal tea or my cranberry-orange wassail go wonderfully with this essential oil blend. Just be certain to add it right before drinking, prolonged exposure to heat can reduce the therapeutic value of any essential oil.
Along with this we will also dilute some oregano essential oil and apply this topically, to the bottom of the person in needs feet. 😉 But we will talk about oregano on another day!
Today though, I wanted to share one of my favorite ways to get a little protective blend into my children's daily protocol.
This fruit dip comes together quickly and has a lovely balance of sweet and spice.
With this, I can be confident that my children are not only benefiting from a nutritional boost, but that their immune system is getting a little extra help as well.
Enjoy!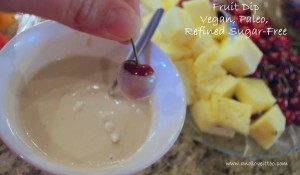 Spiced Fruit Dip
2015-07-27 17:47:48
Serves 10
Nutrition Facts
Amount Per Serving
* Percent Daily Values are based on a 2,000 calorie diet. Your Daily Values may be higher or lower depending on your calorie needs.
Ingredients
1 c raw cashews, soaked for 2-3 hours
½ c whole-fat coconut milk
1-2 pinches of salt
2-3 drops Protective Blend Essential Oil
Honey, Maple Syrup or Stevia to taste
Instructions
Using a high-speed blender, blend ingredients together until completely smooth. Refrigerate until ready to serve.
Makes 8-10 servings.
And Love it Too! http://andloveittoo.com/
*Full Disclosure/Disclaimer: Statements have not been evaluated by the FDA and are not meant to diagnose, prevent, treat or cure any disease or replace traditional medical attention. Your doctor treats symptoms and fixes broken parts. Your body cures disease. Always consult your medical professional before changing any existing medications or treatments. If you purchase products through the links provided, your cost will always be the same but I will receive a small commission. Thank you for your support!
This post is also linked to: Allergy Free Wednesday, Gluten-Free Wednesdays