So, you might think I'm a little crazy (and I just might be), but I am already starting to plan out Thanksgiving dinner.  You see, with 8 people in my family alone (not including any guests or other family members we will be cooking for) I have a lot to prepare for.  That, and this is my first year doing a completely gluten free Thanksgiving Dinner.
Yes, yes, by Thanksgiving last year I had already been diagnosed with Celiac.  But you know, many years ago in my first psychology class I learned about the stages of the loss process: Denial, Bargaining, Anger, Despair and Acceptance.  For me, as it is for many others, accepting my diagnosis required me to go through a sense of loss.  Going gluten free is a life changing process in which many of the results are not immediately noticeable.  To cope, we all go through some sort of loss process before we finally reach the point of accepting that this is the way life needs to be, and you know what, GREAT!  If only all things were so easy to repair. 
While I don't recall going through the anger or despair stages, and if I did they were very brief, I do know that I definitely went through a period of denial and bargaining, trying to justify the need to consume gluten on special days, convincing myself that "so long as I don't do this every day, I'll be just fine."  I now realize that this bargaining did nothing but hurt any progression I may have had towards a healthy future, and boy am I glad to be past all of that! 
So, I have Thanksgiving on the brain.  There are several recipes I hope to perfect before then, but I am a one hurdle at a time kind of girl.  For me, one of the most essential side dishes is the stuffing.  Being in the South, Cornbread Stuffing/Dressing is the most traditional of all choices (call it what you want, it all depends on the part of the country in which you live:)). I am likely going to give other types of stuffing a try, but for now, Cornbread seemed like the best starting point. 
The first thing you need for Cornbread Stuffing is, of course, cornbread.  🙂  Cornbread was one of the first items I played with.  I tried several variations including ones that used Rice Flour and Soy Flour.  Knowing that we need to keep soy to a minimum, I finally decided that I needed to try Almond Flour instead.  From the first try, I have been overwhelmingly happy with the end result and am happy to offer this Gluten Free, Dairy Free version below.  To make a vegan alternative, simply use the Flax Seed Egg Replacer I shared earlier today (which is how I made the Cornbread pictured below).  I have no doubt you will love this recipe!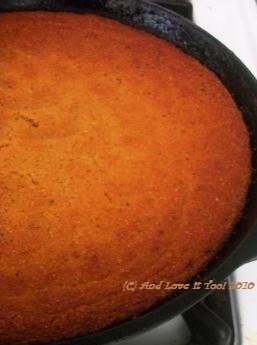 Cornbread (Gluten Free, Dairy Free, Vegan). 
1 ¼ c Cornmeal
1 Tbs Baking Powder
½ tsp Salt
½ c Agave Nectar
1 Large Egg or ¼ c Flax Seed Egg Replacer
1 c Plain, Unsweetened Almond Milk
Heat oven to 350f.  Spray or grease the bottom and sides of cast iron skillet, set aside (You can also use a 9 in round cake pan, but I prefer the cast iron).  In large bowl mix together almond flour, cornmeal, baking powder and salt.  In separate bowl mix together agave nectar, egg or egg replacer and milk.  Pour liquid ingredients into dry ingredient mix until the flour is just moistened.  Pour batter into prepared pan, using rubber spatula to scrape batter from bowl.  Spread batter evenly in pan, smoothing top of batter.  Bake for 20 to 25 minutes or until golden brown and a knife inserted in the center comes out clean.
Serve with honey butter, over chili, or use for the recipe below. Makes 12 servings.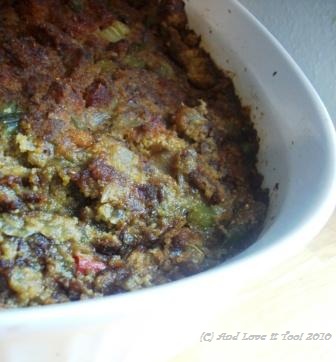 Cornbread Stuffing (Gluten Free, Dairy Free, Vegan)
1 Loaf of Cornbread (recipe above)
2 Tbs Extra Virgin Olive Oil
1 c Chopped Celery
1 medium Onion
1 medium Green or Red Bell Pepper
2 Eggs beaten, or ½ c Flax Seed Egg Replacer
1-2 c Vegetable Stock*
2 Tbs Ground Sage
2 Tbs Emeril's Original Essence Seasoning ®**
Salt and Pepper to taste (I used about ½ tsp pepper and ¼ tsp salt)
Cut cooked and cooled cornbread into ¼ inch squares.  Preheat oven to 350f.  Grease 9×13 casserole dish.  In large skillet over medium heat, sauté the celery, onion and bell pepper until soft.  In large bowl, combine all ingredients, starting with only 1 c stock and mixing well. Add more stock as needed.  Place into prepared dish and bake for approximately 30 minutes.  Enjoy!
*Because I used egg replacer for this recipe, I decided this was prime time to attempt a vegan version, hence the vegetable broth.  This recipe works well with other broths but would be exceptionally good with drippings from the pan.  To make a heartier version (non-vegan), add in sausage, chicken or turkey as well.  Don't be afraid to play with the recipe! You will surely enjoy this whatever the occasion.
** While this is the first recipe to use Emeril's Original Essence Seasoning in the ingredient list, I must note that this is my favorite go-to seasoning and use this gluten free mix in everything from vegetable stir fry to meatloaf.  🙂 It is worth giving a try! 
Now that I have shared, won't you share with me what dishes you most look forward to this Thanksgiving?  Is there anything you would like to see me try/share to make your life deliciously gluten free and dairy free this holiday season?  I look forward to hearing from you!