September 13th may not mean a lot to most, but to the many who have been diagnosed with celiac disease, September 13th is a day just as important as most any other holiday.
You see, September 13th has been designated as National Celiac Awareness Day by the United States Senate, and "whereas the majority of people with celiac disease have yet to be diagnosed," those of us who are lucky enough to have been identified want to help raise awareness and enable millions who are still unidentified to find their way.
Why September 13th?
As I explained in my inaugural blog post, September 13th is the birthday of Samuel Gee, the doctor who is credited with being the first person to find a link between celiac disease and diet.
Frankly, I owe my life to Dr. Gee.  Quite literally.
It was September, 3 years ago, when I was diagnosed with celiac disease.
For several years before that, I had been ill.  So extremely ill that my once morbidly obese build had dropped to a frightening 113 pounds.
At 5' 11", 113 pounds is thin. Too thin.
It didn't matter how much I ate or how high in calories my food was (think junk food), I couldn't keep most food down and what little food I could keep down went right through me.
I was starving to death.
Oddly enough, the sudden drop in weight was not the only symptom I had, nor was it the first.  In fact, I was just as symptomatic when I was morbidly obese, my symptoms had simply magnified when the weight began to drop.
When you read my own living with celiac story, there is no doubt that my life has improved since being diagnosed with celiac.
It is also no coincidence that And Love it, Too! made its debut two years ago today, September 13, 2010.
From the beginning I knew that informing friends, but especially my family about celiac disease was going to be an important part of this venture.  Opening my site on this day made perfect sense, and so it is.
As promised last year on my first blogiversary, and because my site opened with a cake, the name itself has been inspired by cake, it is my plan to celebrate this day with a new cake, every year!
A true southern classic, this Pineapple Upside Down Cake has been years in the making!
Really, it took me years to figure out how to make this cake gluten-free, dairy-free, refined sugar-free but just as delicious as the stuff my aunt Teena used to make.
My aunt Teena (whose specialties included bread and butter pickles, mustard greens, pinto beans and upside down pineapple cake) always said the key to a good pineapple cake was the cast iron it was cooked in and the caramel that coated the outside.
Having tasted upside down pineapple cakes from all over the US (prior to cd diagnosis), I do believe she was right.
Even without the gluten, grains, sugar and butter that filled my aunt Teena's cakes, I do believe she would be proud of the recipe I am sharing tonight.
Regardless of all it is missing, this cake is spot-on and truly the perfect dish to be sharing with you this special day.
Enjoy!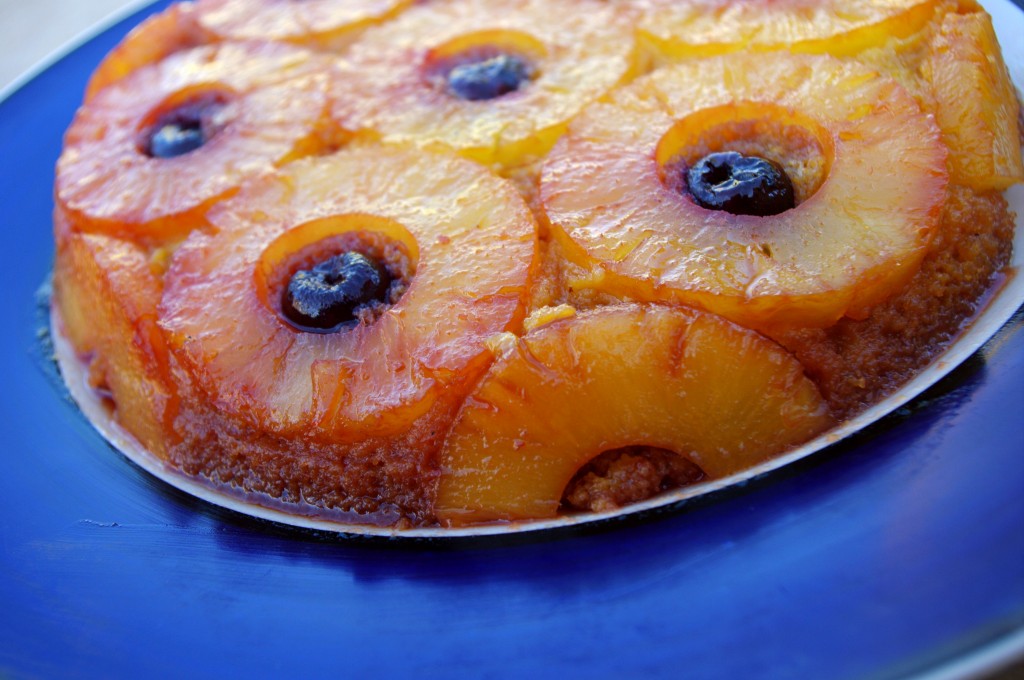 Upside Down Pineapple Cake (grain-free, dairy-free, refined sugar-free, paleo)
Ingredients
Caramel & Fruit Coating

20 oz can of Unsweetened Pineapple Slices, juice separated and reserved
¼ c Coconut Oil
¼ c Palm Syrup
¼ tsp Sea Salt
7 Red Cherries, pits removed
Cake

½ c Coconut Flour
¼ tsp Baking Soda
¼ tsp Sea Salt
4 Eggs
1/3 c Coconut Oil
½ c Palm Syrup
2 Tbs Vanilla Extract
Instructions
Preheat oven to 350f.
Using a well-seasoned 12" cast iron skillet, slowly melt ¼ coconut oil over medium heat.
Once melted, whisk in ¼ c palm syrup, sea salt and juice from the 20 oz can of unsweetened pineapple slices. Allow sauce to reduce over medium to medium low heat until a thick caramel has been achieved (about 15-20 min). Remove from heat.
Carefully lay 7 whole pineapple slices on the base of the skillet, six half-slices on the sides of the skillet and then drop 1 pitted cherry in the center of each whole slice. Set aside.
Prepare cake by mixing together coconut flour, baking soda and ¼ tsp sea salt in medium sized mixing bowl. Set aside.
Using stand or hand mixer, beat 4 eggs until fluffy then mix in remaining coconut oil, palm syrup and vanilla extract.
Mix in dry ingredients and blend until no lumps remain.
Carefully pour cake mixture over prepared fruit and caramel.
Bake for 35-40 min or until a toothpick inserted in the center of the cake comes out clean.
Allow cake to cool slightly (10-15 min, still in skillet)
Place large serving platter or cake stand carefully, upside down, over the skillet.
Holding both the plate/stand and the skillet firmly together, quickly flip the skillet and platter so that the platter is right-side up and the skillet is upside down.
Slowly lift the skillet from the platter, ensuring all pineapple slices remain in place and that cake has separated from the skillet intact.
Serve warm or refrigerate until ready to serve.
Makes 8-10 servings
Copyright And Love it, Too! May not be published or duplicated without written permission.
So many wonderful changes have come over the last two years of sharing my story, my recipes and my life with you, I cannot wait to see the changes and the progress that are yet to come.
Thank you for being a part of this dream!  It is because of you that I continue to do what I do.
Love to you all! xo