Having spent a vast majority of my life split between Southern California and Texas, there is no doubt that my food is heavily influenced by the Mexican culture.
When I was pregnant with my oldest biological son, I craved Mexican candy and chili spiced fruits most.
These popsicles are a healthy throw back to those days of overwhelming cravings.
Lime essential oil not only kicks the flavor profile of these popsicles up a notch, it supports healthy immune function* and positive affects moods with stimulating and refreshing properties! I love this oil in my water as well in a number of recipes which I look forward to sharing over time.
Be certain to use a ground chili and not chili powder containing seasons like cumin and oregano.
Enjoy!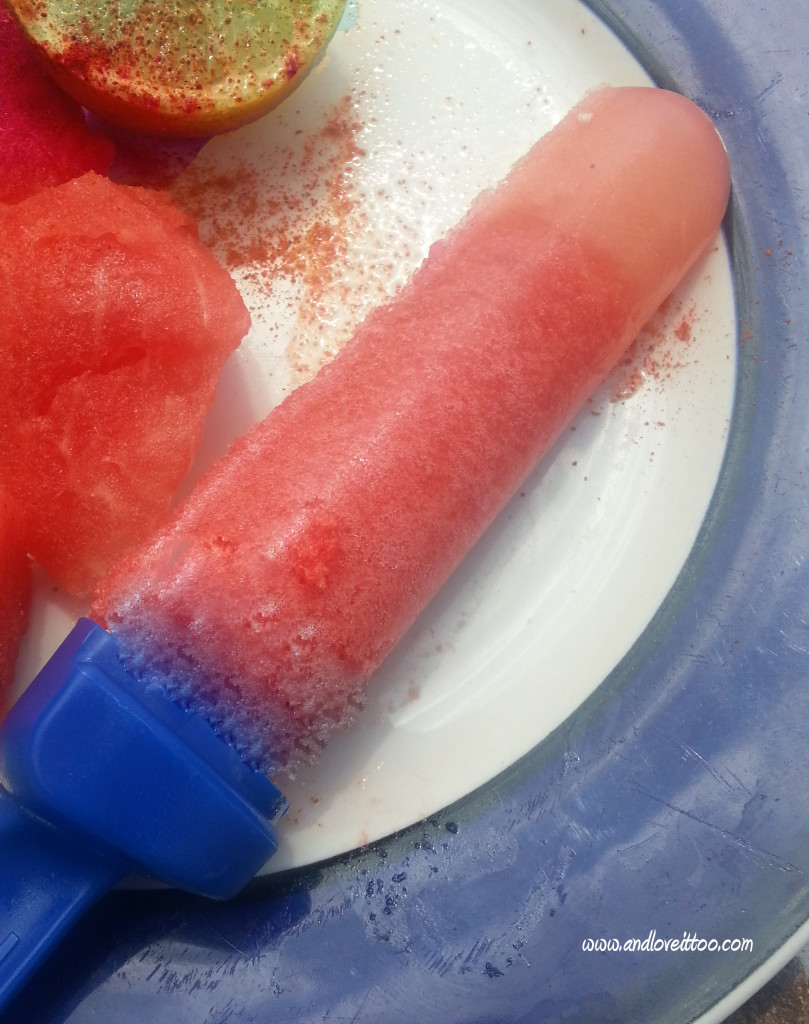 Salted Chili Lime Watermelon Popsicles
Ingredients
5 cups diced watermelon, seeds removed
Juice of two limes
½ tsp ground chili pepper, chipotle or ancho are my preference (or 1/8-1/4 tsp cayenne)
½ tsp sea salt
Stevia or Honey to taste (optional)
2-4 drops Lime Essential Oil*
Instructions
Using blender, combine watermelon, lime juice, chili and salt. Blend until pureed. Add in stevia/honey and lime essential oil to taste.
Pour into molds and place in freezer.
Popsicles will be ready in approximately four hours.
Makes 10 servings
Copyright And Love it, Too! May not be published or duplicated without written permission.
*Please note that not all essential oils are safe for ingestion. I only recommend using the purest essential oils in this or any recipe. To learn more about why and how to purchase, please visit my essential oils page.
Full Disclosure/Disclaimer: Statements have not been evaluated by the FDA and are not meant to diagnose, prevent, treat or cure any disease or replace traditional medical attention. Your doctor treats symptoms and fixes broken parts. Your body cures disease. Always consult your medical professional before changing any existing medications or treatments. If you purchase products through the links provided, your cost will always be the same but I will receive a small commission. Thank you for your support!