Two weeks ago, Shea and I opened a challenge to our readers.
Using our Ingredient Challenge Monday format, where we feature one whole-food ingredient and challenge our readers to join in on the creativity, we challenged each of you to use fennel in the most creative, most delicious way you could imagine.
To open the challenge, I shared my Maple-Glazed Roasted Fennel with Apples and Root Vegetables and Shea featured her decadent Smoked Sausage Dogs with Caramelized Fennel and Onions.
Then in response, we received absolute silence.
In hind-sight, opening to door to this challenge with two savory recipes in the month of chocolate, sugar and sweets probably was an error of poor timing on our part.
That being said, we love fennel and would still love to see how creative you can be with yours!
To help with this, we have extended our challenge by one week.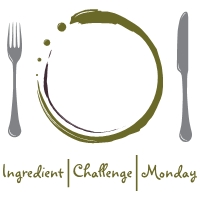 To enter, please include the Ingredient-Challenge Monday (ICM) badge (above), link the image on your page back to this link: http://www.dixiechikcooks.com/2012/02/06/smoked-sausage-dogs-with-caramelized-fennel-and-onions/, join in and grab on to the blog hop below.
Shea and I will feature one of your ICM recipe's on each of our blogs at the beginning of the next challenge.
The challenge is now open until midnight; February 27, 2012…we do hope to see your creations!
…And to show that fennel is not all about the savory side of things, tonight I am happy to introduce a very sweet way to indulge on this heart-healthy delight.
These Roasted Fennel Infused Strawberry Lemon Bars are not your mother's dessert.
Pan-roasting the fennel brings out the ever-so-subtle licorice flavor of the vegetable, adding a slightly savory undertone to this traditionally sweet treat.
Grain-Free, Sugar-Free and Vegan, these bars are sure to delight!
Enjoy!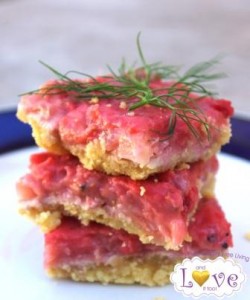 Roasted Fennel Infused Strawberry-Lemon Bars
Ingredients
Crust:
2 c Almond Flour
1/8 tsp Sea Salt
Filling:
1 Fennel Bulb, greens removed, trimmed and diced.
1 pound fresh Strawberries, clean and hulled
1 c Freshly Squeezed Lemon Juice
2 Tbs Grated Lemon Zest (4-6 Lemons)
½ c Arrowroot Powder
½ c Filtered Water
2 tsp Vanilla Crème Stevia
Instructions
Preheat Oven to 350f. Prepare crust by mixing 1c palm shortening, almond flour and sea salt. Press mix into pre-greased 9x13 pan. Bake for 20-25 minutes, until lightly golden. Set aside.
Over medium-high heat, melt 1 Tbs palm shortening in medium sauté pan. Add in diced fennel and roast until lightly caramelized, remove from heat.
In blender, puree strawberries, lemon juice, lemon zest, arrowroot powder, filtered water and stevia. Add roasted fennel and pulse until fennel is finely diced or completely incorporated, depending on your preference (I like to leave a little texture/bite to my bars). Pour mix over pre-baked crust and bake for another 15-20 minutes, when mix appears firm. Refrigerate 1-2 hours until ready to serve.
Makes 24 bars
Copyright And Love it, Too! May not be published or duplicated without written permission.
Don't forget to join us! We look forward to seeing what beautiful creation you bring!
This post is also linked to: Slightly Indulgent Tuesday