A short while back I was contacted by Cara, the mastermind behind Fork and Beans, a lovely Gluten-Free and Vegan that I have fallen absolutely in love with, regarding her Valentine's Day Bake-Off.
Given that many of my recipes, especially my dessert recipes, are naturally vegan…this contest seemed right up my alley.
Early on I knew my creation needed a special touch…
Something I hadn't done before…
Something I have been craving for a loooong loooong time, but haven't been able to produce just yet.
So, in the weeks that followed Cara's request I set out to create a sugar-free vegan white chocolate that would knock your socks off.
Unfortunately, this creation took longer than expected.
Wayyyyy longer.
So here I am, just under the wire…but I did it!
Tonight, as my submission to the Fork & Beans Valentine's Day Bake-Off, I am proud to share these lovely Red-Velvet Truffles with you.
You may recognize part of this recipe, as I simply halved my recipe for Red Velvet Fudge, opting to leave the coconut behind and cover this luscious treat with the sugar-free white chocolate you see below.
Sugar-free, raw and free of every major allergen, this is one treat you can confidently share with everyone you know.
Happy Valentine's Day!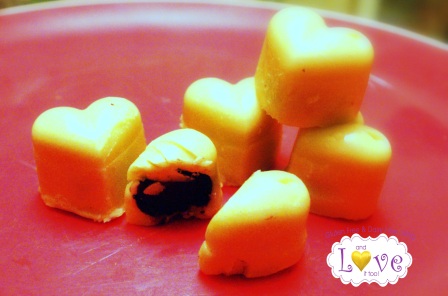 Red Velvet Truffles (Allergy-Free, Sugar-Free, Raw, Vegan)
Ingredients
Instructions
*To obtain coconut cream, I simply refrigerate a full-fat of Organic Thai-brand Canned Coconut Milk and measure off the amount of firm cream I need to make this dessert.
Make Filling: In high-speed blender (I use my Vita-Mix), blend together dates, shredded beet, avocado, cocoa powder, coconut oil, vanilla and 15 drops of the vanilla crème stevia. Tamper as needed and blend until completely smooth. On parchment-lined cookie sheet, measure out 15 small ( ¼ tsp – ½ tsp) dollops of fudge and place in freezer to help quick-set filling.
In medium container, smooth out the remaining fudge and store for future candy making or simply raw-fudge enjoyment.
Make white chocolate: Over low heat, heat cocoa butter just until melted, stirring the entire time to prevent burning. Once melted, remove from heat and whisk in remaining ingredients. The chocolate will appear yellow, it will lighten as it firms.
Once fully incorporated, add 1 tsp white chocolate to each mold. Set chocolate molds in freezer for 10 minutes or until chocolate is firm. Leave the remaining chocolate in stock pot as you will need this to remain soft/liquid for the final step.
After 10 minutes, remove fudge filling and chocolate mold from the freezer. Place small dollop of fudge in the center of each mold, ensuring the filling is not touching the walls of the mold. Cover fudge filling with remaining white chocolate, approximately 1 ½ - 2 tsp in each mold. Return mold to freezer and allow chocolate to set until completely firm, approximately 10-15 minutes.
Remove from mold and serve.
Makes 15 truffles
Copyright And Love it, Too! May not be published or duplicated without written permission.
Because there is quite a bit of red velvet fudge left at the end of this, I might suggest making more than one batch of white chocolate, or simply covering the fudge in raw, unsweetened coconut  and savoring this on its own.
May you find many sweet reasons to enjoy your holiday.
Before I forget, be certain to check back tomorrow and see what Shea from Dixie Chik Cooks and I have concocted for this month's Ingredient Challenge Monday, and to learn more how you can win a special spot on each of our blogs.
Have a wonderful evening! xoxo
xoxo