🙂 It is Thursday, just two weeks before Thanksgiving…one might think it is important, especially as a relatively new blogger, to focus strictly on traditional Thanksgiving fare so as to help my readers plan their menus well before the big day comes.  And I have several recipes I am anxiously awaiting the opportunity to share with you…but today, today is something more.
Today is not just any Thursday.  Today is the eleventh day of the eleventh month.  For those of us who are US citizens, this is a day that we take pause and celebrate Veterans past and present. 
For me, Veterans Day is a day I give thanks to the men who not only have fought for our freedom, but for the freedom of others both far and near…most importantly, I take pause to thank the men who stood by my husband, fighting shoulder to shoulder and helped to bring him home safely, three times over. 
Not everyone in my husband's unit came home as he did. 
How blessed we are to have men and women who are willing to give up everything to help secure freedom and fight for the rights of others, no matter the cost. 
Knowing this, and feeling as passionately as I do in regard to supporting our troops, I honestly felt a bit of envy when I heard my friend Shannon was putting together a group to send care packages to the troops.  For the first time in a long time, I have no immediate family members overseas, and thus, I do not have any addresses to send packages too directly; so when Shannon put out on Facebook that she was looking for people to join her, I told her I wished I could!  With her in California and me in Texas, there is simply no way I could participate in her event, right? 
You see, Shannon is one of those amazing people who is always baking up a storm for some event.  This year alone she has made several wedding cakes, baby shower cakes, cookies to sell for the Susan G. Komen walk-a-thon and countless other goodies for the other dozen events she and her fire crew have participated in.  As far as I was aware, everything she did required local participation and I had to settle for just standing by and observing from a distance.
Imagine my surprise when I received an invite to join her group. 
Up until this time, I had never heard of Operation Baking Gals. 
Those who follow me on Facebook might have noticed me post a few memos about this organization…If you haven't looked into it for yourself, I believe the website's "About Us," explains the purpose of the organization best:
"Baking GALS (GALS stands for Give A Little Support) is a group of volunteer bakers from around the country who bake and ship homemade goodies to our heroic military men and women who are currently deployed in a war zone. Our goal is to show our support and send a little bit of home to remind them that we appreciate all that they do for our freedom…"
After my registration was approved, I took some time to view the various groups that were being formed and was very impressed by the stories being shared.  Each group is dedicated to one military member, usually a friend or family of the group leader, with the understanding that this person will likely be so flooded with care packages, his entire unit will benefit from our efforts…
Not all of the groups are dedicated to service members who are overseas, there is one that is focused on sending care packages to wounded soldiers who have returned to the United States, but are still separated from their families as they receive care and go through rehabilitation for their wounds. 
You can join one group, you can join a dozen…for that matter, if you choose, you can join them all.  🙂 The point is we want to share our love for our troops as best we are able, and this site offers a great way for us to do so!
It takes a few days for your registration to be approved, the related questions are simple and certainly nothing that is overly intrusive and there is no cost to join.  If you are looking for a service project for your family, a way to show the troops how much you appreciate them, or simply want to find a way to make someone else smile this holiday season, this is a great cause and a worthwhile group of people.  Next round of shipments begin December 1, 2010. 
When preparing my package for this last round, I asked my list of personal friends what kind of cookies a group of service members in Afghanistan might like to receive and was told by several people "they would like anything!" Even so, I wanted to send them something really good.
My first package included chocolate chip cookies from Elana's Almond Flour Cookbook (super yummy!) and the Easy Peanut Butter Cookies found here.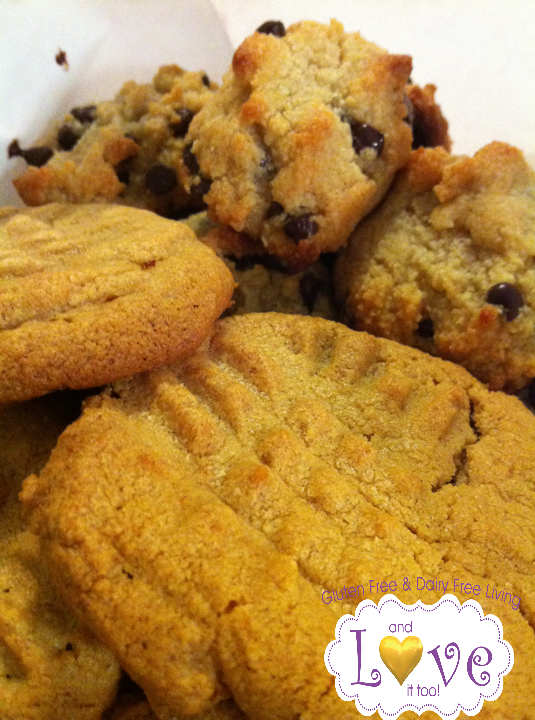 For next month's shipment, I do believe I am going to go for something a little different but still classically delicious. 
The recipe I am sharing tonight stems from a lesson I gave in our church primary about a month ago.  Following our annual primary program, where the children sing and speak in front of the congregation as a group, it was decided we should have an enjoyable meeting where we were able to give each child a treat.  When our primary president came to me with this recipe, I was excited to do what I needed to make this treat safe for everyone we would be serving it to.  In addition to the gluten and dairy allergies I manage on a regular basis, we also have a child in our primary who is allergic to peanuts and tree nuts, so it was important to plan for that as well. 
Before last month, I had never heard of Ranger Cookies.  Given that my husband is an Army Veteran, when I think of Rangers, I immediately think of Army Rangers.  I did a little research and learned that these cookies are traditionally known as anything from the "Texas Ranger Cookies," to the "Lone Ranger Cookies."  🙂 The overall consensus, no matter what you call them, seems to be that these were originally designed to be carried for long periods of time and meant to sustain those who needed to travel extensively. In my research, I also learned that variations of this recipe have been appearing in cookbooks since the early 1930's…creating a gluten free version of this classic seemed right up my alley.  For our purpose, and because these will definitely be going to those who need to be sustained for extended periods of time, I'd still like to think they are "Army Ranger Cookies ;)". 
The end result, which I share here, is the perfect balance of crunchy and soft, sweet and tender.  Even my gluten loving friends were surprised how much they enjoyed these cookies, my favorite response coming from the teenage son of another woman at church who suffers from celiac…seeing that I was offering his mom a cookie from the bunch, he grabbed one for himself and immediately proclaimed "WOW! These are REALLY good!"  🙂 Music to my ears.
Whatever you do with these delicious little gems, I hope you find it in your heart to share your gratitude for those who have served, however you see fit.
Ranger Cookies (Gluten Free, Dairy Free, Soy Free, Nut Free)
1 c Brown Sugar
½ c Coconut Oil, softened
3 eggs, beaten
½ c coconut flour
1 tsp gluten free baking powder
¼ tsp baking soda
½ scant tsp salt
½ c shredded coconut
½ c gluten free dairy free chocolate chips
Heat oven to 350f.  In large bowl, cream together brown sugar, coconut oil and eggs.  In separate bowl mix together coconut flour, baking powder, baking soda and salt.  Mix wet ingredients with flour mix until smooth.  Carefully fold in oatmeal, rice cereal, shredded coconut and chocolate chips.  Spoon by heaping tablespoons onto parchment lined cookie sheets and bake for 12-15 minutes. 
As you can see, these cookies are not completely allergen free.  In my effort to adjust this recipe to meet the allergen needs of our church primary group, I focused on three key things: nuts, dairy and gluten.  Of course, I no longer have gluten containing ingredients in my kitchen, so in that regard there were no alternatives available :). 
Please note that if you are new to gluten free baking and you are baking for someone else, it is important to know whether or not they are sensitive to oats. Many gluten intolerant and persons with celiac are not able to consume oats, even if these oats are certified gluten free.  If there is an oat sensitivity, or if you are not able to find certified gluten free oats prior to baking, simply omit these from the recipe.  Additionally, it is important not to use regular crispy rice cereal.  The major crispy rice brand name and store name products may not contain wheat, but they do contain malt-which is made from barley-which is a key producer of gluten.  Please please please make sure you purchase the appropriate products for this recipe.  Each of these ingredients is hyper-linked to the brand I use in my own kitchen.  Feel free to purchase these directly from my online store. 
I have not tried an egg replacer for this mix, although my flax seed egg replacer seems to do well in everything I have baked with it.  If there are dietary or allergen concerns in regard to eggs, I would certainly give this a try. 
These cookies offer a break from the norm; not quite oatmeal cookies, certainly not your typical chocolate chip cookies, yet still classic tasty treats.  No matter who you are making these cookies for, child, Veteran, or even yourself, no doubt the soft yet crunchy, mildly sweet creation you have made will truly be appreciated.