Two weeks ago I shared a simple recipe for 3-ingredient crockpot pulled pork.
Today, I wanted to share with you one of our favorite ways to enjoy this!
This Pulled Pork with Pineapple Salsa over Roasted Acorn Squash goes together quickly enough (once the pork has been cooked) that it makes for a great work/school night meal. Very filling, very affordable, my kids adore this dish!
Enjoy!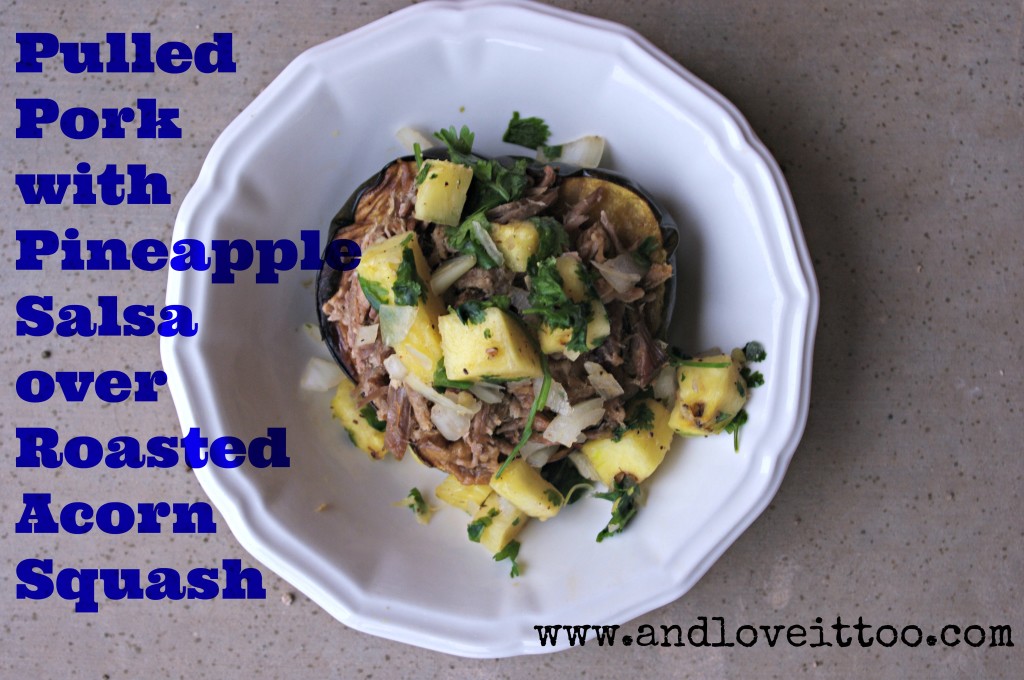 Pulled Pork with Pineapple Salsa over Roasted Acorn Squash
Ingredients
1 cup pre-made Crockpot Pulled Pork, reheated
Roasted Acorn Squash

1 acorn squash, cut in half and seeds removed
1 TBS coconut oil
Pineapple Salsa

1 whole pineapple, diced
1 red onion, minced
1 whole jalapeño, diced
¼ - ½ cilantro, diced
Salt and pepper to taste
Instructions
Preheat oven to 425f.
Prepare acorn squash by rubbing both prepared halves with coconut oil. Turn cut side down onto parchment lined jelly roll pan and roast for 25-40 minutes or until squash is tender.
While squash is cooking, prepare pineapple salsa in large bowl by mixing diced pineapple, minced onion, diced jalapeno, chopped cilantro, salt and pepper. Add more cilantro and jalapeno as desired. Set aside.
Once squash is tender, remove from oven. Carefully turn squash sliced side up onto serving plate. Scoop in ½ cup warm pulled pork and top with pineapple salsa. Repeat with the 2nd half of the acorn squash. Serve warm.
Makes 2 servings.
Copyright And Love it, Too! May not be published or duplicated without written permission.
Post also linked to: Allergy Free Wednesday