Just over one month ago, I gladly shared the secret that got my children to eat brussel sprouts.
These lemon-infused brussels made it easy to deceive my children into trying more than just one bite and helped them discover that they like brussels.
Only, I don't like deceiving my children.
And while these brussels defy rule #1 of my previous recipe (shredding), by cutting each brussel in half before roasting, you still manage to prevent gasses and the resulting bitterness from building up in the cooking process.  The remaining rules still stand as you want these slightly undercooked and the acid from the vinegar helps ensure these greens turn from bitter to benevolent!
And while I knew these were fantastic, I was beyond hesitant to introduce these to my family.
To my surprise though, they loved them!
Even knowing exactly what they were eating.
Now powered with two easy and delicious brussel sprout recipes, I cannot wait to find new and exciting ways to continue to encourage my family to enjoy these glorious globes.
Enjoy!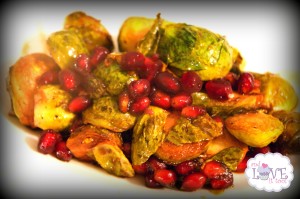 Pomegranate Balsamic Roasted Brussel Sprouts
Ingredients
2 c brussels
¼ c balsamic vinegar
1 ½ Tbs coconut oil, melted
1 ½ Tbs coconut aminos
arils from 1 large pomegranate
Salt and Pepper to taste
Instructions
Pre-heat oven to 400f.
Prepare and clean brussels, cutting off 1/8th inch of each brussel then cutting each in half. Set aside.
In small mixing bowl, mix together balsamic vinegar, coconut oil and coconut aminos.
In large bowl, mix brussels and pomegranate arils. Drizzle mixture with balsamic dressing and toss to ensure even coverage.
Spread brussels evenly over large parchment-lined baking pan and roast for 10-15 minutes until lightly golden.
Serve warm.
Makes 2-3 servings
http://andloveittoo.com/pomegranate-balsamic-roasted-brussel-sprouts/