This time of the year our pantry and refrigerator is overloaded with all kinds of delicious produce.
Most recently, with the help of Bountiful Baskets we have received an overabundance of fruits like cherries, peaches, nectarines, plums and pineapples.
So much so that even my large family cannot keep up.
What's a girl to do?  Well preserve them of course!
Freeze them, dehydrate them, jam them, can them, whatever you do, do your best to maintain the natural goodness of these fruits.
This recipe combines the sweetness of pineapple with the tartness of fresh-picked plums.  No added sugar, artificial flavor or preservatives, this is a jam you can be proud to serve your family.
The best part?  It's only two ingredients and can be whipped up in minutes, poured into your crockpot and prepared overnight while you are sleeping.
It is that easy.
I suppose it's not really fair to call this a jam.  The texture better resembles a fruit butter, but the process is very jam-like and the flavor reminds me of my great-grandmother's plum jelly.  If you desire a more jam-like preserve, simply create a slurry of arrowroot and water (1 tbs of each should do the trick), remove the reduced pineapple and plum preserves from the crock, cook them over medium heat and add just enough of the slurry to create the jam-like texture you desire.
Because this recipe only makes four half-pints, I prefer to simply keep this in the refrigerator.  If you choose to keep yours in the pantry, I recommend a hot-water canning bath. Step-by-step directions can be found here.
Whatever you choose to do with your preserves, I hope they invoke memories of summertime and stories on grandmas lap, just as they do for me. 🙂
Enjoy!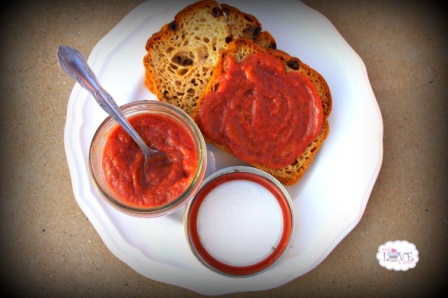 Plum Pickin' Pineapple Jam
Ingredients
3 lbs Ripe Plums
1 lb Pineapple
Instructions
Prepare plums by washing, slicing and removing pits. Leave skins intact. Place plums and pineapple into high-speed blender, ½ batch at a time.
Blend until smooth and pour into 6-quart crockpot.
Set crockpot to cook on high for 6 hours, do not use your lid! It is important to allow the mixture to reduce by at least half (mine usually reduces to about 1/3 once complete), so please leave the lid off to ensure for the best reduction.
Once reduced to the appropriate thickness, fill four half-pint jars and refrigerate or process as directed.
Serve on your favorite gluten-free/paleo bread.
Copyright And Love it, Too! May not be published or duplicated without written permission.
Be certain to visit the other FoodNetwork SummerFest bloggers to see what other fun dishes you can make with your plums this season!
Ingredients, Inc.: Pork, Plums and Rosemary Kabobs
Virtually Homemade: Grilled Plum Pizza With Goat Cheese
Cooking Channel: Best Plum Dessert Recipes
BGSK: Grandma Esther's Plum and Walnut Cake
Delicious Lean: Plum Delicious Pork Chops
Daily*Dishin: Roasted Chicken With Plum Chili Salsa
Healthy Eats: 6 Ways to Cook With Plums
Napa Farmhouse 1885: Time for Plum Cobbler?
Thursday Night Dinner: Plum BBQ Chicken
From My Corner of Saratoga: Plum Upside Down Cake
Cooking With Elise: Vanilla Plum Tart
Sweet Life Bake: Plum Pineapple Margarita
FN Dish: Perfect Plum Recipes