Maybe you're avoiding potatoes.
Maybe you're a peach fanatic.
Or maybe you're just looking for something a little different to go with dinner tonight.
Whatever it is, you'll love these pan roasted peaches!
Perfectly paired with your favorite roast, steak or chicken dinner, these sweet with just a little savory peaches are an easy light and quick to prepare alternative for most any heavier carbohydrate side.
Enjoy!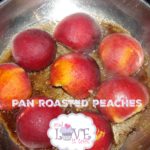 Pan Roasted Peaches
2016-05-25 13:43:48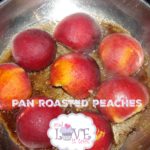 Serves 4
A sweet and savory addition to your favorite dinner!
Nutrition Facts
Amount Per Serving
* Percent Daily Values are based on a 2,000 calorie diet. Your Daily Values may be higher or lower depending on your calorie needs.
Ingredients
4-8 fresh, ripe peaches (1 peach per person)
1 tbs coconut oil
garlic granules, ground cinnamon, salt and pepper (to taste, omit pepper for AIP)
Instructions
Preheat oven to 350f
Slice each peach in half, removing the seed and setting the peach aside. Once each peach has been prepared, sprinkle each half with garlic, cinnamon, salt and pepper.
In large oven-safe stainless steel fry pan, over medium heat, melt the coconut oil then place each peach, cut side down, onto pan.
Cook for approximately 5 minutes or until peaches begin to turn golden. Quickly remove pan from stove and cook for another 5-10 minutes in preheated oven until warmed through.
Carefully remove from pan and serve warm.
Enjoy!
And Love it Too! http://andloveittoo.com/