If you have never enjoyed Elana Pantry's Cherry Vanilla Power Bars, you are missing out. These Power Bars have just enough protein to tide you over and just enough sweet fruit to give you the energy you need to make it to the next meal.
Elana's bars got me through my first long-term out of town teacher's training a couple of years ago.
 Back when training breakfasts included donuts and coffee and lunches were sandwiches or pizza, if I didn't bring something along to get me through, I had to go hungry. 
Fortunately my district was quick to pick up on my food restrictions and changed their menu plans accordingly. 
You know what's best about those changes though?  I am not the only one who benefited.  The addition of fruits and nuts to the breakfast and a larger variety at lunch including whole meats and salads made for a healthier situation for everyone.
Just one of many reasons why those of us who are gluten intolerant/allergic or have Celiac need to speak up.
Even so, I learned from those early experiences to never, ever go anywhere without something tucked away in my purse.
There have been and continues to be many times where a little power bar is my saving grace.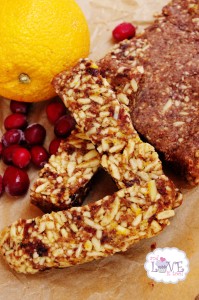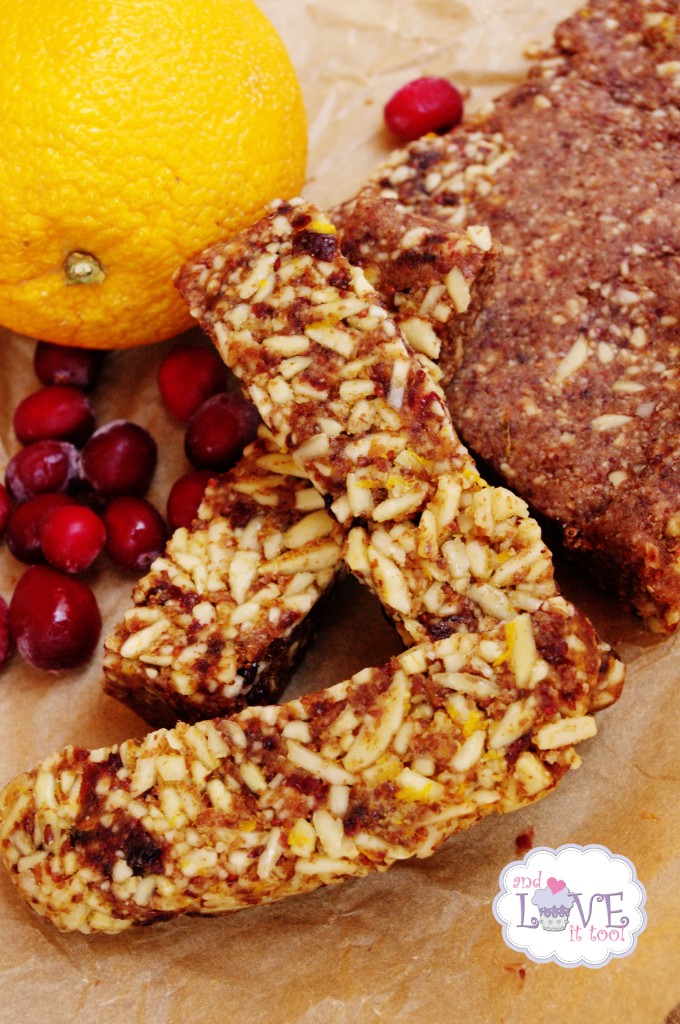 Playing off Elana's brilliantly simple and easily portable treat, my family and I have enjoyed a variety of power bars through the years.
Of these, our favorite bar stems from a classic combination of flavors  that I have used in everything from tangy side dishes to drinks that will warm you from the inside out.
While cranberries can be difficult to find after the holiday season has come and gone, dried cranberries are not.  Make sure to use fruit juice sweetened cranberries, which can usually be found at your local health food store, online, or do like we do-make your own.
After the holidays are over, when cranberries go on sale, I buy up as many of these tart tidbits as I can find then I freeze half, dehydrate the other.  Doing so ensures I have cranberries all the year through.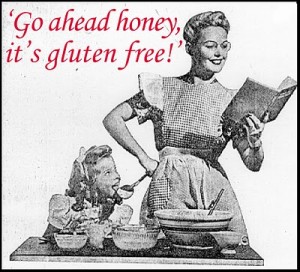 Whether you use these Orange Cranberry Almond Power Bars to tide you over when surrounded by gluten-filled gourmet or whether you use them as a treat to get your kids through a long summer day, these bars are made to travel and thus, my addition to this month's Go Ahead Honey, It's Gluten-Free event.
Enjoy!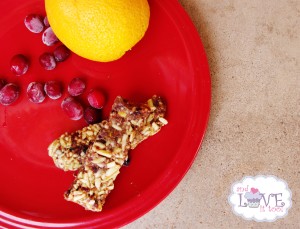 Orange Cranberry Almond Power Bars
Ingredients
2 ½ c slivered almonds

1/3 c flaxmeal (I make my own)

10 drops Vanilla Cream Stevia

Zest of 1 Orange

Juice of 1 Orange
Instructions
Blend slivered almonds, flaxmeal, cranberries, stevia and orange zest in high-speed blender or food processor.
Pulse until well ground then add in just enough juice to turn the mixture into a ball (2-3 tablespoons, pulsing as you go).
Remove from blender/food processor and press into a 9X5X3 inch, parchment-lined loaf pan.
Slice into bars and serve.
Will keep at room temperature for 2-3 days, in the refrigerator for at least a week (we've never had them around long enough to find out if they'll keep longer than that).
Makes approximately 9 servings.
Copyright And Love it, Too! May not be published or duplicated without written permission.
What foods help tide you over when you travel?
If you're still interested in joining in on this month's GAHIFG event, there is still time! Get you post in to me by the end of tonight (no later than tomorrow, please) per the directions found on the original link.  xoxo