I love my friends.
I love that anyone who knows me in this little town of ours automatically thinks of me when they see something labeled "gluten-free."
Because of this, I get periodic recipes e-mailed or texted to me on a regular basis and frankly, many of these turn into inspiration for future recipes or meals.
One of my most popular recipes (both in-house and on my website) is my Molten Lava Cake, so when a friend said she saw a recipe for a minute mug gluten-free lava cake, I was intrigued to say the least.
This recipe from PBS Food is naturally gluten-free but needed some additional tweaking before it was just-right for my grain-free, dairy-free and as refined sugar-free as possible household.
Lucky for me, this week's Elf4Health challenges include making a mug cake!
What better time to perfect this decadent dessert once and for all? Like an inside-out lava cake, this richly decadent treat is refined sugar-free and high in protein but so sweet no one will ever guess how healthy it really is. With just a 30 second cooking time, you'll have no trouble making enough to share with your whole family!
Happy New Year!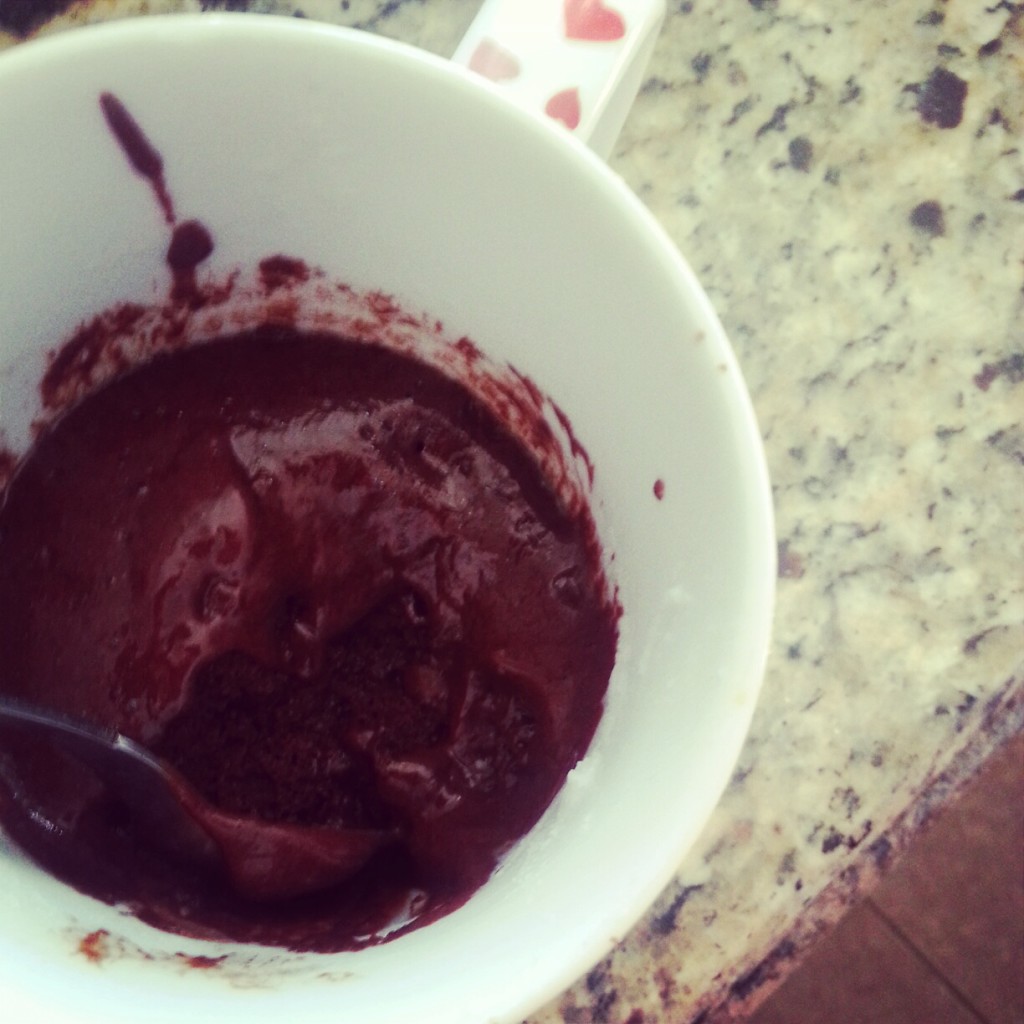 One Minute Microwave Lava Cake (Grain-Free, Dairy-Free, Refined Sugar-Free)
Ingredients
Adapted from Marc Matsumoto
1 tall ceramic mug
1 tsp coconut oil
1 egg
1 Tbs coconut cream
½ tsp vanilla extract
2 Tbs cocoa powder
2 Tbs Palm Sugar
¼ tsp grain-free baking powder (I use this recipe with arrowroot powder in place of potato starch)
Instructions
Generously grease the bottoms and sides of a tall mug with the coconut oil, set aside.
In a small bowl, beat the egg then whisk in coconut cream and vanilla. Sprinkle in cocoa powder and palm sugar, continually mixing the batter to prevent any clumps. Sprinkle the grain-free baking powder on top and quickly mix together.
Pour batter into prepared mug and firmly tap the mug on a towel-lined countertop to release any air bubbles.
Set your microwave for 30 seconds and closely watch the cake. It's done when it rises to about double its original height (mine usually takes the full 30 seconds). Cook it too long and you'll no longer have a rich, velvety cake draped in chocolate sauce, you'll have a chewy glob.
Serve immediately in the mug or remove immediately onto a separate plate and top with your favorite fruit or whipped coconut cream.
Makes 1 mug
http://andloveittoo.com/one-minute-microwave-lava-cake-grain-free-dairy-free-refined-sugar-free/