Is it just me, or as this year goes on, do the months seem to get shorter?
Can you believe tomorrow is Ingredient Challenge Monday-November?!?
Yeah, me either!
Even with more than 30 days to sample all of the wonderful Winter Squash recipes in October's Ingredient Challenge, it just did not seem like enough time to narrow down my favorite!
I loved all of the savory options like the Hazelnut Roasted Kabocha Squash (LOVE LOVE this squash!), Cucumber and Avocado Collard Wrap from Janet at The Taste Space; and this Stuffed Acorn Squash from my friend Heather, The Gluten-Free Cat. I'm even taking some of this garlic-roasted butternut squash and kale salad with pomegranate, also from Janet, to work with me this week.  Super nutrient-packed and delicious, I hated to miss out on the leftovers!
I was surprised that there weren't more dessert type recipes, especially with the holidays coming up; though I was grateful that the two desserts entered were both cold.  Despite the early cold spell we had more than a month ago, our temperatures have still been lingering in the upper 80's and lower 90's.
Maybe that explains why I'm still not ready for the holidays…it's just too darn warm!
Anyhow…I loved the creamy 4 ingredient pumpkin soft cream from my friend Kate at Eat, Recycle, Repeat, and this creamy pumpkin-cranberry smoothie from my friend Tessa, the Domestic Diva has become our go-to treat for a healthy solution to those not-so-healthy cravings.
Jam packed full of seasonal beauty, loaded with pumpkin, apples, cranberries and a hint of cinnamon; loaded with healthy fats and delicious protein, Tessa's Creamy Pumpkin-Cranberry Smoothie is our choice for the October Featured Recipe!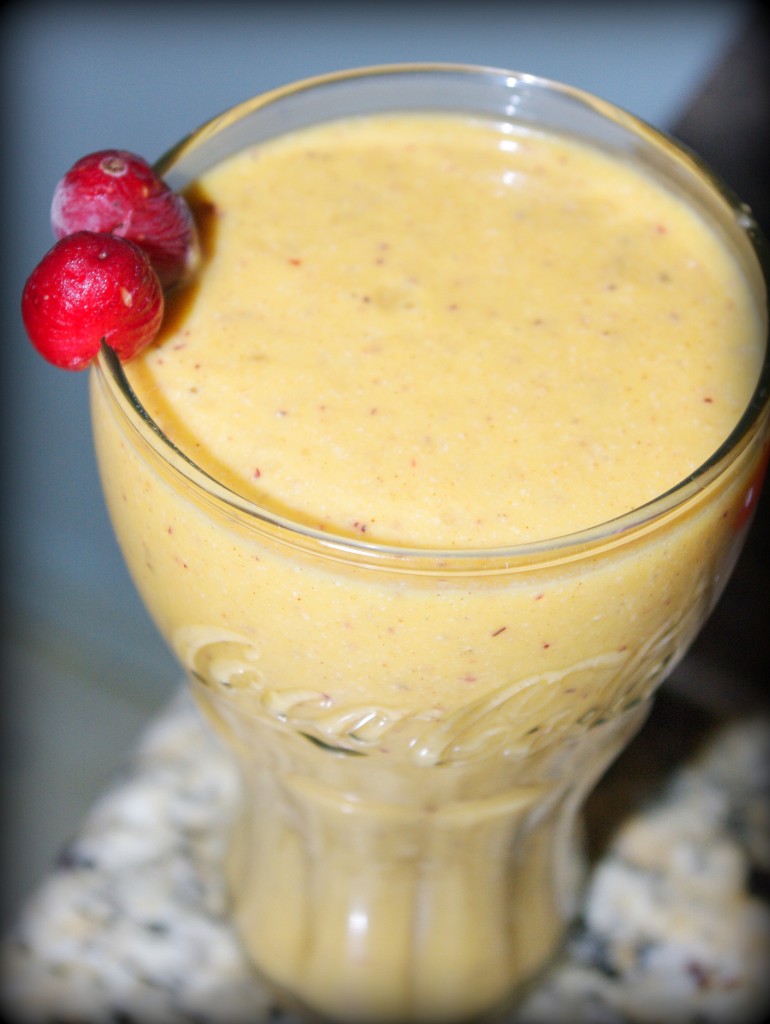 Only, after much discussion on the internet and with bloggers like The Paleo Parents, I have made the conscientious decision to no longer post the winning recipe directly to my site.
Even though by participating in the Ingredient Challenge Monday these ladies all agreed, should their recipe be selected, I could post their recipe to my site. Yet by doing so I may prevent some of my readers from visiting their site.
The last thing I want to do is inhibit anyone from visiting any of these fantastic creations at their origin.
So please, take a moment to visit these amazing recipes.
And trust me, they are all simply amazing!
Tomorrow will begin another round of the Ingredient-Challenge Monday and I will continue to make your recipes and share my thoughts when you do! I will still select a winning recipe and share our photo of your creation…then I will send my readers to learn more about your amazing creation on your website!
I hope this helps generate plenty of traffic for you, and more entries into the challenge (meaning more recipes to try, too!) for me.
Deal? Deal.
So are you ready for this month's challenge?
With the holidays quickly at our heels, there are some essential recipes I am trying to perfect.
Undoubtedly, you are too.
Of all the recipes I am working on, one little ingredient kept showing itself as something that I want to use more often but haven't figured out how to get my family as hooked as I am…
So this month's challenge is…
Mushrooms.
A good source of fiber and protein, packed with nutrition yet have minimal calories and a negative inflammation factor, mushrooms are a great addition to most any meal.
And trust me, a mushroom recipe that will win my family over is a recipe worth having!
I look forward to seeing what everyone has to share this month.
xoxo