Let me start by saying Pinterest is a dangerous site.
Very dangerous.
In addition to losing unimaginable amounts of time, Pinterest can motivate you to do things you might not have done before.
Sometimes this is a good thing.
Sometimes this is not.
These no-bake, refined sugar-free vegan candy bar brownies are the result of a number of Pinterest inspired ideas.
Is this a good thing?
Yes.
Dangerous, maybe…but good none the less.
First, I came across this beautiful recipe for snickers brownies.  Filled with sugar, gluten and dairy, as delicious as this recipe appears, it is one that my family will never be able to enjoy.
Then there is this recipe for raw brownies from Taste Space.  Five ingredients no added sweeteners; and I thought, you know that could work as the base for a gluten-free dairy-free snickers brownie…
Finally, there have been a number of pins showing how easy it is to make marshmallows at home, so I thought I would give this my own spin.
Top everything off with a very easy raw caramel and a from-scratch refined sugar-free chocolate topping, I almost nailed it a vegan no-bake version of that beautiful snickers brownie mentioned above.
Almost.
Through experimentation, a bit of research and a lot of tweaking, I found that making a marshmallow crème that is vegan, grain-free, soy free and refined sugar free is not that easy.
And once you accomplish something close-to…well, it's not nearly as fluffy as what one would hope marshmallow cream to be.
I did, however, create exactly what I hoped to create…then I failed to take pictures.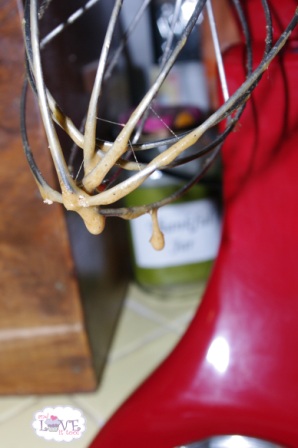 What you see here is the remnants of my grain-free, soy-free, refined sugar-free vegan marshmallow crème.
It is fluffy, tasty and very marshmallow-like…but doesn't hold up quite the same way as the traditional stuff would for the nougat portion of this recipe.
I thought about leaving that portion out, but it is just too good to forget.
That being said, without the nougat portion of this recipe, you would still have some pretty amazing caramel brownies.  Use raw cocoa and this recipe is not simply refined sugar-free and vegan, this recipe would be raw to boot!
So go for it.
Or stick with what I have below for an extra decadent, never forget, mouth-watering candylicious brownie that you will be forever grateful you took the time to make.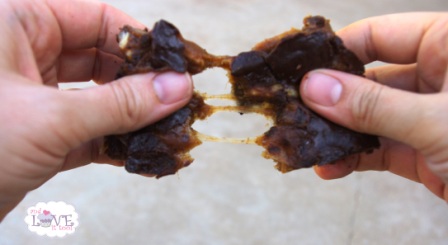 What essentially was my birthday gift to myself is now my gift to you.
With nearly two pounds of Mejool dates and a combined total of two-cups of good-quality maple syrup; this recipe is far from economical, but truly worth every penny.
May you find these decadent treats as satisfying as we do.
Enjoy!
No-Bake Vegan Candybar Brownies (Grain-Free, Dairy-Free, Refined Sugar-Free, Raw alternative noted)
Ingredients
Nougat Layer

1 batch Grain-Free, Vegan Marshmallow Crème (recipe below)
1 c Palm Sugar
¼ c Full-Fat Canned Coconut Milk (My new favorite is Native Forest)
¼ c Unsweetened Almond Butter (I use homemade)
1 ½ c Pecans or Cashews
1 tsp Vanilla
Caramel Layer

2 c Medjool Dates, pitted
¾ c Maple Syrup
Candybar Topping

1/3 c Coconut Oil
½ c + 2 Tbs Cocoa Powder, Divided
2 tsp Vanilla
¼ c Maple Syrup
3 Tbs + ¼ tsp Arrowroot Powder
½ c Unsweetened Almond Butter (I use homemade)
Marshmallow Crème

1 c Filtered Water (divided)
3 Tbs Agar Agar Flakes
1 c Maple Syrup
1 tsp Vanilla
¼ tsp Sea Salt
Instructions
Line 9x13 cake pan with parchment paper.
Make marshmallow crème by boiling ½ c filtered water. Add in agar agar flakes and continue to boil for another 3-4 minutes or until flakes have completely dissolved. Set aside.
In medium sauce pan, bring remaining ½ c filtered water, 1 c maple syrup, vanilla and salt to a boil over medium-high heat. Using a candy thermometer, allow mix to continue to boil until a temperature of 240 degrees or soft ball stage has been achieved. This will take approximately 8-9 minutes.
Remove sauce pan from heat.
Using stand mixer, combine agar agar base with candied syrup using low/medium speed. Slowly turn mixture to high and continue beating until mixture becomes thick like marshmallow crème (about 10 minutes).
While stand mixer is beating away at marshmallow mix, bring together brownie layer by pulsing together almond flour, 1 c cocoa powder, and ¼ tsp salt. Slowly add 2 ½ c dates, one piece at a time through the feed tube of the food processor while processor is running. Once complete, mix should resemble coarse crumbs but will stick together when pressed.
Press brownie mix into the base of the parchment-lined 9x13 cake pan, spreading evenly to ensure full coverage. Set aside.
Return to marshmallow crème, stopping stand mixer once the mix is light and fluffy (not as thick as traditional marshmallows, but no doubt it is marshmallow crème).
Using medium sauce pan, prepare nougat layer by melting butter-flavored palm shortening over medium heat. Add palm sugar and coconut milk, stirring until dissolved. Bring to a boil and add in the marshmallow crème, almond butter and vanilla, stirring until smooth. Remove from heat and fold in pecans or cashews. Pour evenly over brownie layer, using spatula to ensure even coverage. Place brownies in the freezer until you are ready for the next layer.
Using high-speed blender, combine 2 cups of dates with ¾ c maple syrup and blend until completely smooth and caramel-like. Remove brownies from freezer. Pour caramel on top of nougat layer and spread evenly with a spatula to ensure complete coverage. Return to freezer.
Wash high-speed blender, dry with towel, making certain to remove all water because water could damage the precious final step…creating the chocolate coating.
No one wants to ruin their chocolate coating.
Prepare chocolate coating by adding coconut oil, ¼ c + 2 Tbs cocoa powder, vanilla, maple syrup and arrowroot powder to blender. Mix on medium about 20 seconds then increase to high for about 10 seconds. Add remaining ¼ c cocoa powder and ½ c almond butter. Blend until smooth.
Remove brownies from freezer and carefully spread chocolate mix evenly on top of the caramel layer. Once complete, place brownies in refrigerator for 30 min or until ready to serve. The top should be crisp like a candybar before serving.
Completely remove brownies from pan by lifting parchment paper before cutting. This will make creating uniform squares a lot easier.
Because these are so rich, I recommend cutting them into smaller-than usual brownie bites.
Have some unsweetened coconut or almond milk handy…you'll want something to enjoy these with.
Makes 24-36 servings.
Copyright And Love it, Too! May not be published or duplicated without written permission.
This recipe is also linked to: Gluten-Free Wednesdays