About a week ago I pinned these beautiful, paleo-friendly no-bake cookies which were originally shared by Alison Lewis from ingredients, inc.
While Alison's recipe is good, really good, this recipe has been the cause of much discussion over the last week.
One of the main discussions that really stuck with me is where on earth do you find good chocolate chips that don't have cane sugar or artificial sugars in them?
While my chocolate chips of choice use evaporated cane juice, which is safe for my family; there are many (like my friend Ricki Heller from Diet Dessert and Dogs), who cannot have cane sugar of any type.
So when Ricki asked me if I knew of a good replacement for the chocolate chips, I had no positive answer for her.
I knew right then and there that I wanted to revamp this recipe, if for nothing else than to make something Ricki could enjoy, too.
The addition of flax seeds to this recipe not only increases the nutritional value of these cookies, it adds just enough of a bite, making these truly reminiscent of the texture more traditional oat-based recipes have.
Inspired by Alison's beautiful paleo-friendly recipe, I have updated the recipe from my childhood and am happy to share these allergy-free, refined/cane sugar-free, vegan and paleo friendly no-bake cookies made just for you.
Have a wonderful week!
xoxo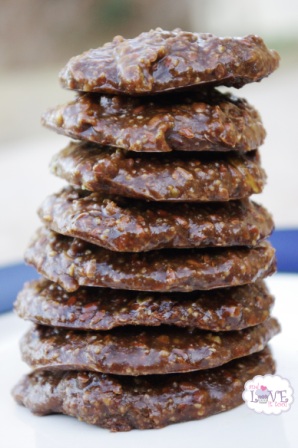 no-bake cookies (allergy-free, refined sugar-free, grain-free, vegan)
Ingredients
3 Tbs Cocoa Powder
¼ c Unsweetened Coconut Milk
1 pinch salt
2 c Raw Sunflower Seeds or Raw Pumpkin Seeds, ground
2/3 c Unsweetened Coconut Flakes
1/3 c Flax Seed
½ c Sunbutter (I used homemade)
1 tsp Vanilla Extract
Instructions
In large saucepan, combine palm sugar, cocoa powder, coconut oil or palm shortening, unsweetened coconut milk and salt. Melt over medium heat until mix reaches a light simmer, stirring continuously. Lower heat slightly and continue to stir for 60 seconds. Remove from heat.
Quickly stir in remaining ingredients. Drop mixture by the tablespoon onto parchment-lined cookie sheets and refrigerate for 5-10 minutes or until completely cool.
Makes approximately 30 cookies.
Copyright And Love it, Too! May not be published or duplicated without written permission.