First, I want to congratulate everyone who participated in last month's Ingredient-Challenge Monday, your coconut recipes were simply amazing!
If you haven't been by to see everything shared, please do…in addition to the several that were linked in, there were two- late arrivals, one from Kate at Eat Recycle Repeat that is vegan, sugar-free, and absolutely worth exploring; and another from Sandra over at Candida Diet Plan that looks positively delicious! I hope these ladies can join us for this month's challenge as well.
I really had a difficult time narrowing down my favorites this month, which is a great issue to have!
Our three favorites include this Vanilla Sweet Potato and Kale Curry from Janet at The Taste Space, which I made in our crockpot and subbed out the peanuts for cashews but kept everything else the same.  Positively delicious both as a side-dish or a main course!
Iris from The Daily Diet Tribe shared her Sugar-Free Lemon Custard, and heaven knows I love me some sugar-free desserts.  I didn't have any kuzu root starch to make her custard with but noted in her comment section that Iris mentioned arrowroot might be a good substitution. For me, this worked perfectly.  Creamy and smooth, this is a dessert I will be making again and again!
Finally though, this recipe for Coconut Secret Bars/Homemade Healthy Mounds Bars from Tessa the Domestic Diva proved to be the overall favorite for my entire family.  Frankly, unbeknownst to her, Tessa had an unfair advantage as I have been craving Almond Joy's like crazy for several months now and once I completed my whole30 program, which does not allow for any sweeteners of any type-including stevia, this was the first dessert I opted to make.
So very rich that I could only handle one little square, this recipe was exactly what I needed to kill this long-time craving.  My kids not only flipped over this, my husband even proclaimed that these taste just like Mounds bars but couldn't figure out how given that he knows I don't use regular sugars.  The coconut nectar in the filling sends these bars over-the-top.
I hope you enjoy this Ingredient-Challenge Monday winning recipe as much as we have and don't forget to check below to see what the Challenge-Ingredient for June will be, I look forward to seeing more wonderful creations from all of you!! xoxo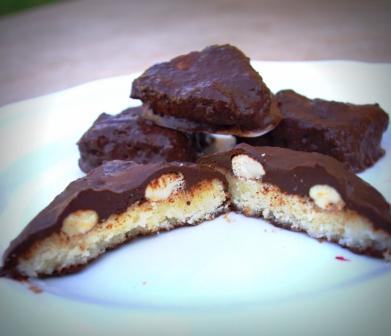 Coconut Secret Bars/Homemade Healthy Mounds from Tessa the Domestic Diva
4 cups unsweetened, grated coconut
1/2 cup softened or melted coconut oil
2-4 tablespoons coconut nectar(Tessa says you could also use real maple syrup, honey, or agave)
Roasted whole or slivered almonds (optional) (I used raw and did ½ with, ½ without)
Coating:
1 1/2 cup dark chocolate pieces (I used Enjoy Live Chocolate Chips, Tessa also says that you can sweeten your own baking chocolate squares-the ones with no sugar.  She did a mixture of 6 squares/1/4 cup coconut nectar/40 drops vanilla creme stevia)
1 tablespoon coconut oil
In a food processor (or vitamix), put the filling ingredients and blend  until well incorporated and smooth.  Taste for sweetness, add more if you like.    It is necessary the coconut oil be soft or melted so the mixture blends.   Line an 8 x 8 or similar sized  pan with waxed paper or parchment.  Pour the mixture in and spread around evenly.  If you would like to use almonds, now is the time.  Press them in!   Place the  pan in the fridge or freezer to speed the solidifying process.  Meanwhile, melt your chocolate with the coconut oil.  Once solid, lift the whole chunk out by lifting the paper.  Cut into desired shapes.    Dip each piece in the chocolate, letting the excess drip back before laying it on A Silpat, parchment, or waxed paper to solidify.  Store in an airtight container on the counter or in the freezer. unlike most coconut oil delicacies these are solid at room temp and travel well out of refrigeration.
SHORTCUT?: Tessa has also done these the easy way by spreading the chocolate coating right over the top of the whole pan and forgoing the dipping process!
Are you ready for this month's challenge?
High in antioxidants, low glycemic-value but very sweet, one of the world's healthiest foods, strawberries are something we can all use a little more of!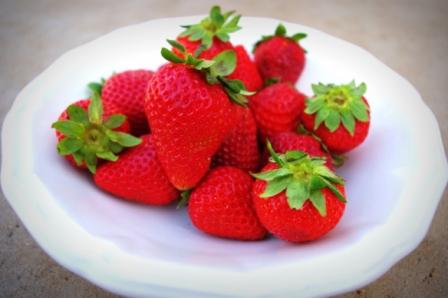 Stay-tuned tomorrow to see my personal contribution to this month's Ingredient-Challenge Monday and learn how to link-in your own strawberry recipe to win your spot as the next featured ICM recipe!
Have a great afternoon, everyone! xoxo