After 11 hours of sleep last night (unheard of in my world), I awoke not only feeling about 80% myself, but also to discover two of my children feeling ill as well.  So a day I hoped to spend making cookies and pomegranate jam, turned into a day of well tested remedies and hopefully the beginning of a better tomorrow. 
A soup my mother used to make for my brother and me as children, this recipe is my go-to solution for upset tummies, colds and sore throats.  Soothing and warm, it provides the comfort of chicken soup without taking a lot of time in the kitchen.  Just three ingredients, it doesn't get much easier than this.
Here's to a happy and healthy holiday season!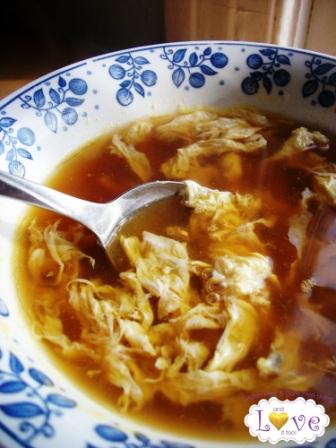 Magic Soup (Simple Egg Drop Recipe) (Gluten Free, Dairy Free, Soy Free)
1- 32 oz container Gluten Free Chicken Broth
¼ c Chives, Chopped
2 Eggs, beaten
In large saucepan, heat chicken broth and chopped chives until rolling boil.  Using fork, slowly drop beaten eggs into soup mixture until both eggs are incorporated.  Remove from heat. 
Add salt and pepper if needed. 
Serve warm.
Makes 3-4 servings