Sometimes my most difficult struggle with keeping this page up to date with fresh ideas isn't in what I am eating, it's realizing the value behind the simple things we do eat.
Over the last couple of months I have been running a Facebook group dedicated to healthy, whole-food eating.
Over there I am sharing a little bit about what I am eating, all day every day.
And while there are a number of things I have shared that people have really taken to…there is one item that has really become a "thing" in this group…
Broiled Grapefruit.
You see, I really began to love broiled grapefruit with crispy bits of palm sugar roasted into it several years ago.
But then, about a year ago, while doing a Whole30 where I couldn't use sugars of any kind, I discovered that by broiling my grapefruit, I didn't need any added sugar!
I don't know the science behind this one, but something happens when you heat up the grapefruit wherein the bitterness seems to go away!
It becomes sweeter in the process of cooking it!
So now I am hooked.
And by sharing, I have gotten other people hooked.
It's simple, delicious and totally Whole30 compliant…so why wouldn't you want to be hooked?
My favorite way to eat broiled grapefruit is with a pinch of sea salt and a sprinkle of cinnamon on it.
So that is what I am sharing with you today. Simple. Sweet. Wonderfully nutritious. Total win!
Enjoy!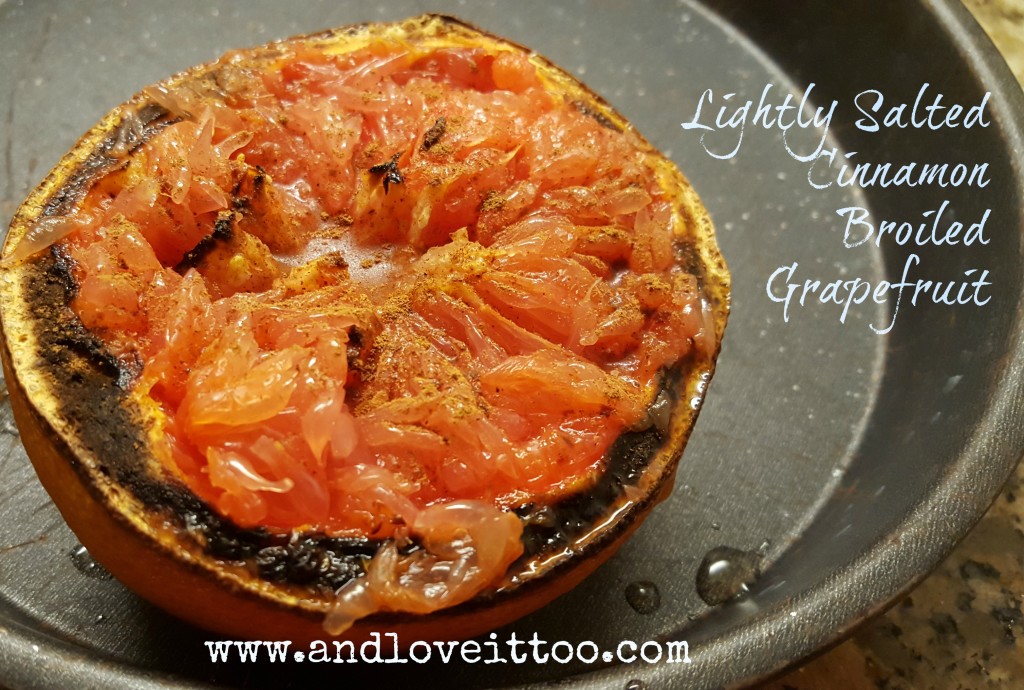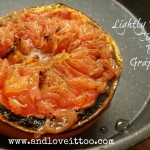 Broiled Grapefruit with Cinnamon and Salt
2016-03-02 12:23:07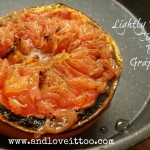 Serves 1
Nutrition Facts
Amount Per Serving
* Percent Daily Values are based on a 2,000 calorie diet. Your Daily Values may be higher or lower depending on your calorie needs.
Ingredients
1 Grapefruit, Sliced in Half
1 Pinch Sea Salt (Himalayan, Celtic, Etc. Pick one with lots of good minerals!)
1 Pinch of Cinnamon
Instructions
Preheat oven to broil. Slick Grapefruit in half. Place each half, cut side up, in pie pan or small roasting pan and place under broiler just until skin starts to turn and the fruit has browned lightly. Remove from heat. Sprinkle with a pinch of salt and a pinch of cinnamon. Cut triangles in fruit and enjoy!
And Love it Too! http://andloveittoo.com/