Welcome to Ingredient Challenge Monday!!
As announced yesterday, this month I am challenging you to bring your best strawberry recipe to the table.
Some things you should know…I.love.strawberries. I do! In fact, now that they are in season, I have purchased more than 20 pounds of strawberries in the last month alone (no joke!).  Some have been frozen, some have been turned in to fruit juice sweetened jam while others have been dehydrated (I have about 3 pounds of strawberries in the dehydrator right this moment) and many have simply been eaten and enjoyed by my entire family.
And you know what? According to The World's Healthiest Foods this little obsession of mine is a good thing! Especially since I enjoy them most in their purest form.
That being said…I didn't create this challenge to have you all show me how you eat your every-day strawberries. No, I am hoping to see your most exotic, yet healthy strawberry recipes and look forward to trying each and every one of them!
I must admit, I had an extremely difficult time narrowing down which strawberry recipe I wanted to share with you today.
Given that our temperatures have topped 100+ degrees since we returned home from our vacation, I knew whatever I shared needed to be cold if for nothing else than because I wanted something cold!
To solve this, I whipped up several different recipes that I had been trying to perfect and had my kids chose their favorite (yeah, sometimes it's good having a food blogger for a mom).  Even though I had them test each recipe separately and at different times, even though two of my recipes were very similar and could only be separated by taste, not by sight, without ever discussing it amongst themselves…my kids all selected the same dessert!
I suppose this minty cold concoction is exactly what we all needed today.
For my entry into this month's Ingredient Challenge Monday, I am proud to present you with my Strawberry Mojito Sorbet!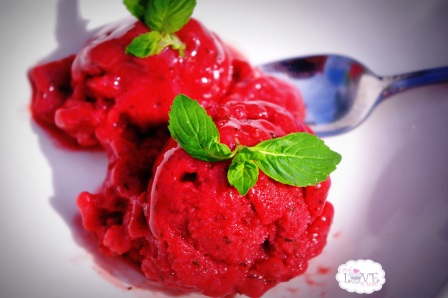 Enjoy
Ingredients
1 c Pineapple Juice
1 Tbs Lime Juice
1 lb Frozen Strawberries
1 c Fresh Mint
Instructions
Place pineapple juice, lime juice and strawberries, in that order, into high speed blender. Blend ingredients together, tampering as needed.
Once smooth, quickly add in fresh mint and blend just long enough to incorporate the leaves, one or two seconds maximum.
Your sorbet should be frozen enough to serve immediately. If you find that it is too soft, simply freeze in a glass bowl, stirring every 30 minutes, until the sorbet is as firm as you like.
Makes approximately 3 cups
Copyright And Love it, Too! May not be published or duplicated without written permission.
!
🙂 Don't let the simplicity of this recipe fool you, it is extremely decadent!
Are you ready to share your own strawberry sensation?
It's easy! Simply link your recipe back to this page, come back and link in with the linky tool below.
Because this blog is a gluten-free and dairy-free blog, I do ask that your recipes also be gluten-free and dairy-free.  Please also keep in mind that I want to try your creations in my own home and do my best to make each and every item you share…that being said, as the main cook in the home, the more Paleo-Friendly your recipe is, the more likely I will be able to taste it.
What do I mean by Paleo-Friendly? Well, it must be free of grains (including corn and quinoa), dairy (already a given), legumes (beans and peanuts), and free of refined sugars.
Many naturally gluten-free and dairy-free recipes fit nicely into the paleo lifestyle. Gluten-free vegan foods are welcome, as are gluten-free non-vegan foods.  As long as it is free of gluten and dairy, it is welcome here!
That being said, if there is something (like sugar or peanuts) that can easily be substituted without changing the nature of your recipe…and if you are okay with me throwing my own minor tweaks in when I give your recipe a try, please share! I promise to keep my changes minimal as I aim to taste YOUR recipe, not create my own.
So are you ready to have the next ICM featured recipe??
Link it up and have a wonderful week! xoxo
This Recipe is also linked to: Wellness Weekend, Slightly Indulgent Tuesday, Allergy Friendly Friday, Allergy Free Wednesday