As I explain in my "About" section, a large incentive for me to share recipes in this format is to give friends and family a single, easy to find reference where they can learn how to make foods which are safe for their family.
In line with eliminating processed foods from my household, essential oils have helped us to eliminate synthetic products from all over our home.
But what about cleaning products?
Funny enough, I began transitioning away from traditional store-bought cleaning products long before we began eliminating processed foods.
Many years ago, I worked as a Marketing Manager for one of the largest HVAC (heating, ventilation and air conditioning) companies in Dallas, TX. As such, I found myself reading all kinds of information regarding everything from airflow to indoor air pollution. While this opened my eyes to a number of concerns with store-bought cleaning solutions, it wasn't until I left that position to be home with my oldest biological daughter that I really began to make that transition.
Since this time I have learned and dedicated much time to perfecting everything from furniture and floor polish to laundry detergent.
Today I would like to share with you my most requested non-food recipes.
While there are many similar recipes for homemade laundry detergent, different measurements, etc., this is the one that I know, without a doubt, works for us.
I have tried making both liquid and powder detergent and finally, after years and years of experimenting, have settled on the reality that powdered detergent takes less time and requires less storage space for similar cleaning power.
While essential oils are optional in this recipe, there are a few oils I love to add to my detergent.
Purifying Blend: this cleansing blend has a nice, refreshing aroma and is known for helping to eradicate unpleasant odors.
Protective Blend: the protective blend has a warm, spicy scent. Known for its ability to offer immune support, this is a great option during winter months or any time of the year.
Wild Orange: Wild orange is one of my favorite oils, hands down. In addition to a very lovely, uplifting scent, this oil contains powerful antioxidants* and is a powerful cleanser and purifying agent. I most often like to use this along with peppermint for an extra-lovely detergent.
Peppermint: Peppermint very refreshing and uplifting. I especially enjoy this when mixed with Wild Orange and find that my children are often more willing to do their laundry when I combine those two scents together (weird but whatever it takes!).
Other oils that work well in the laundry are: lavender, lemon and lime.
This recipe makes enough soap for approximately 128 loads. You will see our label says 2 TBS per load, but that is because we have a large-capacity washer which literally holds double the average sized load. For most, 1 TBS is plenty detergent. The cost varies depending on where you get your ingredients and which oil you use, but on average it cost me about $11 to make this detergent. At 128 loads, that is less than 9 cents a load!
Way more affordable than the store bought stuff…and it only takes minutes to put together!
Whatever oil or blend you choose to use in your detergent, I hope this natural solution provides you and your family just one more way to live free!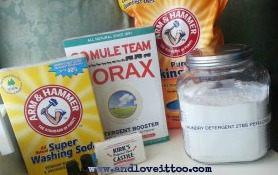 Homemade Laundry Detergent
Ingredients
1 bar castile soap
1 c baking soda
Optional: 40 drops essential oil
3c Borax
3c Washing Soda (often found in the laundry isle, though I have to purchase mine through Amazon)
Instructions
There are many ways to get your castile soap to the texture you need it, although I have discovered my favorite way is in the food processor! I simply place 1c baking soda and my chosen essential oil along with the bar in my food processor and let it run until the bar is completely pulverized into a powder. This takes approximately 60 seconds.
Next, either in a large glass bowl or in a large glass storage container mix in borax and washing soda. Store in a covered glass jar.
An average sized load will need 1 TBS detergent, although heavily soiled or large-capacity washers can require up to 2 TBS. This is safe for HE washers.
Makes enough for approx. 128 loads
Copyright And Love it, Too! May not be published or duplicated without written permission.
For information on essentials oil, please visit my Essential Oil Page.
xoxo