This Ingredient-Challenge Monday, Shea and I have selected the beautiful Yellow Summer
Squash as our
challenge ingredient of choice.
This versatile vegetable is far more than an ingredient for
ratatouille,
vegetable casseroles or just one more thing to fry…
Yellow squash is rich in antioxidants, low in calories, mild
in flavor and beautiful in color. Why
wouldn't you want to devour this fantastic vegetable on a regular basis?
After Shea and I pin pointed this fantastic ingredient for
this week's challenge, a friend posted this recipe
for Summer Squash Cupcakes and I knew I needed to find a way to make this
recipe my own. Squeezing vegetables into
your desserts (like these zucchini brownies),
is one of my favorite ways to increase the nutritional value of many
mouth-watering desserts, and is also a way to ensure my children are getting
their vegetables in ways that they will enjoy.
These Yellow Squash Cupcakes are a perfect addition to my
Healthy Lunchbox Series.
So far, I opened this series with tip #1: Use Planned-Over's
This was followed by a lovely post from a dear friend of
mine, who offers the suggestion through tip #2: When you can, make it from
scratch.
And most recently, Stacy from Paleo Parents
shared her beautiful guest post
and tip #3: Fun meals + Fun containers = Happy Kids. (There is so much more to
this lively post, if you haven't visited, please do so now!).
With this, I offer you a way to help even your food
sensitive children become the king of the cool (and healthy) lunchbox; tip #4:
Give them something that even their friends will drool over!
These high-protein cupcakes are the ideal balance of flavor
and nutrition. Top them with your favorite
nut or sun butter;
this is a treat your kids will ask for time and time again.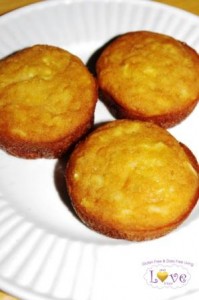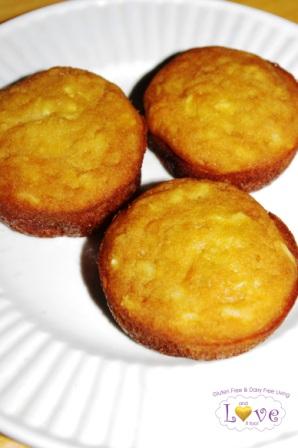 Yellow Squash Vanilla Cupcakes
Ingredients
½ c Coconut Flour
½ tsp Baking Soda
¼ tsp Sea Salt
4 Eggs
½ c Coconut Oil
½ c Agave Nectar
1 Tbs Vanilla Extract
1 c Firmly Packed, Shredded Yellow Squash (about 1
med-small)
Instructions
Preheat oven to 350f.
Prepare muffin tin by greasing or lining each tin, set aside.
In large mixing bowl, blend together coconut flour, baking
soda and sea salt. In medium mixing
bowl, whisk together eggs, coconut oil, agave nectar and vanilla extract. Slowly mix together wet ingredients into dry
bowl. Fold in shredded yellow squash.
Scoop approximately ¼ cup dough into each muffin tin. Bake for 20-25 minutes or until a toothpick,
when inserted in the center of each cupcake, comes out dry.
Serve as-is or topped with your favorite nut or sunbutter.
Makes 12 cupcakes.
Copyright And Love it, Too! May not be published or duplicated without written permission.
Don't forget to visit my original Healthy Lunchbox post and
enter to win The Gluten-Free Asian Kitchen,
which has quickly become a favorite reference in my home!
Also…Jules Gluten-Free is offering her Back to School with
Jules e-book for FREE
until August 26! Simply enter code 2011BTSebook (case sensitive) at check out
and hit apply. The value of the item
will drop to $0.00. Don't miss out on
this essential addition to your healthy lunchbox lifestyle!
(Thank you, Shirley-GFE for
the info on Jules book!! xoxo)
There are many more Healthy Lunchbox Guest-Posts on their
way. Keep your eyes open for more amazing posts all month long!
Enjoy your week!