This time of the year I find myself turning to soup for various reasons. 
Soup warms from the inside out.  Soup makes me feel better when the sniffles are too much.  Soup is very filling for relatively few calories.  Soup is quick. Soup is a great way to get my children (and husband) to eat vegetables they might not normally try.  Soup just tastes good. 
The unfortunate reality about being gluten free is that many soups on the market contain some form of gluten.  In fact, when my MIL came home with several cans of supposedly 'safe' soup that she wanted to work for lunch (my MIL does not have Celiac, but is gluten intolerant), I immediately pointed out that this brand, one of the more popular brands on the market mind you, has wheat in every type of soup they make…
She is trying.  She didn't come home with any noodle soups (as much as she might love to), but the cans of tomato soup, vegetable beef and even broccoli cheddar were all clearly labeled with wheat ingredients. The vegetable also had another hidden source of gluten-barley.  Because gluten has not been identified as one of the major allergens required to be clearly listed on U.S. nutrition labels, barley is one of the more tricky ingredients used…keep our eyes out for words like "malt" or "malt extract", these are derivatives of barley and thereby contain gluten as well.
Gluten is a tricky thing…unless you are 100% dedicated to being gluten free, it doesn't matter what you have done to eliminate it…get a hold of just a little bit, you might as well be eating it straight out. 
Don't let that discourage you from trying, don't let that stop you from doing all you can…just know that you must be diligent in your efforts.
I am here to make your life as easy as possible in this regard, there are many others out there trying to help as well.  Stick with it, stay with it, you can do this.  I know you can.
…And since we are talking soup tonight, make sure your broth does not contain "yeast extract."  I learned early on (the hard way) that yeast extract is another danger word for gluten…One of my previously favorite broths used to be labeled "gluten free*".
 Notice that little asterisk?
Among the hubble and bubble of the big print, I didn't notice it at first.  It took getting sick for me to investigate further…
Sure enough, there in tiny tiny print on the bottom of the container was my answer… *except the small amount present in yeast extract.
WHAT?!?
EXCEPT?
Why the heck would you mark your product gluten free if you know darn well that yeast extract contains or has the potential to contain gluten?!?!?
Fortunately, for them, this company has since changed their packaging…and I have learned my lesson. 
Read your labels.  Find the loophole.  Don't take anything for granted…including packages that say "Gluten Free*"
Sigh.
Read your labels.
On to the soup!
About one week ago, I was craving a nice warm bowl of Hungarian Goulash.  While I did not have some of the key ingredients on hand to make traditional Goulash, what I did have was enough of what I needed to make a Vegetable Beef Soup filled with so many hearty winter vegetables, warmed with tomatoes and marinara sauce made from a summer crop preserved at their peak; that my craving for Goulash was satisfied while my family had a hearty meal even my pickiest eater could love. 
You may note that I use equal parts lean ground turkey and lean ground beef.  This is typical for any meal I make with ground meat.  I find this is an excellent way to get the health benefits from both meat (the lean protein of the turkey and the rich iron of the beef) while keeping the cost as low as possible.  Feel free to use just either/or, even omitting the meat all together and replacing the beef stock with vegetable broth for a hearty vegan option. 
This recipe renders a large stockpot filled to the brim.  Easily frozen or even cut in half, play with this recipe as you wish.  May this soup fill your belly with the warmth and comfort you long for throughout the coldest part of the year.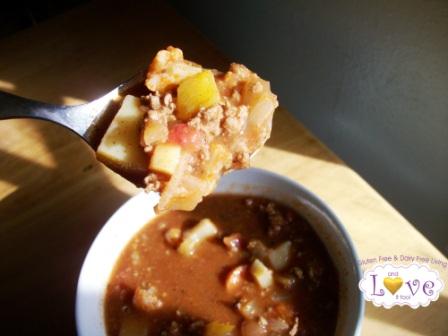 Hearty Vegetable Beef Soup
1 Tbs Olive Oil
1 Med Onions
5 Med Carrots
1 Large Stalk Celery
1 lb Lean Ground Turkey
1 lb Lean Ground Beef
1 Jar Gluten Free/Dairy Free Marinara Sauce (About 3 Cups)
1 Large Jar Petite Diced Tomatoes (About 20 oz)
3 c Beef Broth
2 Tbs Minced Garlic
3 Bay Leaves
2 Tbs Paprika
2 Tbs Cumin
2 Diced Med Bell Peppers (Green, Yellow or Red)
2 Diced Med Red Potatoes
1 Head Cauliflower, Florets Only, Thick Stalks Discarded  
8 c Water
4 Tbs Emeril's Original Essence
Dice onions and slice carrots and celery, sauté with garlic in large stock pan with olive oil until onions are translucent.  Add turkey and beef, cook thoroughly.  Drain fat and mix in remaining ingredients.  Simmer over medium heat for approximately 1 hour or until potatoes are tender.  Remove bay leaves and serve.
Makes 16 generous servings.