Today's post is unique in that this post does not come from a traditional blogger…
Rather, this post is written by one of the food an allergy experts over at a great new company, tasterie.
I was introduced to tasterie several months ago, before the official website had launched.
As it is with many of you, and undoubtedly as it is with the mother, pediatrician and food allergy specialist, Dr. Lama Rimawi, who founded tasterie, I must admit that I was a bit skeptical at first.
Still, they offered to send me a sample of their products and I accepted.
Opting for a box that is free of the top 8 allergens,  I was pleasantly surprised at how much they were not only able to squeeze into one box, but also with the variety and the fact that there was a bit of something for all of us.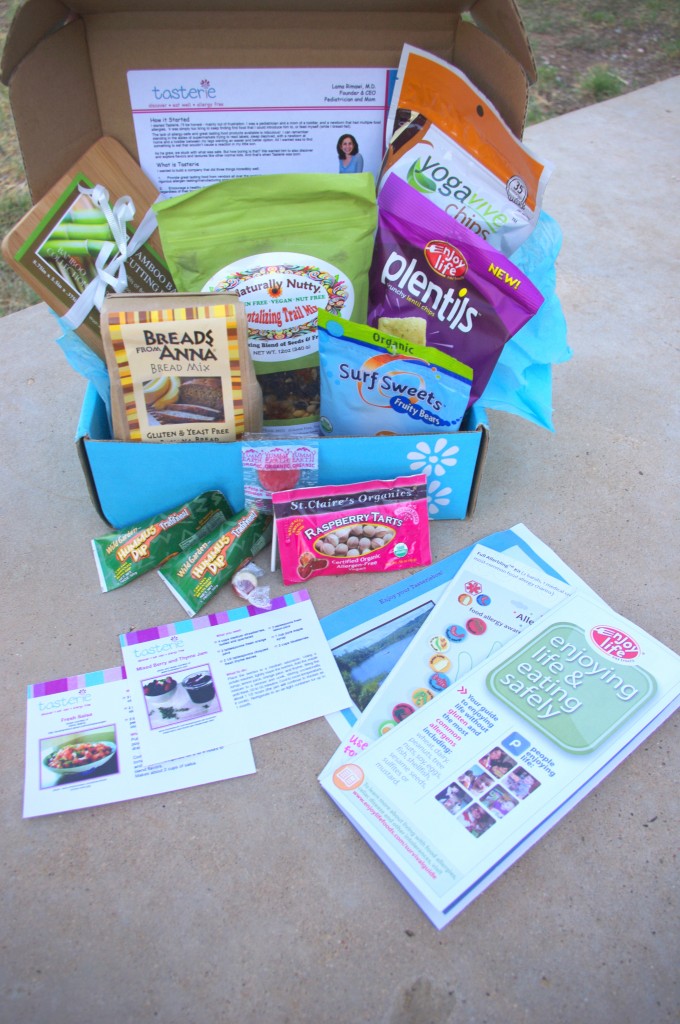 While I am 99.9% paleo (meaning those yoga vive caramel apple chips were right up my alley!), my family is still on the tail end of their transition so treats like plentils and a gluten-free but grain-based banana bread are a rare occasion but a welcome treat for them.
Along with the product came quite a bit of helpful information and two fabulous top-8 allergy free recipes.
Given that there were a number of items in this box that we had never tried, and many which we can't even find locally, I would say the $20 monthly investment would be well spent for many of us; especially those mothers who spend countless hours reading labels at the store (I know I am not alone).
Keep in mind, the monthly variety changes regularly so what I received may not be what you receive.
But if the quality of the box and the product contained within is any indication, you will be happy to have invested.
I am pleased to share this healthy lunchbox entry with you.
Thank you Jonae, thank you tasterie! xo
_________________________________________________________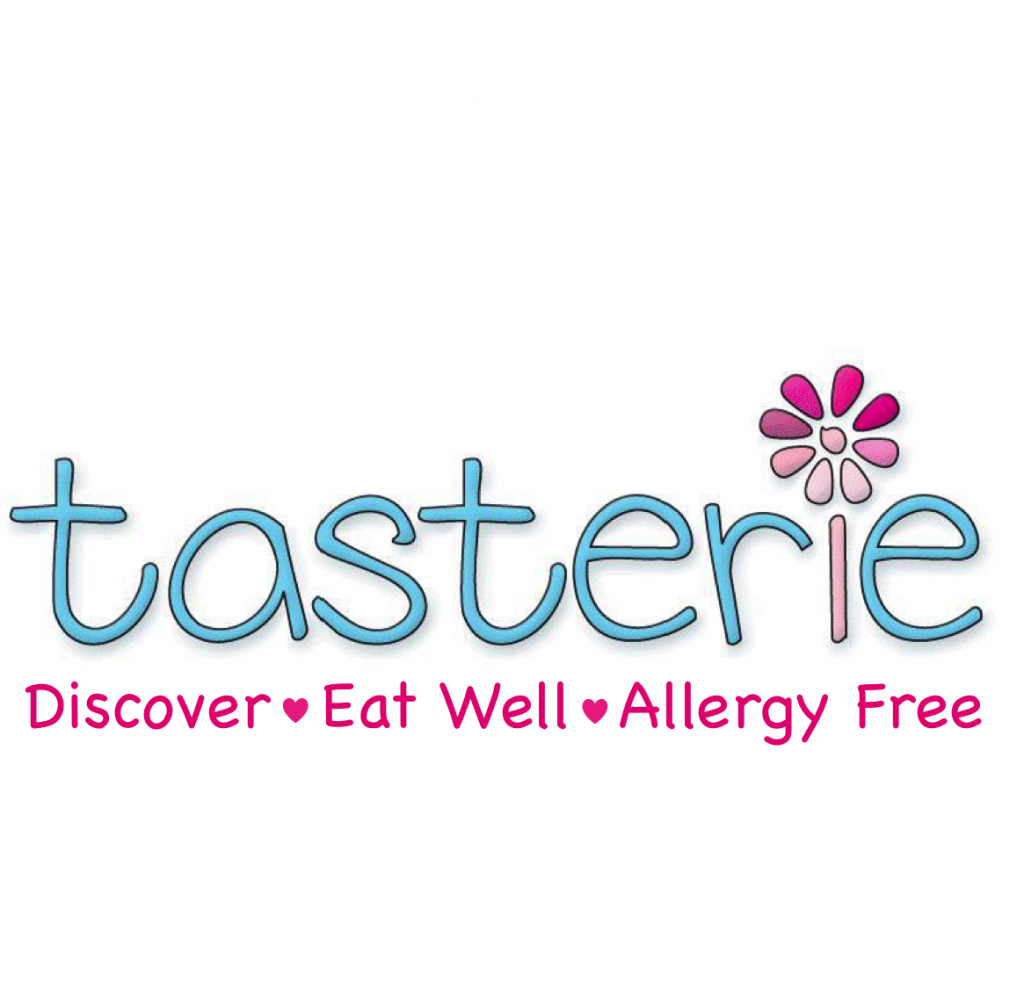 Back when I was a kid, I practically lived off of peanut butter and jelly sandwiches. It was a school lunch staple for me and many of my friends. I didn't know it then, but peanut butter is actually a very healthy option for lunch. It's packed with fiber and protein to help you feel full, and even though it's high in fat, it's high in monounsaturated fat – the good kind that helps reduce your cholesterol.
But when I was in school, very few people were concerned about food allergies. Today, the Centers for Disease Control suggests that 4-6% of children have some form of food allergy, and peanuts are one of the most common and deadly childhood allergies. As a result, many schools are completely banning peanut products. The means no PB&J!
So whether or not your child has a peanut allergy, chances are at some point you'll have to plan lunches that don't involve peanuts. Don't worry! There are lots of delicious and healthy peanut butter alternatives.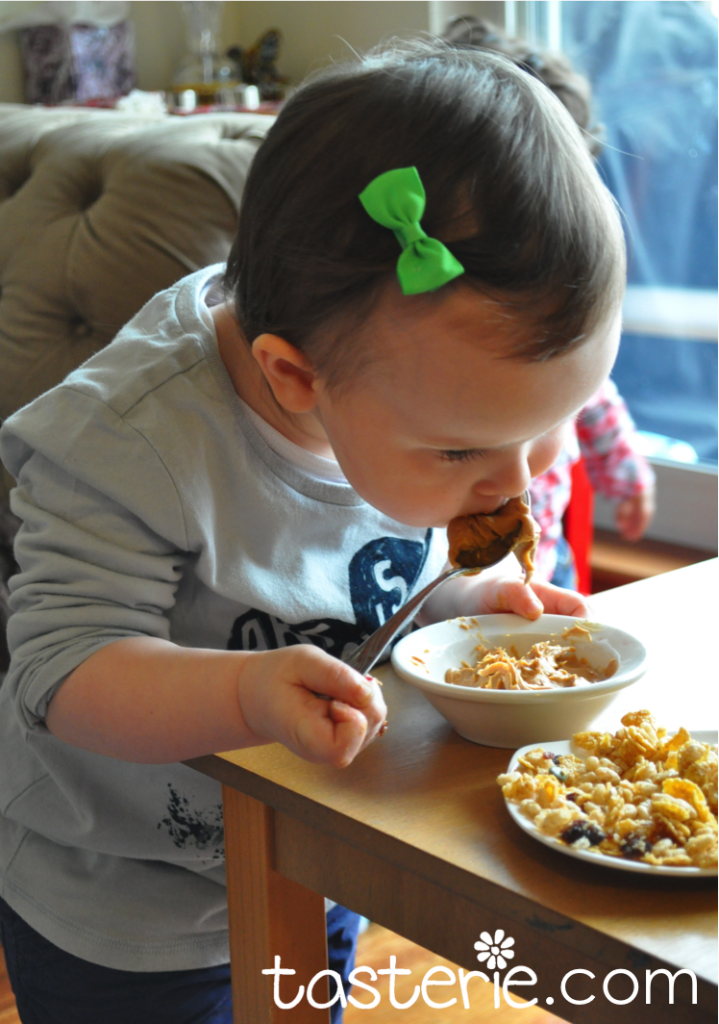 1. Almond butter/cashew butter/Nutella – An obvious peanut butter substitution is a butter made from other types of nuts. These other butters are also high in fat, and Nutella is high in sugar, so watch portion sizes carefully. Also, beware: kids with peanut allergies aren't necessarily allergic to other nuts, but they could be.
2. Soy butter or sunflower butter – Like nut butters, you can use soy butter or sunflower butter the same way you would use peanut butter. How about layering SunButter between banana slices to make adorable, bite-size "sandwiches." You could also dip the banana bites in melted chocolate to make them even tastier – but you didn't hear that from me. (Use dark chocolate! It's good for you!)
3. Hummus – I wasn't always a fan of hummus, but there are so many different brands and recipes out there, I just needed to try a few until I found a favorite. We at Tasterie love Robert Rothschild's Roasted Eggplant and Pepper Hummus. The best thing about hummus is its versatility. You can spread it or dip it on everything from crackers to veggies. It's also a great source of protein!
4. Guacamole – One of the few foods that stands up to peanuts when it comes to heart healthy fat is avocado. You could try a corn tortilla with guacamole and homemade salsa. Add a little shredded chicken for protein and a side of fruit and you've got a real power-packed meal on your hands!
5. Cream cheese – How is it that a cucumber and cream cheese sandwich with the crusts cut off can be both elegant and perfect kid food? It's magic! Strawberries and cream cheese are a delicious combo, too. (Use a heart-shaped cookie cutter and turn Valentine's Day's lunch into something super special.) Lest you think cream cheese isn't an option for dairy-free, Tofutti makes a soy-based cream cheese. Or you could try making your own.
There are lots of other spreadable options out there – from tahini to baba ghanoush, to other vegetable purees. Just use your imagination!