Today on Healthy Lunchbox 2012, Susan from Real Kids Eat Spinach is sharing some of her favorite school lunchbox tips and three, count 'em, three, delicious recipes!

A single mother of two children, Susan spends much of her time preparing healthy meals that her children love.  As a certified holistic health coach, Susan offers insight and healthy solutions to families through the internet and her home.  Be sure to contact Susan directly if you are interested in knowing more.
I am so glad Susan chose to join the Healthy Lunchbox series again this year.  To see more Healthy Lunchbox ideas from this year and last, visit the tag cloud on the right and click "Healthy Lunchbox." 
You can also follow Susan on facebook.
Thanks Susan!
_________________________________________________________________________________
My kids always delight in letting my know what their classmates' lunchboxes contain. I feel that I've really done right as the years pass, as their comments have gradually become less envious and more informed. I don't encourage self-righteousness in my offspring, but seeing them really grasp the notion of healthy food makes me proud.
And while I also reserve judgment when it comes to double-stuffed Oreos and chocolate Pop-Tarts, their presence on the elementary lunch circuit reminds me that the most fun part of a school lunch is almost always the treat. Of course kids don't need processed treats to fuel their afternoons, so wanted to share a couple of ideas and recipes that embrace the concept of dessert at lunch. Without the sugar crash an hour later…
All three of these recipes are free of gluten, grains and dairy and naturally sweetened. Perhaps even more importantly, however, they have all passed rigorous taste testing (performed on my children and several of their peers). I'll start with a treat that just screams fall and back-to-school time: Cinnamon Apple Snack Bars.
These bars have a triple whammy of cinnamon, which means they will fill your kitchen with the most comforting, cozy scent. Based on almond flour, they are obviously not suitable for a nut-free school lunch. I wanted to include them, however, as they are a perfect candidate for after-school snacking or even a quick breakfast, if your kids' school doesn't allow nut products.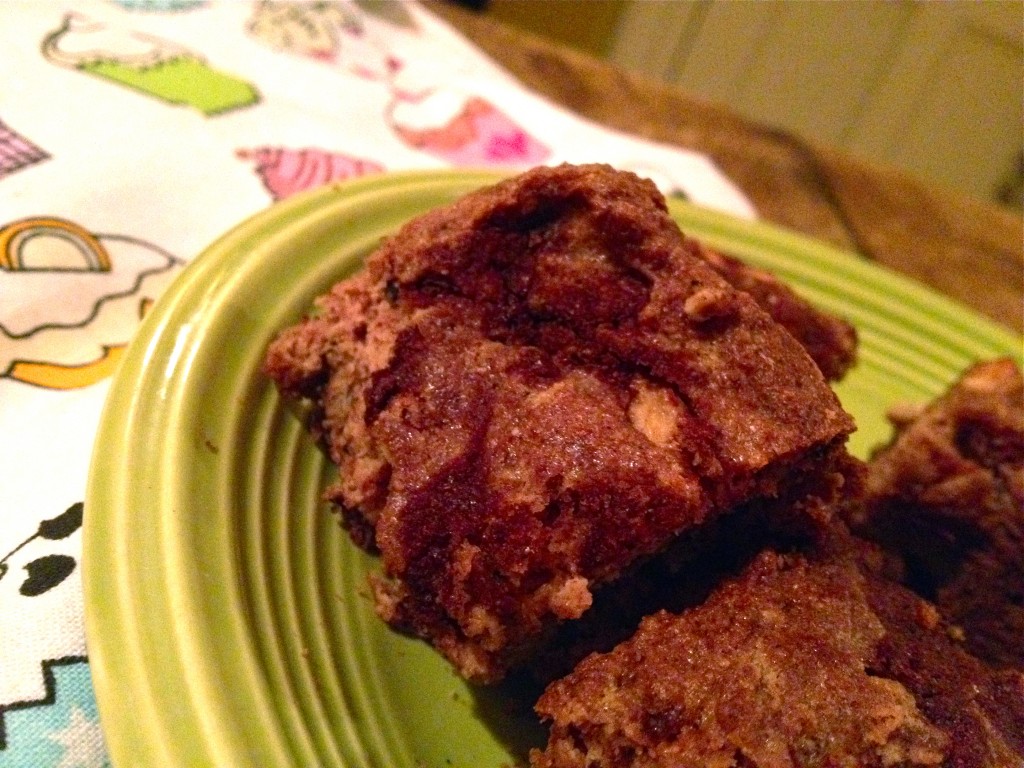 Cinnamon Apple Snack Bars
2 cups almond flour
1 tsp. baking powder
1 tsp. cinnamon
1/4 tsp. salt
1/2 cup dairy-free milk of choice
3/4 cup natural applesauce
1/2 cup chopped, peeled apple (about 1/2 large apple)
1 tsp. cinnamon
1 tbs. palm sugar
large handful of raw walnut pieces

for topping:
1 tbs. melted coconut oil
1 tbs. cinnamon
2 tsp. palm sugar
Preheat oven to 350. Combine almond flour through salt in a large bowl. Add milk and applesauce. In a separate smaller bowl, combine 1 tsp. cinnamon and 1 tbs. palm sugar. Toss apple pieces in mixture until they are well coated. Fold into batter long with nuts.
Pour into a greased 8×8 baking dish. In a small bowl combine melted coconut oil, cinnamon and palm sugar. Using a spoon, drizzle all over top of the cake. Bake for 30-40 minutes or until a toothpick inserted into the center comes out clean.
Allow to cool and cut into bars.
My next two school-worthy desserts are both chocolate-based. My daughter doesn't love anything too rich, so both of these are perfect candidates without being overly fudgy or indulgent. First I wanted to come up with a replacement for the ever-popular pudding cups that often sneak their way into lunches. I've made my kids avocado-based chocolate pudding in the past, and love how the fruit adds a creamy texture. I wanted to come up with a version that wouldn't require additional sweetener, however, so I turned to a different secret ingredient: baked sweet potato. While you can't taste the potato in the finished product, its inclusion adds both nutrition and the perfect amount of natural sweetness. I can't wait to try this recipe out with canned pumpkin as well!
This turned out amazingly well, and was ridiculous easy. I cooked my sweet potatoes in the microwave, measuring out the other ingredients while the potato cooled. My pudding was plenty sweet as written, but for a special treat I also stirred in some dairy-free chocolate chips. Using a Vitamix, the chips and the coconut oil emulsified easily; if you don?t have a high-powered blender, melt your butter/oil first.
I suggest you taste your pudding for sweetness before deciding to tinker with it. If it needs more sweetness, you can use a smidge of raw honey, maple syrup or chocolate chips. This pudding tastes great warm, but even better once chilled (thus a perfect candidate for lunchtime).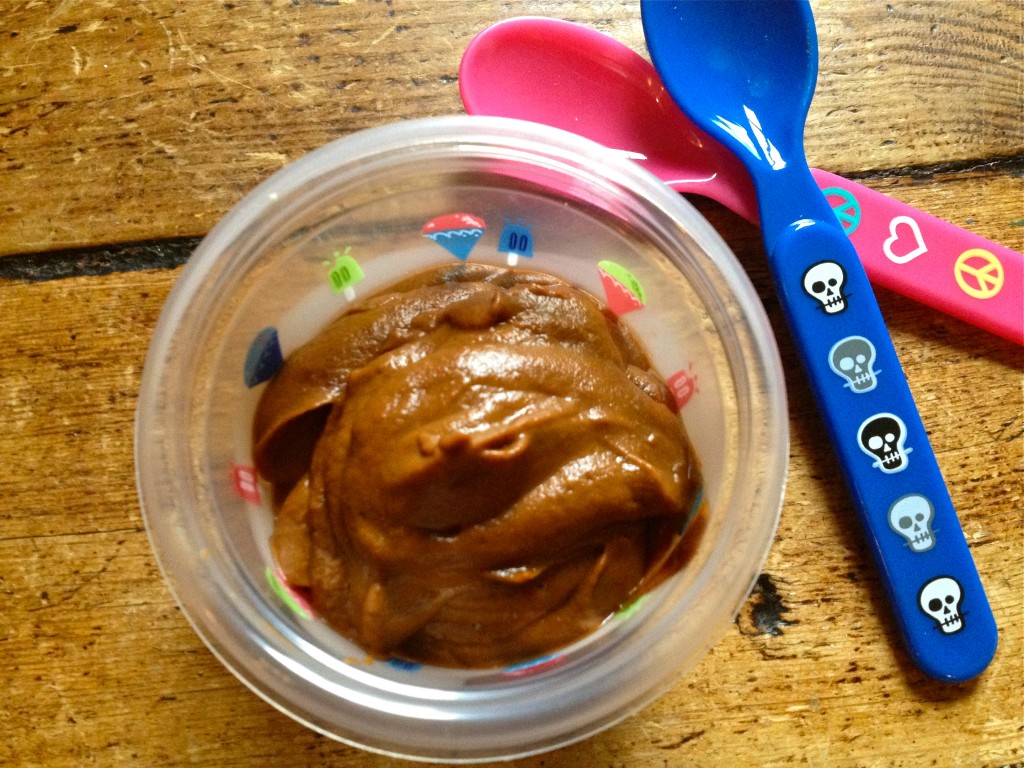 Sweet Potato Chocolate Pudding
2 large baked sweet potatoes, skins removed
1/3-1/2 cup non-dairy milk of choice
2-3 tbs. of unsweetened cocoa powder
3 tbs. coconut oil or butter
1 tsp. cinnamon
1 tbs. vanilla extract
optional: raw honey, maple syrup or chocolate chips, as desired
Combine all ingredients in a blender and process until smooth.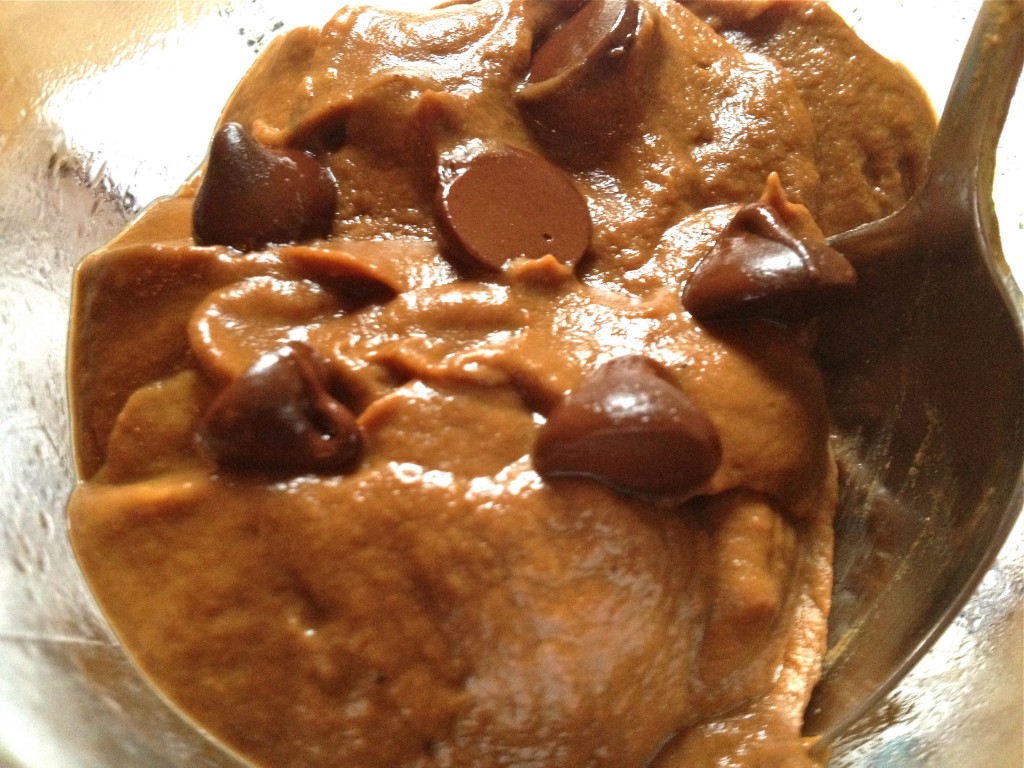 My final recipe was a slam dunk at a healthy eating lecture I gave to children and their parents at our local library this summer. Even the kids who didn't really really engage in the subject matter weren't shy when it came to devouring the brownies I brought! Everyone was shocked when I shared what made it possible to make them grain-free: canned chickpeas. I personally follow a Paleo diet and as such avoid legumes, but even I made an exception to enjoy one of these little brownie bites. They are a good source of fiber and taste positively sinful. I baked mine in mini muffin cups to make them perfectly portioned for kids.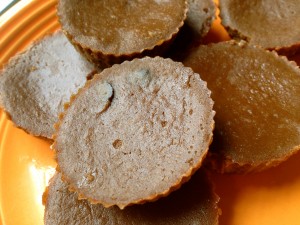 Mini Chickpea Brownies
1/2 cup coconut oil
1/4 cup unsweetened cocoa powder
3/4 cup raw agave nectar or honey
1/4 tsp. salt
1 tbs. vanilla
2 eggs
1 can chickpeas, rinsed and drained
1 cup mini chocolate chips (I use Enjoy Life dairy-free chips)
Preheat oven to 325. Heat coconut oil and cocoa powder in a small pot over low heat; warm until oil has melted and cocoa dissolves. Stir well.
Meanwhile, run chickpeas, sweetener and salt in a food processor until smooth. Add eggs and vanilla, processing again until thoroughly blended. Pour chickpea mixture and chocolate into a large bowl and allow to cool.
Stir in chocolate chips. Scoop batter into greased mini muffin cups and bake for 20 minutes or until a toothpick inserted in the middle comes out clean.
I made all three of these recipes with help from my 6 and 8-year olds; while the older one isn't always in the mood to get busy in the kitchen with me, they are both equally eager to lick spoons. I hope these healthy treats inspire you and yours as well, and offer them a sweet little reminder of how much love and effort you put into sending them off to school nourished and ready to grow.