I first met my friend Shannon when she won a copy of Eat Like a Dinosaur several months ago.  Since then, her site: Enjoying Gluten-Free Life has become one of my favorite stopping grounds.  Not only does Shannon share some wonderful tips for gluten-free living, she finds the most interesting people to interview!
I am a firm believer in planned overs and hope you find Shannon's post as enjoyable and enlightening as I do!
Thanks, Shannon! Xo
_____________________________________________
Loving Leftovers
Leftovers – or planned-overs – are a mainstay in our home. Switching from purposefully making one meal to two or more may increase the prep time a bit or not at all, depending on the recipe, so the time savings are obvious. Some meals like a casserole naturally stay in the same form for lunch and some like roast chicken can easily be transformed into many different meals. No matter what, leftovers can translate into fast, healthy, delicious meals that take little prep time and will be enjoyed by both kids and adults when lunchtime rolls around.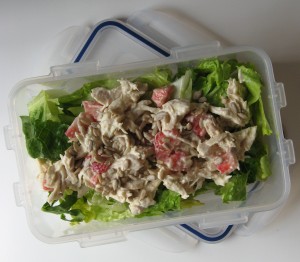 On that roasted chicken, I roast bone-in breasts in the oven*. (I like the flavor and moistness of the bone-in vs. boneless). Or I put a whole chicken in the crockpot, seasoning it up, add a little water in the bottom, and cook it on low for half a day. Either becomes an immediate meal but offers up so much more.
Lay slices of chicken on bread or roll in a tortilla. A sandwich of chicken with a bit of mustard was my favorite when I was a kid.
Cut chicken into cubes, mix in mayo and the child or adult's favorite veggies or add some seasonal fruit. As summer ends, chopped peaches and plums would be perfect. As fall fruits appear, add apples and pears. (Remember to coat the apple and pear with some citrus juice so it doesn't brown.) Some seeds or chopped nuts add a nice crunch.
Chunks of chicken on a bed of lettuce. Throw on some other veggies, some berries, cheese, again the seeds or nuts for crunch (sunflower seeds are my favorite) and add a small container of dressing to add later.
Have a meal like chicken pot pie, shredded chicken in BBQ sauce on a bun or chicken tetrazzini for dinner – using the pre-cooked chicken. Send leftovers – hot except the BBQ – for lunch the next day. (This makes three meals off of that chicken.)
*My favorite and oh, so, easy seasoning for baked chicken (I have some in the oven right now) – Generously sprinkle on Italian Herb Seasoning and paprika, then add salt and pepper to taste, bake at 375 degrees until done.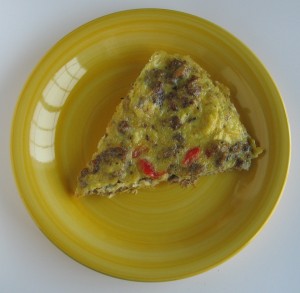 Cold
(Remember to add ice packs or, for adults, put this in the fridge at work.)
A slice of a frittata –we're used to eating frittata's hot but Italians are comfortable with having a cold slice.
Many proteins – roast beef to meatloaf to salmon – can either be sliced or mixed with some mayo and added to a sandwich or wrapped in a tortilla or lettuce wrap.
Pizza. (Am I the only one who loves it cold?)
Hummus or another bean dip with things to dip make a great high-protein, and totally fun, lunch.
Hard boiled eggs make a nutritious breakfast or snack and can go to school (peeled is probably best) as is or quickly morph into deviled eggs.
Hot
Use a keep-warm container such as a Thermos. (For food safety: you may want to test the container by putting hot food in it per the directions then checking the temperature when it would be eaten – four or five hours later – to see if it held the heat.)
Any soup. You could even send fun toppings for the child (or adult) to add such as cheese (dairy or not) for the top of black bean soup or tortilla strips for a spicy chicken soup.
Casseroles – Anything from a gluten-free version of tuna and noodle casserole or macaroni and cheese
Last night's main course. Many dinners – chicken parmesan, pot roast, spaghetti (squash) and meatballs – and their sides make great lunches.
Complete the meal with other leftovers. Bake extra muffins (hopefully low sugar) at breakfast time then throw one in as a fun dessert. Consider making a chunky fruit salad for dessert the night before then transforming the leftovers into a fruit kabob with a dip on the side. (As Elise Johnson from Cooking with Elise said in her Healthy Lunchbox 2012 post, cut the sharp tips off of the skewer for safety.)
Planning ahead so that you have more than you need for one meal can make your life a lot easier, and make both mornings and lunch more pleasant. I also find it saves us money because I'm less tempted to buy more expensive alternatives that are easier when I'm in a hurry and nothing else is readily available.