If you haven't been to visit the entire Healthy Lunchbox 2012 series just yet, please take the time to do so.
In the last 17 days, more than one dozen bloggers have shared recipes, tips and tools they use to make their own lunch and their children's lunches healthy yet delicious…
And we're just barely half way through… 
 Today's Healthy Lunchbox post is no exception.  I was tickled pink when Maggie from She Let them Eat Cake accepted my invitation to join us on this year's series.  Her insight into building a relationship and working with your allergic or food sensitive child's teacher is invaluable and her cookies look simply divine! I know you will enjoy this post as much as we have.
 Thank you, Maggie! Xo
___________________________________________________________________
Last year was our first school experience as it was my son's first year of school.  As he heads into grade one, I feel much more confident and much more prepared when it comes to packing lunches and snacks that are allergy friendly.
At one point in the year, my son's teacher made the entire class gluten-free cupcakes.  Once I stopped crying my eyes out (from gratitude), I made sure to write her a thank you card!  Something so small meant the world to us.
I thought Sunny's Healthy Lunchbox Series would be the perfect spot to share some of my learning with you.
For me, the biggest challenge was not the day-to-day packing of his lunch.  For me, it was how to handle all of the special days (pizza lunches, Valentine's parties, birthday celebrations).  Like most mommas I wanted to make sure my son didn't feel too different from his friends.
Here are some tips to help you feel prepared for those special days (which seem to be junk-focused, no?).
Ask the teacher to put a note stating there's a classmate with an allergy in any newsletter or parent communication.  Something along the lines of, "We have a student with a gluten, dairy, and egg allergy.  Please let us know in advance if you plan on sending any treats for the class so we can make accommodations for all children."
Get a good, nutrient-dense cupcake recipe – make sure it's one that your child has tested and approved).  Here's our favorite .
While we're on the topic of cupcakes, keep a few frozen so you can pull them out on a moment's notice – they'll be thawed by lunchtime!  I like to top mine with chocolate-avocado pudding (shhhh).
Get a good cookie recipe, one that the entire class will like too – I like to make sure my school-bound baked goodies are nutrient dense and nut-free (see my recipe for Chocolate Chip Cookies using pumpkin seed flour below).
Take an allergy-friendly box of treats for the teacher to give to your son/daughter when necessary.  This is one of the few times I send packaged goods to school.  I usually take my son to help me pick it out.  I want to make sure he'll be happy eating his treats while his classmates are eating Smarties (thank goodness he can't eat those).
Keep frozen pizza crusts on hand for pizza lunches.  I think we're at an advantage here since we can send in a MUCH healthier pizza than the ones the rest of the kids will be eating.
Make sure the treats, baked goods, and snacks you do send to school are nutrient-dense.  Baking with grain-free flours and high protein grains will help to balance out the sugar rush and make for better learning (and less tummy aches).  I like to use unrefined sugars in my baking too.
Never stop expressing gratitude for the support of the school's staff (principals, teachers, support staff, secretaries).  A hand written card, an email, or a bunch of flowers will go a long way.
Today I want to share one of my favorite recipe creations with you.  I love baking cookies and cupcakes for my kids.  It makes me happy and it makes them happy.  That said, I think it's important to make sure those baked goods are as healthy as I can get them (while still tasting yummy).  These gluten-free, nut-free, starch-free, and vegan cookies are delicious and nutritious (definitely not taste-free).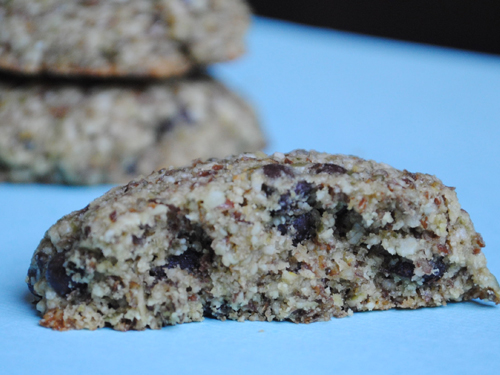 Gluten-Free, Nut-Free, and Vegan Chocolate Chip Cookies
Yield: 1 dozen cookies
1 ¼ cup finely ground pumpkin seeds
1 cup certified gluten-free oat flour (quinoa flour works too)
½ tsp baking powder
½ tsp sea salt
1 tsp vanilla
1/3 cup maple syrup
1 tbsp ground chia seeds
1 tbsp psyllium husks
1/3 cup coconut oil, liquefied
½ cup chocolate chips
Instructions
1.    Preheat oven to 350 degrees. Prepare a baking tray.
2.    Grind pumpkin seeds and certified gluten-free oats (I use a coffee grinder to grind my seeds and oats).
3.    Combine ground pumpkin seeds, oat flour, baking powder, and sea salt in the large bowl.
4.    In a smaller bowl mix vanilla, maple syrup, ground chia, and psyllium husks.  Let sit for a few minutes as it thickens.
5.    Add liquefied coconut oil to the rest of the wet ingredients.
6.    Add wet ingredients to dry ingredients and mix well.  Stir in chocolate chips.
7.    Scoop dough onto prepared baking sheet.  Press gently with hand.
8.    Cook at 350 degrees for 10-12 minutes. Remove from oven and let cool on tray for 5 minutes. Move to a cooling rack and let cool completely.
9.    Store in an air-tight container.
Notes
1.    You can buy chia seeds and psyllium husks at your local bulk food store or health food store.  Both are excellent sources of fiber.
2.    I use Enjoy Life Chocolate Chips.  They're free of the top allergens so I know they're safe for my kids.
3.   If your batter seems wet, add a couple more tablespoons of oat flour or ground pumpkin seeds.