My friend Kate from Eat, Recycle, Repeat loves to help others. To her, food is about more than what we eat, it is how we treat the earth and thereby treat our bodies in the process. 
I love her statement, "I believe that what we put into this earth directly affects and impacts our health, so I enjoy foods that are environmentally-conscious: sustainably-raised and harvested, free of pollutants and toxins, and mutually beneficial for individual and earthly well-being."
Today, Kate takes her earth-friendly balanced lifestyle and applies it towards her Healthy Lunchbox, a beautiful lunchbox indeed.
Thanks, Kate! xo
_____________________________________________________________
Wherever I go, my personal belongings bulge with homemade herbal tea (de-caffeinated tea is a rarity in Japan), reusable water bottles, and a packed lunch or dinner. It's a necessity in a country unfamiliar with food allergies. Even so, I find the small effort of packing a lunch every day is a great investment in future belly happiness, as well as peace of mind.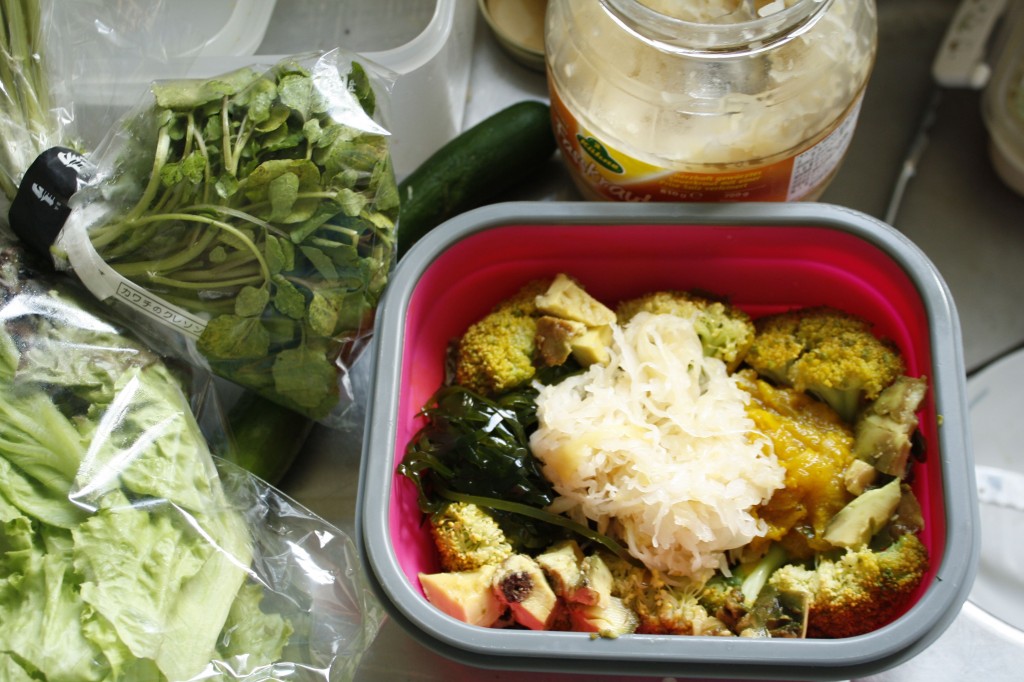 I'm only responsible for one person, though, but with three brothers and one sister, I can imagine what moms are going through if they have to pack many lunches. I spent a year packing lunches for my 9 year old brother, and while I'm no expert, I got a glimpse of the challenges of packing an allergy-friendly, kid-appealing lunch that will actually get eaten and not brought home barely nibbled on. I refused to pack lunches for my teenage brother, though, who was always running out the door in the morning with a banana and something else totally insufficient to quell his superhuman appetite. I tried to encourage him to pack as much of his lunch as possible in the evening, to avoid the morning rush.
Of course I'm not smart enough to follow my own advice, but I wake up early enough in the morning to get something prepared and get out the door with at least my hair combed, or at least in a ponytail! I have a few tools that can make packing a lot more efficient and enjoyable, but I've basically accepted that I am the food bag lady. Happy but unfashionable.
Set Yourself Up for Success:
– Make your lunch, or several parts of it, the night before. If you're rushed in the mornings, you don't want to add to the stress!
Use Some Great Tools:
– collapsible silicone lunch box
– re-usable snack pouches
– glass jars for layered salads
– bamboo utensil set
– reusable tea mugs, tumblers, and water bottles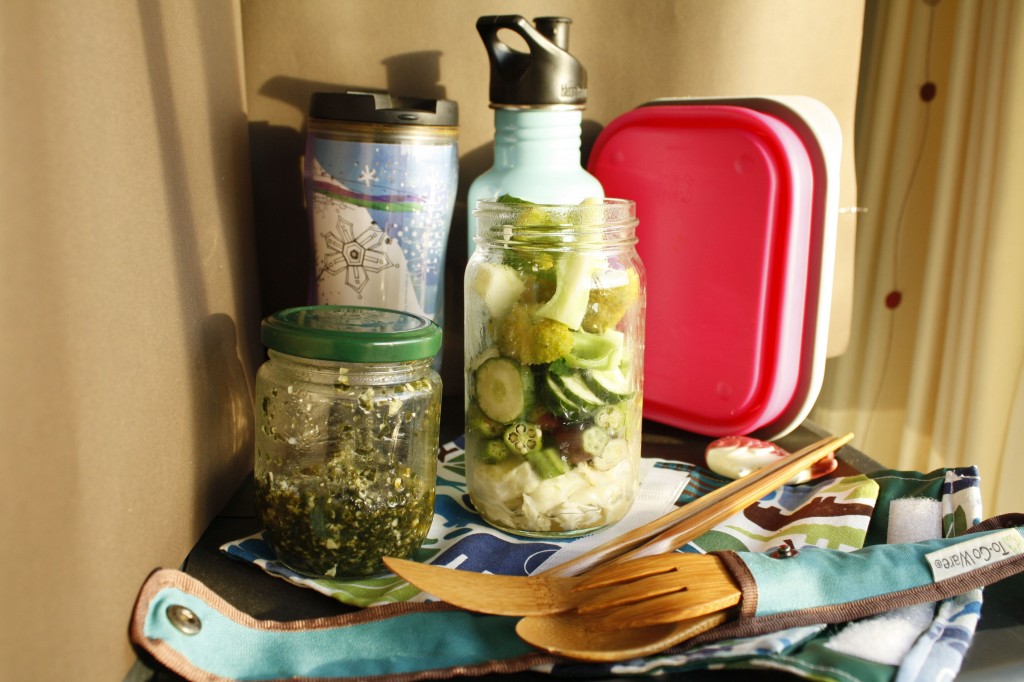 Ever since I saw it on Pinterest, I've become a huge fan of salads in jars. This works best with sturdy vegetables that can be pre-packed and won't bruise if prepared ahead of time. That way in the morning, you can grab a jar and go! When you want to eat it, you can add your favorite dressing and shake! It adds a little extra fun to your normal lunch routine.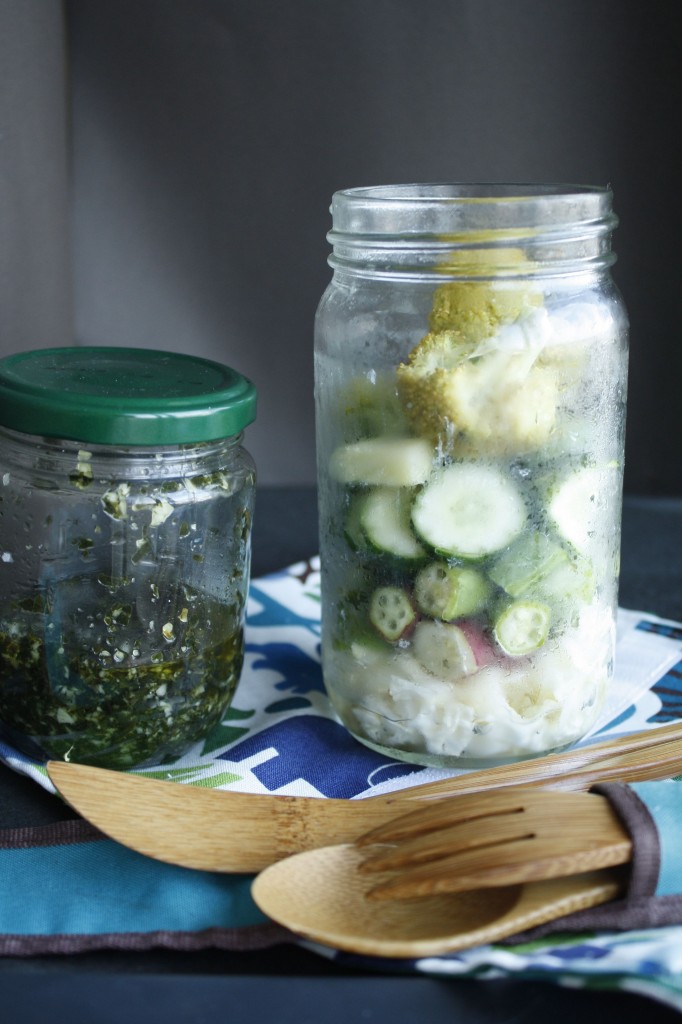 This jar has cabbage, okra, cucumbers, and broccoli. I'd also love to add some pickled red onion in there. Sauerkraut would work well too if you didn't have cabbage.  The smaller jar contains some basil from my window garden, pureed with garlic & olive oil.
Another salad that I enjoy, and one that kids might enjoy too, is the salad in a boat idea. By hollowing out a cucumber, using a spoon to remove the seeds, you can fill in the middle with tuna salad or lunch meal slices (I prefer Applegate), and then cover with the other half of the cucumber to keep things relatively mess-free. You probably want to avoid tuna salad if your school or work is really hot or doesn't have good refrigeration. But the sky is the limit for fillings! I imagine most sandwich filling ideas would work well here, except for PB & J!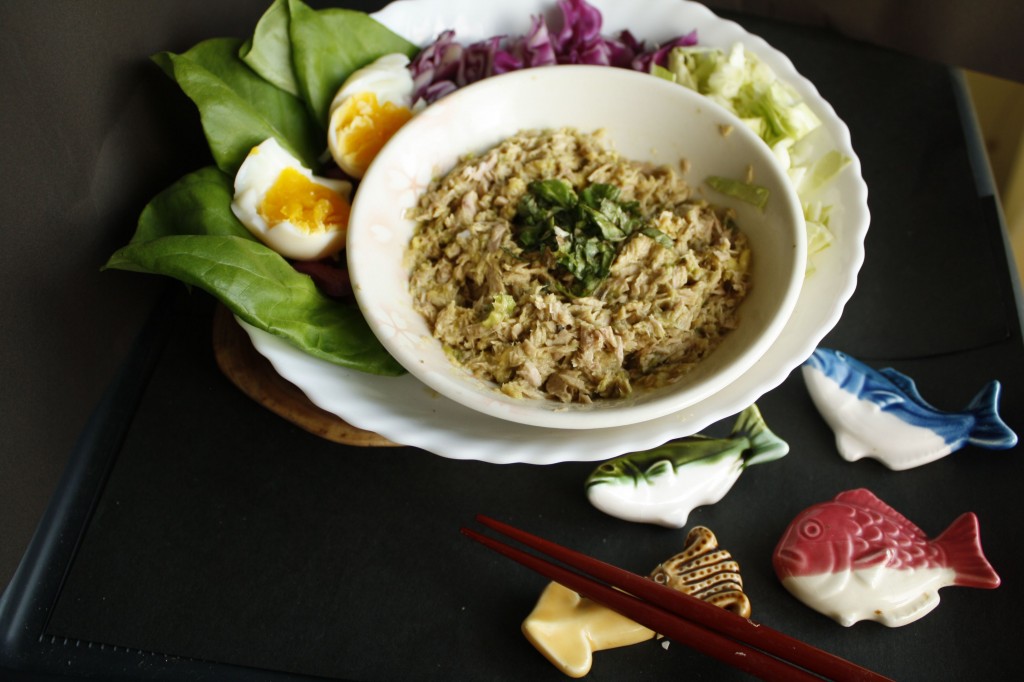 Not Your Average Midwest Tuna Salad
Makes 2 servings
1 BPA-free can of tuna
¼ Avocado
1-2 Tbs olive oil
3-4 small dill pickles or one larger pickle
3-4 leaves of basil, chopped
optional:
hard-boiled egg
two slices of bacon, chopped
Chop the pickles into small pieces, and cut the basil into thin strips. Combine all ingredients and mix well. Serve in a cucumber boat or over a bed of lettuce. Serve with chopped hard-boiled egg or bacon as a garnish, if desired.
For some portable treats, check out my Fudgy Sweet Potato Truffles or Uncool Fudge at Eat, Recycle, Repeat!