Have you met my friend, J? Janie, otherwise known simply as "J" is a girl after my own heart.  Despite challenges given to her from birth (Cerebral Palsy, surgeries, lifetime stomach issues), J has gone on to find her way through undergraduate and graduate school, two masters degrees and a teaching certification.  One busy girl!
Recently, J revealed her site: I am J the Blog where she shares information on living a gluten, dairy, nut, chocolate and caffeine free life.
I am so happy that Janie volunteered to share some of her story with us, as well as her delicious lunch recipe below, which includes an amazing salsa verde recipe she and her mom crafted together (and given that I am a huge salsa verde addict, I am always happy to add another recipe to my list!).
Thank you for joining us, Janie! xo
___________________________________________________
I am so honored to be a part of the Healthy Lunchbox Series. I thank Sunny for emailing because it came at the right time. I've been having a lot of issues with dairy and her email gave me the confidence to confront my dairy demon and banish it! I have been strictly gluten free for months now but now to add dairy free has been an exciting experience as well as one that has lead me to an even stronger support system of friends and family.
To make everything gluten free is a piece of gf cake but to make it dairy free too? Challenge accepted! I enlisted the help of my Mom for the first part. She makes amazing salsa and I honestly have never made time to make it until now. It's amazing how much your diet changes encourage you to take control of your eating. I am not a baker or cook but I am learning each and every day to not only love the process but to be creative and love healthy food. As a student, I have a lot on my plate and I am usually on the go so I need something I can setup quickly. I like lunches on the go to be simple so here is my Spicy Lettuce Wrap!
J's Spicy Lettuce Wrap
Please adjust this recipe to fit your needs!
Part 1: Mami's Green Salsa-Medium Hot
My mom and I experimented with this. Don't worry though, mom didn't do a thing! Like the big girl that I am I did all the work and my mom did all the guiding! Hehe! You may want to make this a day before. It lasts about a week.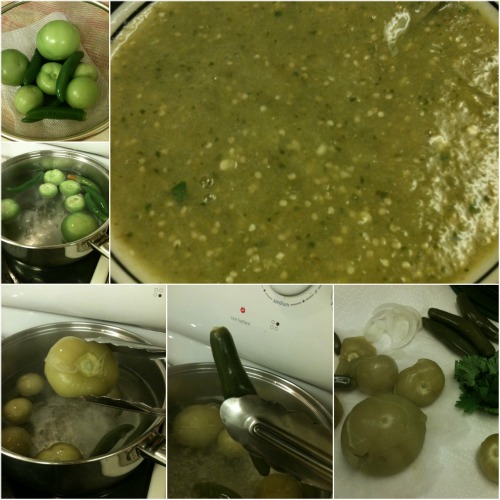 Ingredients
10 Tomatillo (reduce to 6 for the really caliente version)
3 Serrano Chile
Salt-to taste
Cilantro-a small handful
White Onion-6 to 8 small pieces
1 ½  Tablespoons Water (used when blended)
Method
Fill a deep saucepan or pan of your choice half way (or little more than that depending on the size) with water and bring to a boil.
Wash all of the tomatillo and remember to take off the tomatillo leaves before using.
Cut off the ends of the chile and throw away. Wash the chile as well.
Once the water is boiling add the tomatillo as well as the chile to it. Check it every so often. The tomatillo needs to be peeling and looking like it's becoming really soft and kind of mushy. The chilies get softer as well. It took around 20 minutes for me. It may be less or more time for you.
After that, get your blender out and put in the tomatillo, chilies, salt, cilantro, onion and the 1 ½ tablespoons of water and blend to your desire.
Tips
Place your sauce in a bowl of your choosing but don't cover it until it gets cool. Once it cools, you can store it in the fridge.
Use within 5 to 7 days. It really depends on you and how you see your salsa is doing.
To wash the veggies, you can fill up a bowl with water, put in your veggies and sprinkle baking soda on them. Let them soak for around 2 minutes. Next, take them out of the water and wash them off with water and you're ready to go!
Part 2: J's Spicy Lettuce Wraps
This part is all based on how much of each ingredient you want.
Ingredients
Method
Wash all the veggies.
Cut your desired amount of tomato in small pieces and place it inside each of the Romaine Lettuce Wrap. (I used three wraps and small pieces of tomato)
Use a spoon to put a small amount of salsa inside each wrap.
Next, spread Wholly Guacamole or cut pieces of your fresh Avocado in it.
To end, place one piece of the Applegate Farms Turkey Bacon on top of the existing ingredients and you're done! Roll up or eat like a salad!
Tips
You can use Applegate Farms Herb Turkey Breast Slices instead or in addition to the bacon.
What I did was to transport is:

Pick a reusable "lunch box" and put the wraps with tomato only on the bottom .
Next, fold a piece of wax paper and put bacon in the middle and place it on top of the wraps.
You will then put a napkin on top of that.
Finally, put a little container of salsa and the Wholly Guacamole along with utensils on top, cover with lid and you're ready to go!
I like to drink Steaz in Super Fruit as a beverage along with some Smart Water.
Sides
I didn't include sides on here but some good ones are:
Carrots and all sorts of other veggies
Grapes and other easy to transport fruits
Tostadas including Tortilla chips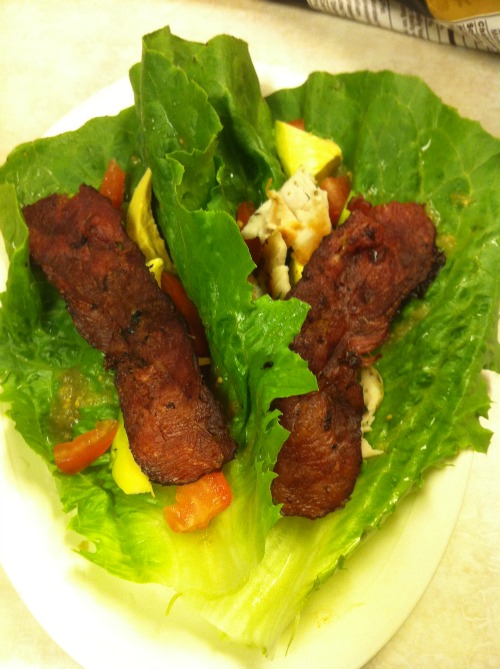 Optional with Fresh Avocado and Applegate Farms Herb Turkey Breast (right)
If you have any questions you can email me! Thanks for reading and I hope you enjoy!