My friend Heather, the Gluten-Free Cat has been a tremendous and positive influence on my blog since early on.
You may recognize Heather from last year's Healthy Lunchbox Series, or her regular entries in the Ingredient-Challenge Monday, including this ICM Featured Recipe, or last month when Heather chose to adopt me for the Adopt A Gluten-Free Blogger event (I mean seriously, how sweet is she?). 
The fact that Heather takes time away from her own beautiful site to contribute so much to mine means more than you'll ever know.
I am so happy to have her share more of her beautiful healthy lunchbox items with you today.
Thanks Heather! Xo
___________________________________________________
Thank you, Sunny, for hosting this Healthy Lunchbox Series once again.  As we're starting back to school, all lunchboxes seem fresh and new.  But it won't be long before the Lunchbox Doldrums hit.  Kids and adults alike will grow tired of the same sandwiches and salads.  And when that happens, it's time to turn to WRAPS!
The great thing about wraps is that they're easy to pack and hold and fun to eat.  But more importantly it's easy to wrap up great nutrition in a variety of ways.
First, consider the wrap itself.  We all have different nutritional needs and dietary restrictions, but these are some gluten-free wraps that I enjoy using:
Brown Rice Tortillas
Corn Tortillas
Rice Paper
Dehydrated Veggie Wraps
Red Leaf Lettuce
Romaine Lettuce
Swiss Chard
Nori Sheets
Beet Slices (slice with mandoline)
Jicama Slices (slice with mandoline)
The list doesn't have to end there.  If it can bend, you can make a wrap out of it!
Next consider the content of your wraps.  If you can scoop it, spread it, or layer it, you can put it in a wrap!  Try these:
Chicken Salad (or nut meat pates)
Egg Salad
Tuna Salad (or mock tuna)
Deli Meats and Cheeses
Eggs, Cheese, and Guacamole
Black Beans and Rice
Almond Butter and Jelly
Raw Fruits and Veggies
Roasted or sautéed veggies
Hummus and Veggies
With 10 wraps and 10 stuffing ideas, think of all of the combinations you can create on your own!
Here are a few ideas to get your creative juices flowing.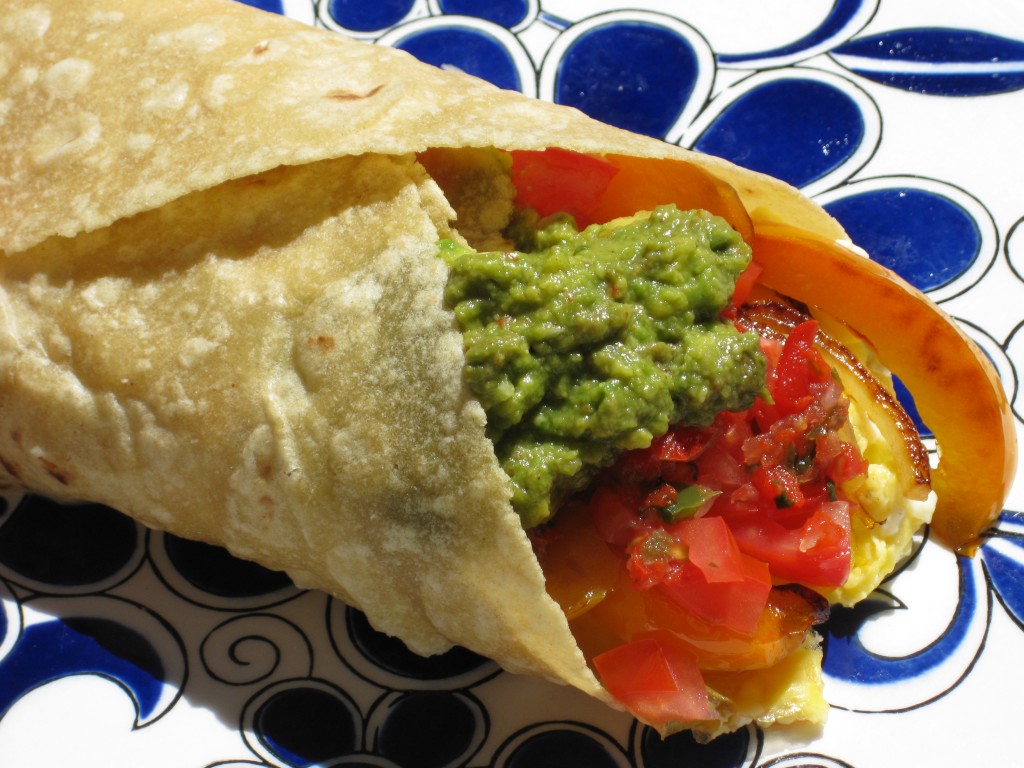 Egg, Peppers, Onions, Tomatoes, and Guacamole Teff Wrap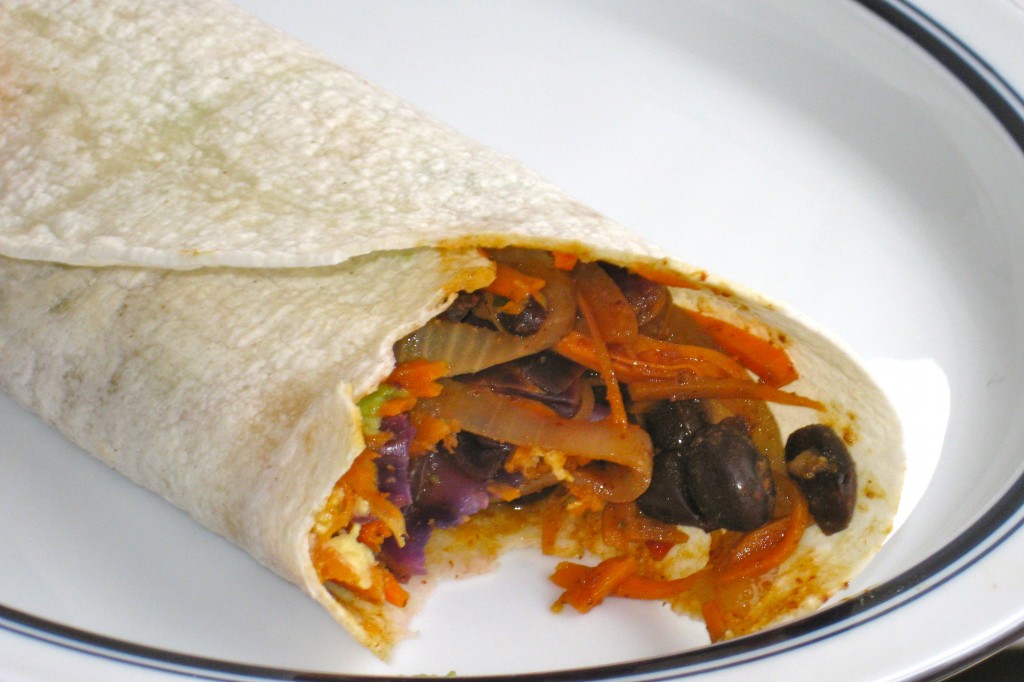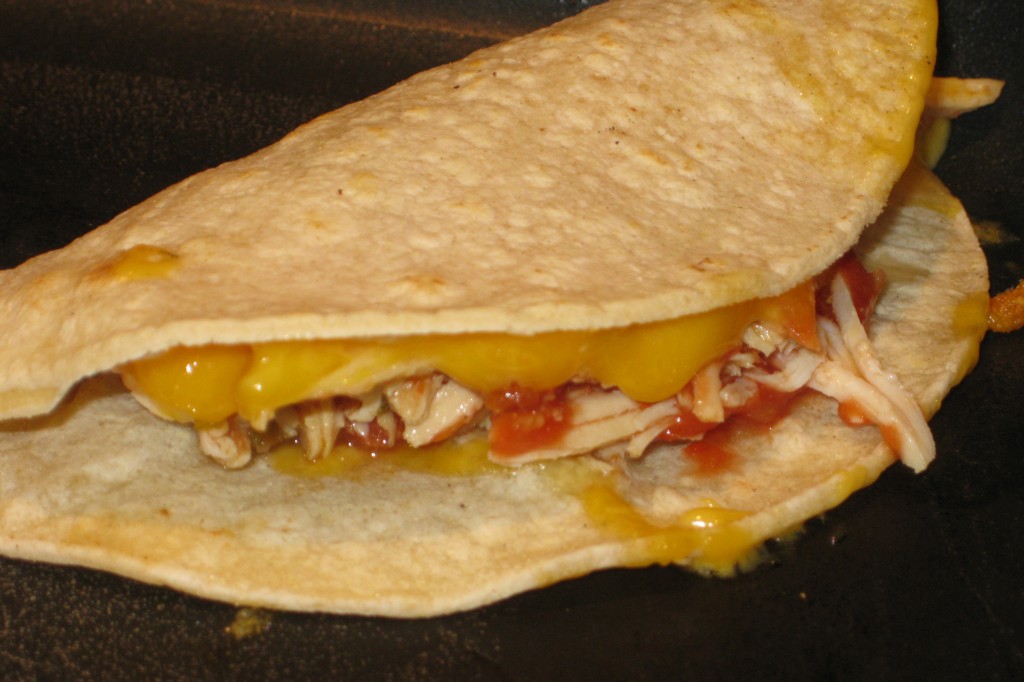 Shredded Chicken, Cheese, and Salsa in a Corn Tortilla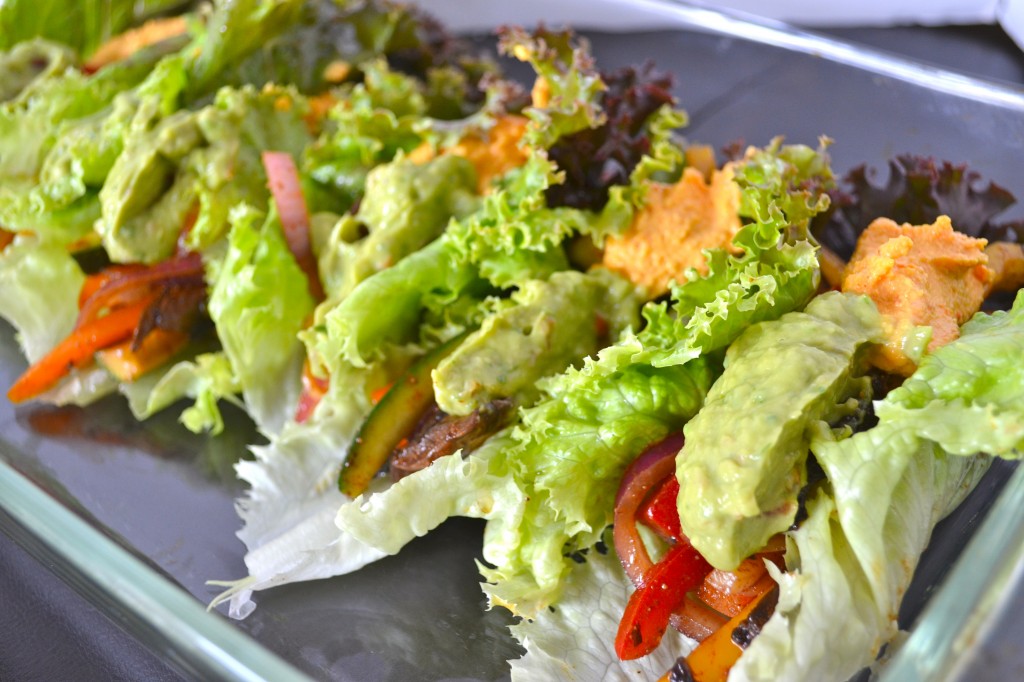 Raw Fajitas with Peppers, Onions, Guacamole, and Nut Cheese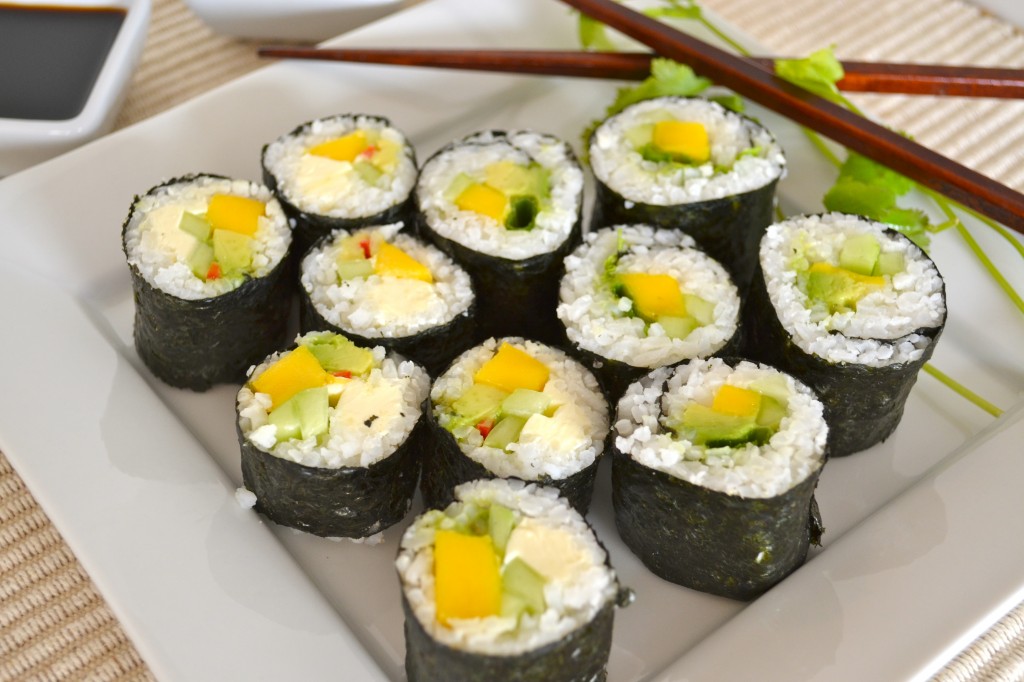 Veggie Sushi – Rice, Cucumber, Mango, Green Onions, and Cream Cheese wrapped in Nori
Nori rolls don't have to be fancy.  Here's a quick roll just using Mock Tuna Pate.  Roll anything sticky in nori!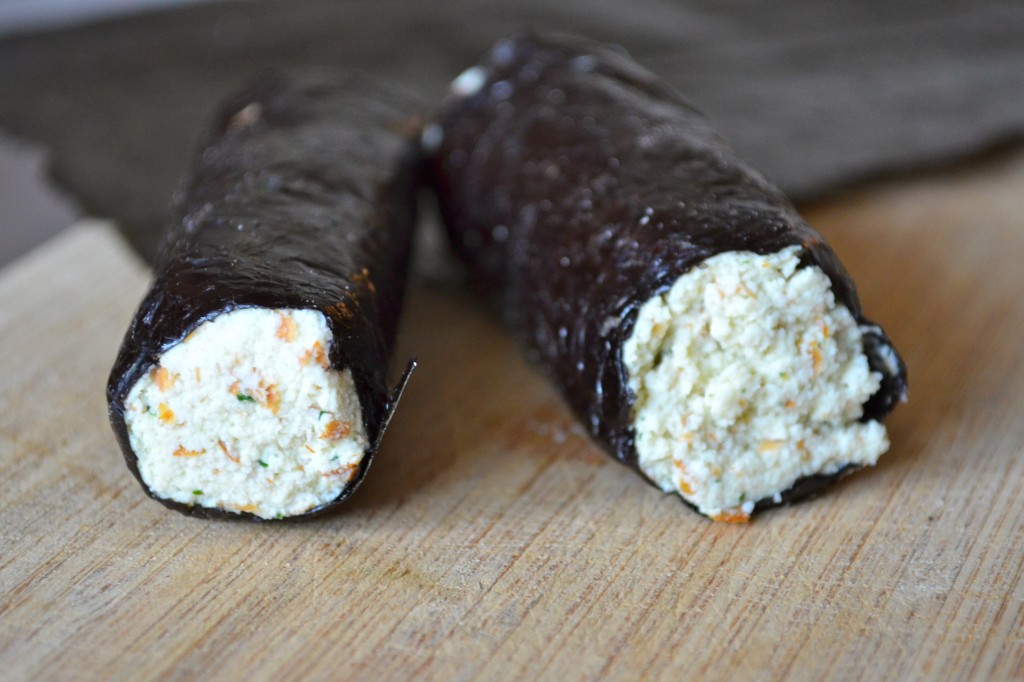 Mock Tuna Wrapped in Nori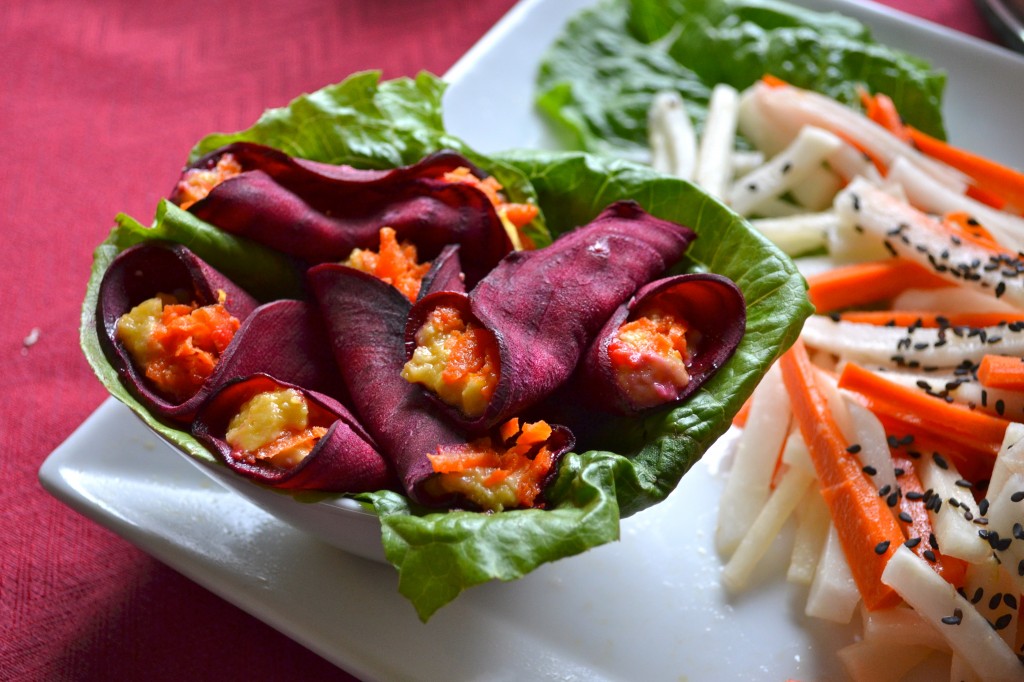 Beet Wraps with Orange Ginger Puree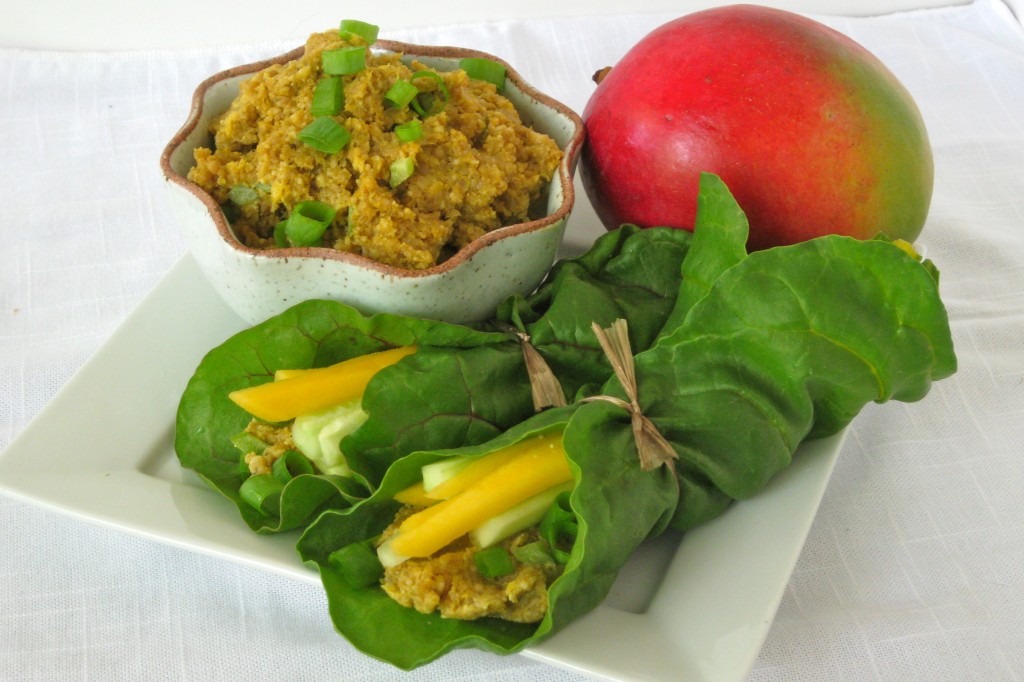 Raw Curried Cashew Chard Wraps
These simple wraps are made by dehydrating pureed tomatoes and agave nectar or honey on dehydrator sheets.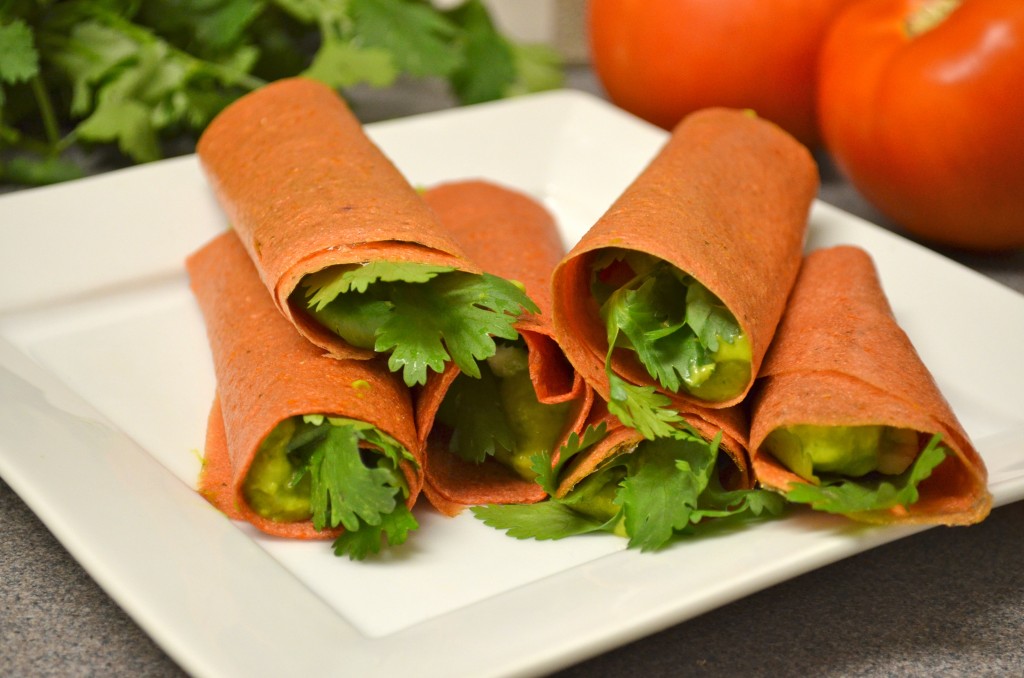 Raw Tomato Wraps with Guacamole and Cilantro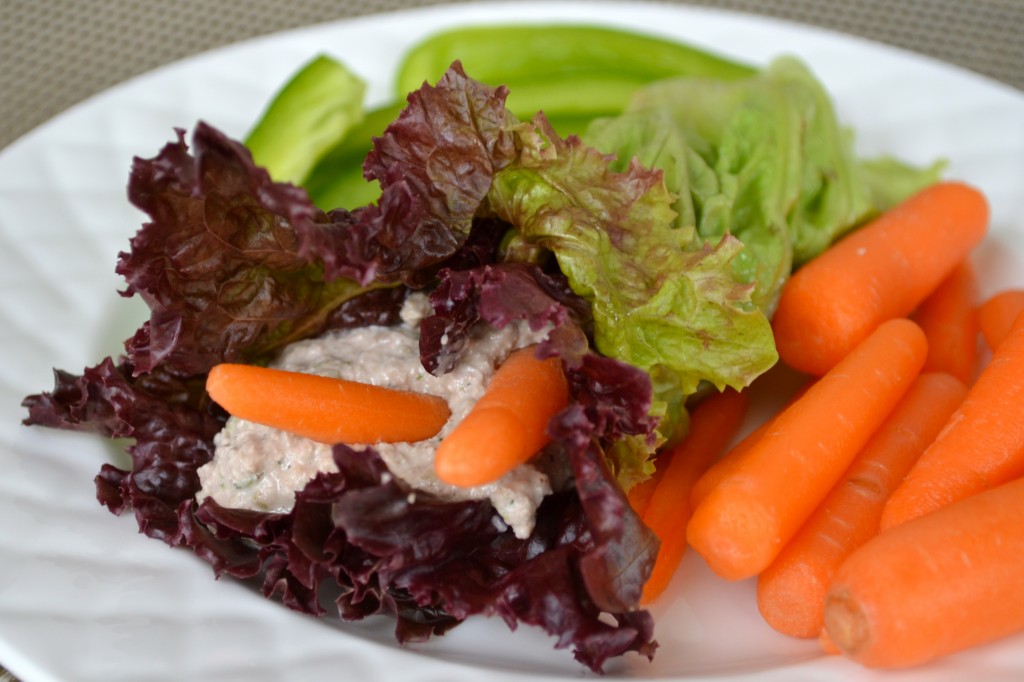 Nut Meat Puree Lettuce Wrap
Now it's your turn!  What are you going to wrap up for lunch tomorrow?