Have you met my friend, Gluten-Free Gigi? Gigi is a scientist turned health specialist and I simply adore and always learn so much from her "A Side of Science" series. 
Gigi was one of the guest-bloggers for last year's Healthy Lunchbox series where she shared a delicious chocolate chip mini-muffin recipe. 
This year she made me smile when she sent me an e-mail saying "Of course, amid all the veggies and healthy deliciousness, you can count on me to make a cookie. ;)"
To which I replied, "even the healthiest diets deserve a cookie every now and then. ;)"
No doubt your healthy lunchbox will deserve one of these grain-free, dairy-free, peanut-free and tree-nut free cookies, too!
Thanks, Gigi! Xo
___________________________________________________
What a happy surprise when I opened an email from Sunny inviting me to be part of her Healthy Lunchbox series again this year! It's a real honor to join Sunny and her awesome bunch of foodies again. I love seeing how each one makes lunchtime a little healthier.
In my home, because we home school, there is no "lunchbox" and lunchtime can happen at any time.
Sometimes our tummies tell us we need a veggie stir-fry at 11AM. When that's the case, we take advantage of the "teaching moment". Learning to put together a healthy, in-season veggie dish with what we have on hand, practicing knife skills (slicing and dicing the veggies) and fine-tuning our cooking techniques are important parts of our home school days.
Other times, we're caught up in activities and projects (as we have been lately creating a hummingbird habitat in our backyard) and lunch comes late in the day. When that happens, we make up funny names like "linner" or "dunch" for that meal that fits neither into the "lunch" or "dinner" category. One of our favorite hearty late lunches is simple roasted chicken with garlic and lime, cauliflower mashed "potatoes", and spinach salad with a tangy lime vinaigrette.
Regardless of how erratic our lunch schedule, one thing remains constant. We must have dessert. Every day.
Because we are cookie lovers to the core, we spend a lot of time revamping traditional recipes to fit our gluten-, dairy-, soy-, peanut-, tree nut-free household and to make the recipes just a bit more nutritious.
We each have "our" cookies – recipes developed especially for each of us. We also like creating cookies to mark occasions like our giant tooth cookies we leave for the Tooth Fairy and the autumn leaf cookies we make to celebrate the first day of fall each year. And of course, with each new school year, we create a brand new "Back to School" cookie.
To kick off this school year, my Little Chef (she's 11) and I developed a new (healthier) version of one of her favorite flavor combos – chocolate and peanut butter!
When we created the recipe, I knew it would be perfect for sharing with you. It fits multiple special diets, is grain free and uses very little natural sweetener.
The recipe is so simple to put together and these substantial little cookies bake up moist, chewy, and delish, yet are sturdy enough for packing into a lunchbox to make the school day a little sweeter!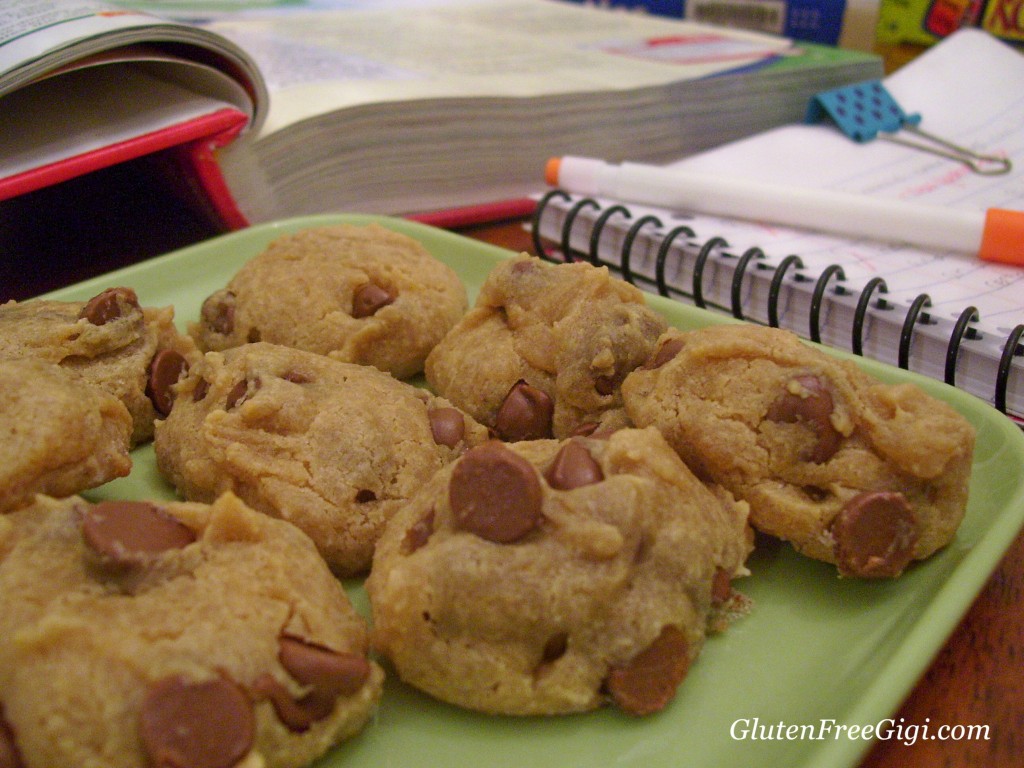 Little Chef's Gluten Free Back to School Cookies
Grain free, dairy free, peanut free, tree nut free
Ingredients:
1/3 cup sunflower seed butter (I make my own from unsalted roasted sunflower seeds; you can find out how here. You can also substitute any nut or seed butter you like – store-bought or homemade.)
2 Tablespoons organic coconut oil, soft
2 Tablespoons pure maple syrup (or other liquid sweetener of your choice, like honey or agave nectar)
2 eggs
1 teaspoon pure vanilla extract (Look for Rodelle brand grain free vanilla.)
4 Tablespoons tapioca flour
3 Tablespoons coconut flour
Pinch of salt
1/2 cup chocolate chips or chunks (We use Enjoy Life Foods gluten free allergen free chocolate.)
Directions:
1. Preheat oven to 350F. Lightly grease a baking pan or line with parchment.
2. In a mixing bowl, stir sunflower seed butter, coconut oil, maple syrup, eggs and vanilla together until smooth.
3. Add flours and salt. Stir until smooth.
4. Stir in chocolate pieces.
5. Spoon batter onto prepared pan in 1/2-Tablespoon rounds, about 1 1/2-inches apart. Do not flatten.
6. Bake approximately 10 minutes.
7. Remove pan from oven and allow cookies to cool on the pan.