My friend Alta from Tasty Eats at Home calls herself an amateur food photographer, but I'd doubt anyone viewing her drool worthy photography would see her photos as amateur. A fellow Texan, Alta is also gluten-free and dairy-free so I love getting to peek inside her lunchbox to see what amazing treats she prepares for herself.
And trust me, you will not be disappointed!  Her recipe is delicious, her bento box is enticing…I am so happy Alta joined us for this year's Healthy Lunchbox  series!
Thanks, Alta! xo
_________________________________________________________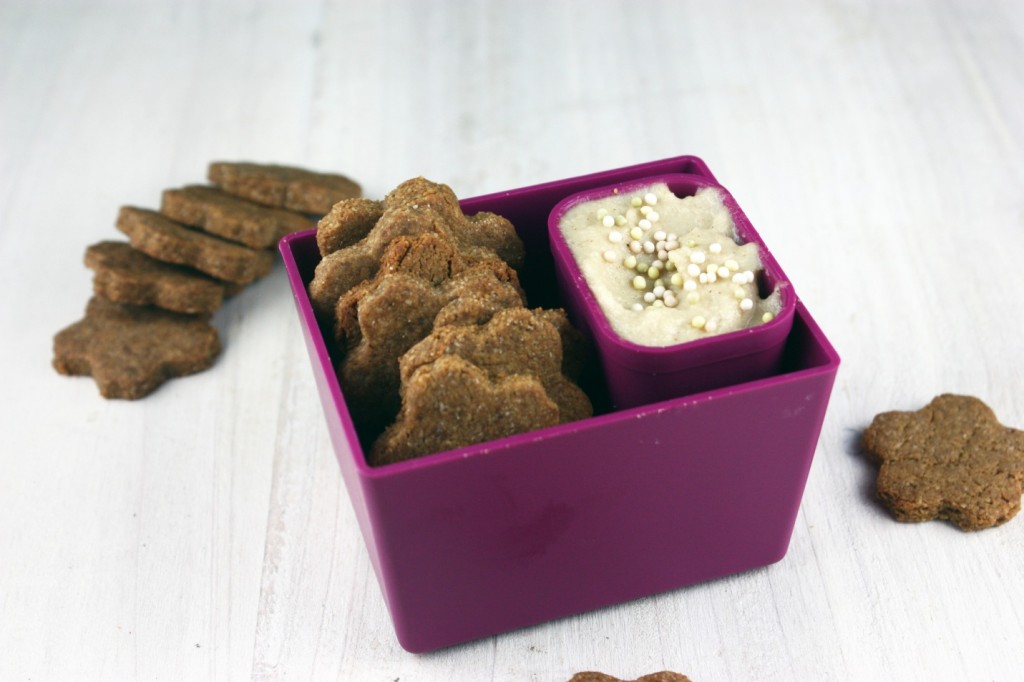 When Sunny asked me to participate in this year's Healthy Lunchbox series, I was both excited and nervous. I am definitely on board with bringing lunches from home. I do it 99% of the time myself, primarily to combat the sometimes cumbersome issue of eating out with gluten and dairy intolerances, but also because I can pack healthier food, and it's cheaper. But in spite of the fact that I am a stepmom to three teenagers, I don't in fact pack lunches for them. Never have. Not that I wouldn't – I most definitely would – but they live with their mom full-time (they're generally only with us on some weekends, and more in the summer). So I am a bit rusty on the daily grind of packing lunches for school.
However, I'm not unfamiliar with the snacks that go over well with many kids. If given the opportunity, our kids would eat more than their fair share of chips, cookies, candy, sandwiches, pizza, and sugary drinks for lunch. And of course, we all know, the more "fun" the food looks, the better. Bite-sized trumps full-sized any day, and if it's brightly colored (or comes in a brightly colored package), that's a definite bonus. And of course, any sweet treat is held in high regard.
The biggest hurdle any parent striving to feed their child a healthier lunch must face is the peer test. "Everyone else" is eating little cellophane-wrapped packages of artificially-dyed chips and crackers, cakes and cookies loaded with preservatives, refined sugars and flours, all of them full of gluten and dairy and devoid of nutrition. But rare is the child that will gladly eat a salad in front of their cheese puff-eating peers and not feel a little "weird." So the challenge for us as parents? Make food that either can be a healthier version of these "evil" lunchbox staples or make a fun healthy replacement.
Recently I purchased a bento box for my own personal lunchbox, but I truly believe a box such as this can go a long way towards making a healthier lunch seem fun and look inviting. Having little individual compartments for each component not only makes it seem neat and pretty, but it also cuts down on waste (no more plastic bags!), is compact, and keeps everything from getting crushed or squished. I found mine at Laptop Lunches, but there are numerous companies out there selling all varieties of this concept.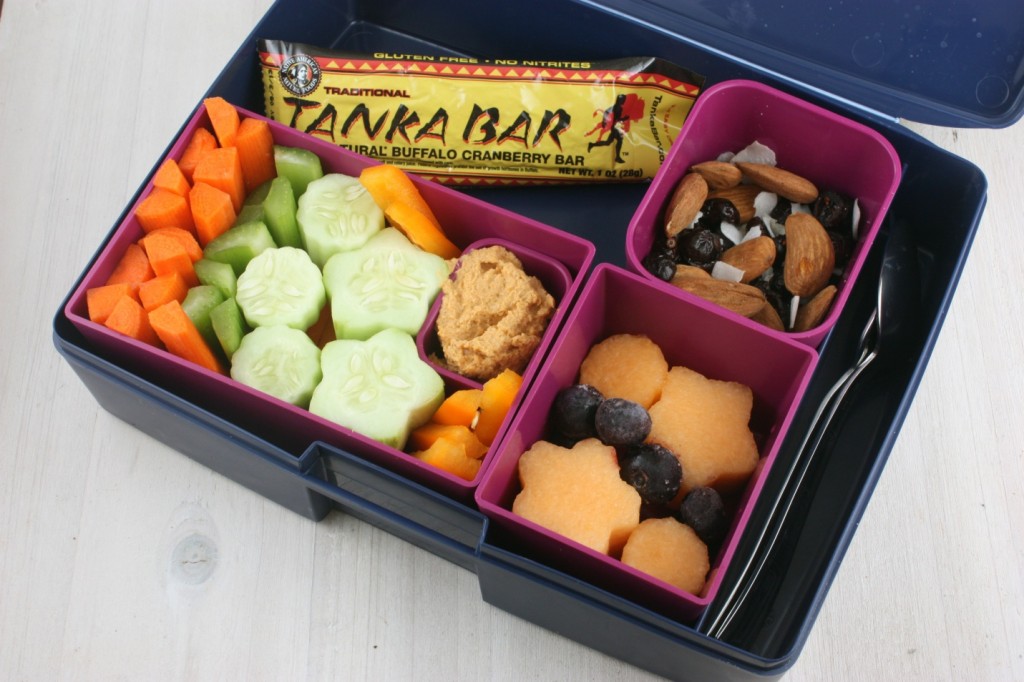 To make a bento box as inviting as possible, cutting fun shapes out of the food can really help. I have a few inexpensive vegetable cutters, but even using cookie cutters can be great. A child's otherwise boring sandwich (on gluten-free bread, of course) is way more fun if it is cut with a fun cookie cutter, and cucumber slices, carrots, melons and other fruit and vegetables are better when made into fun bite-sized shapes. And if there is something to dip? That's the ultimate fun.
Remember those little graham crackers/cookies that came with a little side of frosting that you could dip the cookies into? These were popular even when I was a kid, and they're still around today. Cookies and frosting are certainly not healthy lunchbox material, but in the school lunchroom, these were highly-traded treats! Of course, they are full of sugar, gluten, dairy, and who knows what else.
So why not make a healthier version? My version of these graham dippers are grain-free, refined sugar-free, and have a good amount of healthy fats and fiber from the almonds, chia seeds, and coconut flour. And of course, there's "frosting" to dip the cookies into (with a few sprinkles on top – made with natural dyes, of course) which also provides a good dose of healthy fats and fiber. This little treat is sure to leave them happy, full, and satisfied, without the resulting sugar crash. I call that a win-win situation!
Honey Graham Dippers
1 c blanched almond flour (I used Honeyville)
3 T coconut flour
½ t unflavored gelatin powder
1 t ground chia seeds (I grind whole chia seeds in my coffee grinder)
½ t baking powder (I use an aluminum-free variety that uses tapioca starch instead of corn starch)
¼ t baking soda
¼ t cinnamon
1/8 t salt
3 T coconut oil
1 T blackstrap molasses
1 ½ T coconut milk, warmed enough to be soft
½ t vanilla extract
1 T honey
Preheat oven to 350 degrees. In the bowl of a food processor, combine almond flour, coconut flour, gelatin, chia, baking powder, baking soda, cinnamon and salt. Turn on for a second or two to combine. Add the coconut oil and pulse 5-8 times to incorporate. Add molasses, coconut milk, vanilla and honey and process again until a dough comes together. Scrape out the dough onto a large piece of parchment paper. If dough is really sticky, add a touch more coconut flour to the paper and to your hands, and pat out the dough into a rectangle about 5 inches square. Loosely wrap the parchment paper around the dough and place in the refrigerator for 30 minutes or until the dough is rather firm.
Remove from the refrigerator and unfold the parchment paper. Sprinkle a little coconut flour on the dough and on your rolling pin and roll out the dough to about 1/8 inch thickness. It shouldn't stick to the pin if it's cold, but if it does, add a bit more coconut flour. Cut small cookies out of the dough and carefully place on a parchment-lined baking sheet. (I used a small spatula to make the transferring of cookies easier, but they actually stayed in the proper shape pretty well, since they were small and the dough was cold.) Gather the scraps of dough together and re-roll again to 1/8 inch thickness and cut more cookies. Repeat until the dough is gone.
Bake cookies for 10-12 minutes or until lightly browned underneath. Remove and allow to cool on the pan for a minute, then transfer to a cooling rack to cool completely.
Makes 3 ½ to 4 dozen cookies.
Vanilla Cashew Frosting
1 ½ c raw cashews, soaked for 2-3 hours
¼ c maple syrup
¼ c unsweetened almond milk
¼ t stevia
1 t vanilla extract
Pinch salt
1/8 t cinnamon
Drain cashews and place in a blender along with the rest of the ingredients. Blend on a medium-low speed, stopping to scrape down the sides, for 5 minutes or so, or until creamy. Serve with sprinkles on top alongside graham dippers.