Today, December 20, 2011, Food Network Fall Fest draws to a close…
Last week, we were thrilled to invite you pull up a chair and join us as we shared our favorite holiday cookie recipes.
This week, we invite you to join us as we celebrate one last seasonal vegetable…
Broccoli.
Now, if you are anything like me, you are thinking "what the heck is so great about broccoli?"
I mean, I love the stuff…I love to eat it raw, I love to eat it steamed, I love to mix it in my casseroles, soups and throw it in with my main dish.
But really, what are you going to do to get creative with broccoli?
😉 Fortunately, Fall Fest isn't just any event…it is a Food Network event where creativity abounds.
So as I sat, stuck in a rut thinking "I could share my dairy-free cream of broccoli recipe," which is good, but not this is the last week of the Food Network Fall Fest kind of good…a friend reminded me of a dish we enjoyed in a restaurant several years ago (long before I had to worry about things like gluten or dairy)…
Harlequin Soup they called it.
Harlequin meaning: in varied colors.
Using two small pitchers, this soup was poured into our bowl right at the table…one side a deep orange, the other a brilliant green.
Separately, they offered different, pleasing flavors…one side creamy with just the slightest twang of salt, the other sweet and zesty, laced with hints of licorice and spice.  Alone each soup was good; together…
Together, they brought forth a new level to savor.
I can understand why one would not wish to make this into one, simple, single soup…not only is the presentation of the two contrasting colors fantastic, but once the colors meld together, well….let's just say the colors, when mixed, leaves a lot left to be desired.
Inspired by Food Network's own Michael Chiarello, this Gluten-Free and Dairy-Free version of Harlequin Soup is everything I remember it to be…
Remember when preparing this dish…serve at the table, pouring both soups simultaneously from separate pitchers.
Also, be certain to have all of your ingredients pre-measured and ready to go…when working two different recipes at the same time, being prepared is essential to guard against mishaps.
Like the beauty that happens when families come together this time of year, this soup is more than a seasonal best…it represents all the joy the holidays bring.
Merry Christmas, everyone!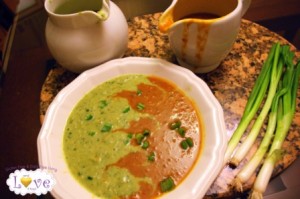 Harlequin Soup – Gluten-Free/Dairy-Free Style
Ingredients
Harlequin Soup

1 Recipe Green Broccoli Soup
1 Recipe Spiced Squash Soup
Fresh chives, finely sliced for garnish
Green Broccoli Soup

3 Tbs Extra-Virgin Olive Oil
2 Tbs Minced Garlic
1 Medium Yellow Onion, diced
2 Stalks Celery, diced
2 tsp Thyme
32 oz Gluten-Free Chicken or Vegetable Stock
2 lbs clean and trimmed Broccoli
2 c Packed Spinach
Zest of 3 Lemons
1 c Full-Fat Canned Coconut Milk (I prefer Thai Kitchen)
Salt and Pepper to taste
Spiced Squash Soup

For this recipe, you can use any winter squash you wish though pumpkin, Hubbard and butternut work particularly well. To roast, simply cut in half, remove seeds and bake at 350 until completely tender. Because many recipes do not use the entire pulp of the squash, I do not like to season mine ahead of time…any seasoning can be added to the primary recipe and the remainder of the squash can be saved for use in any number of pie, chili or side-dish recipes.
Ingredients
2 Tbs Extra-Virgin Olive Oil
1 Medium Onion, diced
1 Celery Stalk, diced
1 Medium-Large Carrot, diced
1 cinnamon stick
32 oz Gluten-Free Chicken or Vegetable Stock
¼ c Palm Sugar
¼ c Balsamic Vinegar
¼ oz Fennel Seed (approx 1 ½ Tbs)
1 Tbs Sage
1 Tbs Ground Cumin
½ - 1 Tbs Red Pepper Flakes (I like the entire Tbs)
1 Tbs Chili Powder
1 Tbs Cinnamon
2 c Roasted Squash
Salt and Pepper to taste
½ c Full-Fat Coconut Milk (I prefer Thai Kitchen)
Instructions
Green Broccoli Soup:

In large soup pot, heat olive oil over medium-high heat until hot. Add garlic and cook until it begins to turn brown. Add the onion and celery, lower heat to medium and continue to cook until tender, about 15 minutes. Add thyme and stir. Add broccoli, stock and salt and pepper to taste. Bring to boil, cooking uncovered until broccoli is very tender. Remove from heat.
Use hand blender to puree soup, adding in spinach one cup at a time. Add in lemon zest and continue to puree until soup is completely smooth.
Just before serving, return soup to low heat and stir in the coconut milk. Taste and adjust the salt and pepper. Simmer on lowest setting until ready to serve.
Spiced Squash Soup:

In large soup pot, heat olive oil over medium high heat until hot. Add the onion, celery, carrot and cinnamon stick. Sauté until vegetables are soft, but not caramelized. Add in chicken stock, palm sugar, balsamic vinegar, fennel seed, sage, ground cumin, red pepper flakes, chili powder and cinnamon. Bring to boil. Add in squash and simmer for another 10-15 minutes. Discard the cinnamon stick.
Remove soup from heat. Using hand blender, puree until smooth. When ready to serve, return soup to a light simmer, add in coconut milk and serve right away.
Harlequin Soup:

Pour both soups into separate pitchers. Simultaneously, pour both soups into each bowl, forming an almost yin-yang design.
Garnish with cloves and serve hot.
Serves 6
Copyright And Love it, Too! May not be published or duplicated without written permission.