Have you met my friend Ricki Heller?  In addition to being the author of Diet Dessert and Dogs, Ricki is also a full-time professor, a bestselling author, an amazing cook and a lot of fun to chat with!
Today, Ricki is a guest-blogger on my page; what a great honor!
When discussing the goal for this series, I mentioned that the overall concept is to share different tips, ideas and recipes that can be used in healthy school lunches. With this Ricki hesitated slightly, pointing out that she does not have children of her own (that is, other than her beautiful dogs). 
In reality, healthy lunchboxes know no boundaries.  Healthy lunchboxes are important to children and adults alike.  I bring my lunch to work every day.  My boss brings his lunch as well…In fact,
most everyone I work with brings lunch on a regular basis. 
Doesn't it make sense that we could all use some tips for our own lunches, too?
Then, Ricki sent me her post, her delightfully colorful photographs, and her tantalizing recipes. 
Today, Ricki not only shares how to make your lunchbox a little healthier, she does it in a way that both children and adults will favor. 
Enjoy this lovely post written especially for you.
Thank you, Ricki! xoxo
_________________________
Take-Along Lunch, in the Raw
It's the start of the school year and more than ever moms are thinking about what to pack for their kids' lunches.  But for those of us on special diets, without kids, or on tight budgets, the notion of toting along a lunch to work is common all year round, and the question of "what to pack for lunch?" is a weekly staple.
Since I'm always on the lookout for healthy packed lunches, I was delighted when Sunny asked if I'd like to contribute to her "Healthy Lunchbox" series here on And Love It, Too. There's nothing like a yummy homemade lunch at the office!
One of my favorite quick lunches is collard rolls.  Using a raw collard leaf instead of a tortilla or wrap makes for a simple, healthy and delicious meal. Simply fill the leaf with your add-ins of choice, pile neatly in place, then roll up as you would sushi or a wrap. The collard leaf provides a sturdy, thick wrapper for your veggies and spreads inside; and it won't get soggy between the time you roll it and when you eagerly bite into it at lunchtime. It's a fresh, quick way to enjoy a nutritious lunch, as long as you ensure that it contains a good source of protein along with the veggies or sprouts.
Of course, if your kids aren't tickled by the green wrapper (and who wouldn't be?), simply swap the collard for a whole-grain tortilla, pita, or other grain-based wrap instead.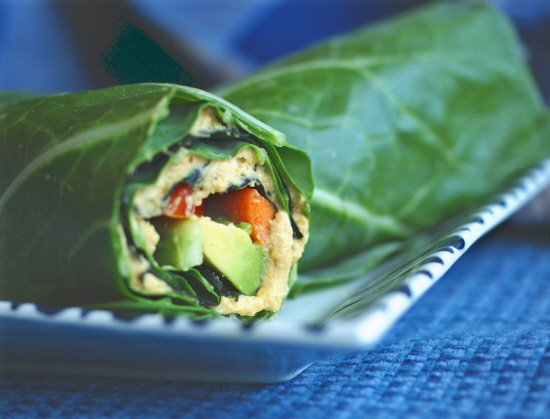 Ricki's Favorite Collard Wrap
Basic Recipe per serving:
1-2 large collard leaves, washed, stem removed, and patted dry
About 1/4 cup (60 ml) spread of choice (hummus, nut butter or my favorite, Sweet Potato-Almond Butter Spread, below)
Three or Four of the Following Fillers:
1-2      baby carrots, cut in matchsticks
1/2      tomato, sliced
1/2      green onion, cut in long strips
2-3      slices avocado (optional)
1/4      red pepper, cut in strips
1-2      Tbsp (15-30 ml) sprouts of choice
Small handful shredded lettuce
1 Tbsp (15 ml) toasted sunflower, sesame or hulled hemp seeds
Lay the collard leaves flat and spread with half the spread of choice.  Line up half your fillings across the leaf on one end.  Sprinkle with half the seeds.
Starting at the end with the fillings, roll up the collard leaf tightly.  If desired, cut in half for two smaller rolls.  Wrap tightly in plastic wrap or place in a container with other lunch foods.  This will keep at room temperature for 2-3 hours, but it's preferable to keep it refrigerated if possible. Makes one large serving (2 wraps).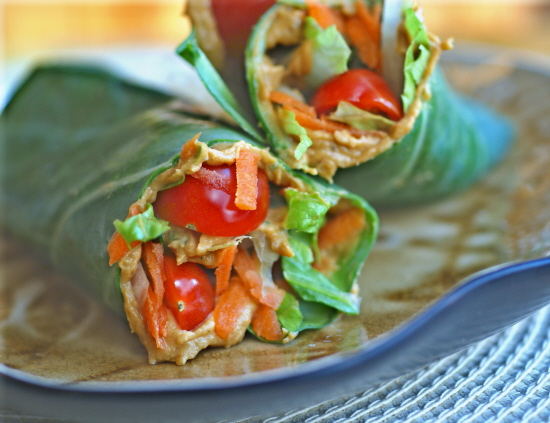 Sweet or Savory Sweet Potato-Almond Butter Spread:
I prefer the savory version in collard wraps, but the sweet would work, too, and might be more appealing for kids.  Either way, it's a great spread to introduce some fiber and a bit more protein into the wrap.
Savory Spread:
1 cup (240 ml) packed sweet potato purée (I bake a sweet potato, peel it and purée it in the food processor)
1/2 cup (120 ml) natural unsalted sunflower seed butter (or another nut or seed butter of your choice)
1 clove garlic, minced
1 tsp (5 ml) freshly squeezed lime juice
1 to 1-1/2 tsp (5-7.5 ml) garam masala, to your taste (or substitute 1/4 tsp/.5 ml ground ginger, 1/2 tsp/2.5 ml cinnamon and a pinch of cloves)
1 Tbsp (15 ml) fresh cilantro or parsley, chopped
 Sweet Spread:
1 cup (240 ml) packed sweet potato purée
1/2 cup smooth natural unsalted almond butter (or another nut or seed butter of your choice)
1 tsp (5 ml) cinnamon
10-20 drops plain or vanilla stevia liquid, to your taste
1/8 tsp (.5 ml) fine sea salt
For both versions: Place all ingredients in the bowl of a food processor and process until smooth and well combined.  Transfer to a clean jar and store in the refrigerator.  Makes about 1.5 cups (360
ml).  Will keep, covered in the refrigerator, up to 5 days.