Today on FoodNetwork Summer Fest, food and garden bloggers are joining up to highlight the vibrant staple: Summer Squash.
Oddly enough, the title "Summer Squash" has less to do with the time a squash is grown or harvested and more to do with the sustainability of a squash.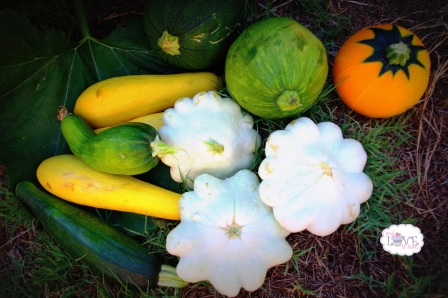 You see, summer squash like zucchini, yellow squash, bulan and ball squash as pictured here all have thin, edible skins and will only maintain their edibility for a few weeks after they are picked. Wherein winter squash like pumpkin, butternut, spaghetti squash and Hubbard squash have thick rinds and are able to keep for months at a time; hence, they are perfect for winter storage.
Of course, as it is with all vegetables, the sooner they are eaten after they are picked, the better the nutrient retention will be.
Still, when preparing food storage or planning meals, it is good to know how long you will be able to keep vegetables like these.
Today though, I would like to talk to you about my friend Peter Pan.
No, not the boy who refused to grow up…
Rather Peter Pan the squash. Peter Pan squashes are light-green scalloped squashes that are typically harvested when they are a mere 2 ½ to 3 inches across. Among the smaller of the summer squashes, it is said that their name comes from their refusal to 'grow up' like it's sister squash, Patty Pan, which is golden in color and generally twice as large as Peter Pan squash is at harvest.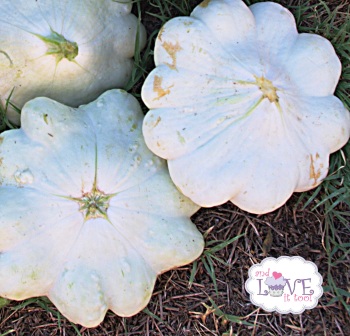 I told my kids that between the funny shape and light-green color, they look like something Peter Pan would wear and that must be how they got their name.
Meh. You decide.
Oddly enough, I had never eaten a Peter Pan squash before one of my dear Farmer's Market vendors introduced me to them this year!
Goodness knows how I love to play with my veggies so I asked her what she does with them.
"Fries," she said, "these make the perfect oven fries." Then she continued "but I love to cover mine in an egg and flour batter so I don't know what you'll do with them."
To which I smiled and said "oh, I'll figure something out."

That is what I do after all, isn't it?
But you know, she is right. These precious little squash bake up to be some of the tastiest oven fries I have ever enjoyed.
The perfect mixture of grown-up savory yet maintain childlike undertones with just a hint of cinnamon and cocoa, great for children of all ages I hope you enjoy these Peter Pan Oven Fries as much as we do.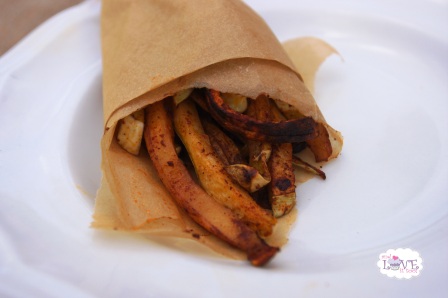 Peter Pan Squash, Spiced Oven Fries
Ingredients
3 lbs Peter Pan Squash (about four squash)
1 ½ tsp Smoked Paprika
1 tsp Ground Cinnamon
1 tsp Cocoa Powder
1 tsp Sea Salt
½ tsp Smoked Cayenne (I get mine from a local FM vendor, regular cayenne would work well, too)
3 Tbs Olive Oil (not evoo)
Instructions
Preheat oven to 425f.
Clean squash but leave skins intact. Slice squash in half and remove seeds with a spoon. Cut squash into fry-sized pieces and place in large mixing bowl.
In small bowl, mix together smoked paprika, cinnamon, cocoa powder, sea salt and cayenne. Set aside.
Drizzle cut squash evenly with olive oil, sprinkle spice mixture evenly on top and mix the squash with your hands to ensure even coverage. I recommend using gloves for this step if you have sensitive skin, that cayenne can sting!
Spread spiced covered squash over parchment lined cookie sheets, ensuring they are in one thing layer—anything more will leave them soggy and nobody wants soggy fries.
Bake for 15-20 minutes or until golden brown and crisp.
Remove from oven and serve.
Makes 6-8 servings
http://andloveittoo.com/growing-up-isnt-so-bad-peter-pan-squash-spiced-oven-fries/
Be certain to stop by all of today's FoodNetwork Summer Fest featured recipes for more fantastic ideas on how to use your summer squash today! xo
Jeanette's Healthy Living: Quick and Easy Sesame Summer Squash Stir-Fry
Cooking With Elise: Orange Summer Squash Bread
Feed Me Phoebe: Summer Squash and Cornmeal Cakes With Tarragon
Chez Us: Zucchini Pancakes With Minty Dill Crème Fraiche
Made By Michelle: Pattypan Squash and Tomato Frittata
Cooking Channel: Our Top 5 Favorite Squash Recipes
Daily*Dishin: Summer Squash Confetti Salad
Delicious Lean: Summer Squash Ribbons With Feta and Pine Nuts
Napa Farmhouse 1885: Summer Squash Chips
Ingredients, Inc.: Summer Squash and Kale Sauté
Thursday Night Dinner: Summer Squash Medley
Sweet Life Bake: Zucchini Fried With Tequila-Spiked Avocado Dip
Dixie Chik Cooks: Fried Summer Squash Parmesan Sliders
Healthy Eats: Summer Squash Any Way You Slice It
FN Dish: Cheesy Summer Squash