🙂 If you follow me on Twitter or Facebook, or even if you stopped by to visit my recent review of Well Fed (don't forget to enter the giveaway while you are there!) you have heard me talk about my final plunge into the Paleo world.
While most of the recipes I have shared here over the last year have been Paleo or Paleo friendly, I must admit that up until the last few weeks, I was still indulging in things like the occasional rice or potato platter.
Going grain-free has not only been an important adjustment for my gut, limiting my sugar intake (palm, stevia or otherwise) has also been a blessing.
That being said, Easter is this weekend, and while I plan on continuing my grain-free, dairy-free, legume free ways; I will be making treats for others to enjoy including these Vegan Nutty Butter Eater Candies and the beautiful crème eggs I am sharing with you tonight. And while these are sweeter than I can eat on a regular basis because these treats are Paleo-friendly, if I stop to steal a bite I know I won't be throwing off my whole eating plan.
Because the creme filling is made with palm sugar, it is darker than the store-bought stuff, yet the texture and flavor is spot-on to the candies we so lovingly remember.
Using turmeric to color the 'yolk' not only keeps you from having to use unnatural food coloring; the lightly floral flavor from the spice is a nice compliment to the candy itself.
Amazingly these treats come together in just minutes (excluding the refrigeration time to help solidify the filling/make molding these by hand possible), and other than a hand or stand mixer to make the crème creamy, there are really no special tools required.
While the measurements I use makes approximately 15 candy eggs about the same size as the store-bought versions, I could easily see making dozens of miniature versions by dropping the filling measurements from tablespoons to teaspoons or doubling the filling and making just a few giant eggs.
Because the directions below do not require a mold, you are free to measure and shape however your creative nature guides you.
However you choose to enjoy these, I hope this holiday gives you many reasons to celebrate.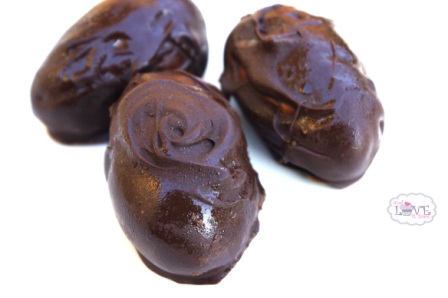 Grain-Free Vegan Candy Creme Eggs
Ingredients
Instructions
Blend together arrowroot powder and palm sugar in blender. Set aside.
Using electric mixer, beat together agave nectar, palm shortening, vanilla and salt in large mixing bowl.
Slowly add in powdered sugar. Measure in no more than ¾ c arrowroot and palm sugar mix at a time, blend on lowest setting until completely creamed together to prevent covering the walls with grain-free powder sugar. No matter how much you are tempted, do not go above the lowest setting (take my word on this!). Continue mixing in ¾ c at a time until powdered sugar and agave mix are completely incorporated.
Divide candy crème in half, placing each half in small glass bowl. Mix turmeric into one-half candy crème until fully incorporated. Cover and refrigerate each bowl of candy crème filling for 2+ hours or freeze for 10-15 minutes, depending on when you want to serve your candy.
When candy crème is stiff but pliable, scoop out 1 tbs of egg 'white' (okay, it's light brown, but you know what it's meant to be ;)) and flatten completely. Scoop out 1 tbs of egg 'yolk' and form round ball. Place the yolk in middle of the white then mold the white around the yolk, shaping the filling into the desired egg shape. Place on parchment lined cookie sheet and continue this process until all of the filling has been molded into the desired shape.
Return molded crème to the freezer for approximately 10 minutes or refrigerate until ready to cover with chocolate.
Melt chocolate in the microwave using a ceramic bowl. Set timer for 2-minutes, but remove chocolate at 30 second intervals, stirring each time until the chocolate has completely melted. This will take approximately 1 ½-2 minutes.
Remove crème eggs from freezer.
If eggs flattened slightly during the original molding process, they should be stiff enough at this time to re-shape into the perfect egg (or whatever you would like them to look like). Do this before dredging each egg in chocolate.
Dredge each egg in chocolate until completely covered, allow chocolate to drip lightly from the egg and place on clean parchment lined cookie sheet. Once each egg has been properly covered, return eggs to the freezer and allow them to set for 10-15 minutes or until chocolate shell has completely solidified.
Remove from freezer and wrap in candy wrapper until ready to serve. Serve at room temperature.
Makes approximately 15 eggs.
Copyright And Love it, Too! May not be published or duplicated without written permission.
Have a Happy Easter!