As much as I love turkey, even I grow tired of the same ole same ole following several days worth of leftovers.  Sure, potpie, hot open-faced sandwiches or even cold turkey sandwiches are all great…but what if I just really don't want another obviously turkey dish? 
In steps my favorite left-over solution. Fried rice.  🙂
This easy dish is great any time of the year.  Switch out the turkey for chicken, ham, beef or even tofu.  Use your leftover veggies too!  Green beans? Great! Chop them up and throw them in.  Corn? Perfect.  Squash, zucchini, broccoli?  Even my pickiest eater has no trouble eating it all down in this dish. 
The secret to fried rice is in the rice itself…it must be cold.  Let me restate that: you must use cold rice to make this dish work.  
When I make rice, especially since we generally eat brown or wild rice which take longer to make, I tend to make extra.  Any leftovers are set aside either in the refrigerator or in a freezer bag and frozen for later use.  Not only does this save time on future dishes, it is a great way to achieve the needed cold rice required to prevent this dish from turning into a sticky mess. 
If you do not happen to have pre-cooked rice on hand, no fear!  Simply cook your rice as you normally would and refrigerate for 20-30 min while you prepare the remainder of the dish. 
Add more protein (an extra egg, more meat) if you want to use this as a main dish.  This is a wonderfully easy meal in itself, a great side dish, and a wonderfully creative way to use up those leftovers!
Enjoy!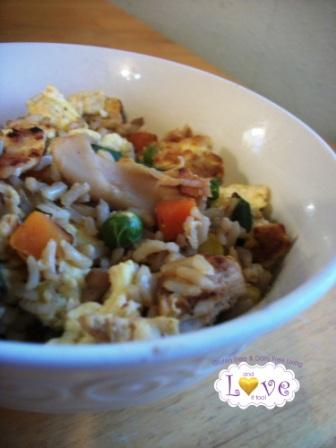 Fried Rice (Gluten Free, Dairy Free)
1 tsp Olive Oil
1 Tbs Minced Garlic
3c Mixed Vegetables
3 eggs
1 c Chopped, Cooked Meat/Protein (Turkey, Chicken, Beef, Ham, Tofu)
4c Brown Rice, Cooked and Cooled
Gluten Free Tamari Soy Sauce to taste (optional)
In wok or large fry pan, sauté garlic in olive oil until lightly caramelized.  Add vegetables and meat, cook until warm.  Push vegetable mixture to one side, adding eggs to opposite side.  Scramble in pan.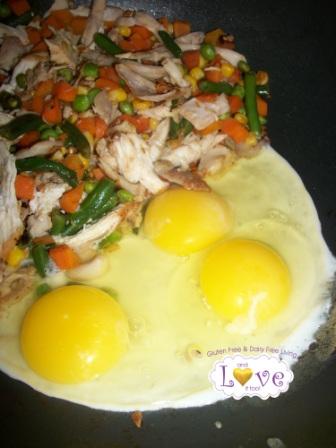 Some eggs will naturally mix in to the vegetable mix, but if you add the eggs before this point, they will become overcooked as you wait for the vegetables to reach the right temperature.
When all ingredients are warmed thru, add rice, stirring until warm.  Add Tamari Soy Sauce to taste (optional). 
🙂 I hope this solves the mystery of how to use those leftovers without doing one…last…Thanksgiving…dish. 
Have a great week everyone!