If you are a regular visitor of the gluten-free blogging world, it is likely you have heard a lot of buzz about the new cookbook from Paleo Parents titled Eat Like a Dinosaur.
Well let me tell you, this book is worth buzzing about.
I was honored to work with Stacy and Matthew, the paleo parents, back in August, when they privileged me with a guest-post and some amazing Healthy Lunchbox ideas.  So when I received a message that they wanted to share their cookbook with me, I jumped at the opportunity!
While this book is loaded with lots of wonderful tips, ideas and suggestions to help get your kids involved in preparing meals, easy to read allergy labels and great recipes; it was the opening story that really got my kids excited.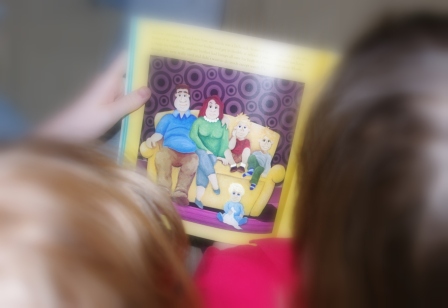 You see, Stacy and Matthew's story is not too far off from our own.  While only two of my five children have food sensitivities and allergies, three out of seven of us (including me) physically cannot eat the way we used to. Like us, the Paleo Parents have managed to heal physical ailments and behavioral issues through changes in their diet.  So, the idea of eating habits have changing dramatically and impacting lives in a positive way is something they can all relate to.
My children were very excited to read a story, presented from the child's view, which is very much like their own story.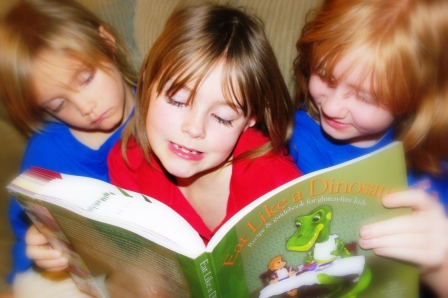 And you know what?
Because every recipe in Eat Like a Dinosaur is naturally gluten and dairy-free, we can enjoy each and every one of these special creations!
How exciting is that???
Tonight, Victory Belt Publishing has given me the honor to share one of our favorite recipes (so far) from Eat Like a Dinosaur.
This egg pie is the perfect solution for a healthy breakfast, or a lovely addition to an easy dinner.  Choosing to pair this with a simple salad and a light drizzle of my easy vegan ranch dressing this meal is not only beautiful, it is filling and healthy as can be.  Most importantly, it is delicious enough that even my pickiest eater went back for more.
I have no doubt you'll be going back for more, too.
Enjoy!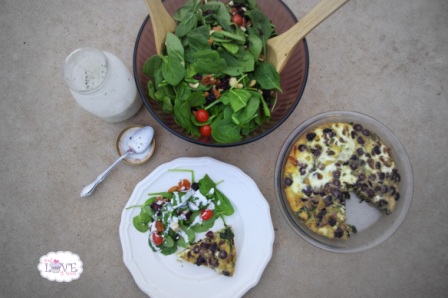 Reprinted with permission from Eat Like a Dinosaur: Recipe & guidebook for gluten-free kids. Copyright © 2012 by Stacy Toth and Matthew McCarry. Published by Victory Belt Publishing Inc.
Kale, Bacon, & Black Olive Egg Pie
Ingredients
1/3 lb nitrate-free bacon
2 c kale, chopped
1 c black olives, chopped
8 eggs
¼ tsp black pepper
1 prebaked pie crust (p. 207) (optional)*
Instructions and How Kids Can Help (every recipe has a cute little hand-print next to each direction where kids can help, as identified with the bullet-point. I love this part of the book! Getting your kids involved in the kitchen is essential to their health and development.)
Cook bacon in frying pan over medium heat until crispy, about 10 minutes.
Remove bacon from the pan and crumble when cooled.
Add kale to pan with bacon fat, tossing frequently; cook until softened, about 3-minutes (do not allow to wilt entirely; it will cook more in the pie).
Add crumbled bacon and olives to pan with kale, cook 2 minutes until warmed through and well combined.
Lay vegetable mixture into precooked pie crust if using, or greased pie pan if not.
Beat eggs in bowl with pepper.
Pour egg mixture over vegetables.
Cover edges of pie crust with aluminum foil or pie crust protector.
Bake in 350-degree oven for 25-30 minutes; remove once the top becomes a light golden brown.
Serves 6-10 slices.
*To obtain the pie crust recipe, purchase your copy of Eat Like a Dinosaur here
🙂 Are you ready to receive your own copy of Eat Like a Dinosaur? Inspired by the recipe above, Shea and I are featuring the beautifully in-season, perfectly green vegetable, kale for this month's Ingredient-Challenge Monday posts!
Starting Monday, March 12, you will not only have the opportunity to win a feature spot on each of our blogs; we will also share exactly how you can enter to win your own copy of Eat Like a Dinosaur!
Until then, sleep well and dream of yummy kale creations.