This week we celebrated my eldest daughter's 9th birthday.  9 is a great age, although a bit scary for both her father and I as we see her edging towards her pre-teen years.  Even so, she is still young enough that I can comfortably toy with her without risking total and utter embarrassment…not that total and utter embarrassment would slow me down mind you, I figure it's payback for all the trouble I'm sure to face when this pretty little redhead becomes a full blown teenager.  😉
That being said, it was important that we do all we could to celebrate her birthday in style.  Her father and I took her out for a birthday date, just the three of us (leaving the four other children with grandma for the evening); we went shopping and allowed her to select a few gifts on her own.  As a family, we prepared for the Monday birthday by ensuring we had ample plans and time set aside to fill her day with fun, but not completely blow our school day schedule. 
One of the most enjoyable things I do for my children on their birthdays is bring them cupcakes at school.  I have been blessed to hold careers that have allowed me to do that, and while I was not going to be able to take a break long enough on Monday to deliver them during class time, I was able to deliver these first thing in the morning to her teacher directly as I found myself subbing just a few doors down.  While my daughter really wanted a black cat cake for her birthday, she understood that when it came to selecting a dessert to share with her class, cupcakes are the most ideal solution (no cutting/silverware required).  Unbeknownst to her though, I decided to repeat the cupcakes created for her Halloween themed celebration last year, an idea adjusted from a magazine I found right before her 8th birthday…knowing how creeped out the children seemed when they bit into an discovered eyeballs oozing from their sweet sponge cake back then, I thought this might be a bit of a risk…still, it was such a great memory, I felt it was a worthwhile risk to be had. 
All in all, when the cup cakes were served and later devoured, she was pleased that I decided to repeat last year's creation.  The main difference between the cupcakes from this year versus last year is the size of the eyeballs.  As you can see, these gummies are only half eyeballs…last year I managed to find life sized gummy eyeballs that even creeped my husband upon discovery.  🙂  Choose whichever you want, or go with what you can find.  I will say the half sized eyeballs are easier to stomach and are easier to make fit within the cupcake itself.    
With so many options on the market, you can really use any Halloween gummy you come across to achieve this effect (fingers, pumpkins, ghosts, skeletons, etc)…for me though, eyeballs seem to have just the right "yuck" factor and look real enough to keep the Halloween spirit firmly intact. 
A perfect solution for your Halloween gathering, cake walk, or just for fun, these cupcakes are sure to be a hit!
Hidden Eye Halloween Cupcakes (Gluten Free, Dairy Free)
1 batch Vanilla Gluten Free/Dairy Free Cupcakes (I used Elana's Vanilla Cupcakes for mine, these are nut free/grain free too, a great option to minimize allergens, although they are heavy on the eggs)
1 Jar Strawberry or Seedless Raspberry Jelly (squeeze type works best)
12-24 Gummy Eyeballs (1 for each cupcake, dependent upon how many cupcakes your batter produces)
Gluten Free, Dairy Free Frosting
Gluten Free, Dairy Free sprinkles/decorations
Bake and cool cupcakes according to direction.  Carefully cut a circle just large enough to fit the eyeball into each cupcake, just deep enough to add the gummy and some jelly inside.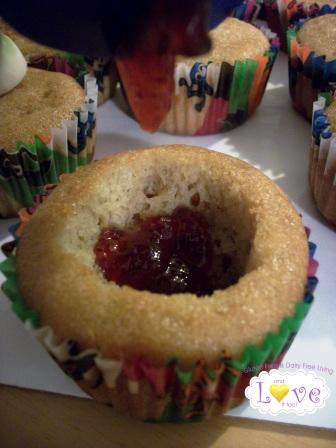 Open each cupcake and layer jelly, gummy, jelly.  Cut excess cupcake from section removed so as to create a lid, placing this section over the gummy carefully.
Cover each cupcake with chosen frosting and decorate with sprinkles, sugar characters or whatever gluten free, dairy free option you choose.
Serve and enjoy!
I must tell you, if you know adults will be partaking in this surprise, it is often best to give them a heads up.  Something happens as we age, we don't deal with these types of surprises well.  The one person I told last year was grateful I gave her the heads up as once she saw the final product (her son was the first to come across the eyeball), she felt she would have surely thrown up had she bitten into hers (so she took it home to share with her husband instead, lol). 
May your Halloween be filled with fun and laughter!
 Some additional news:
We are getting very close to our 100 facebook follower milestone! Remember to select your favorite And Love it Too! recipe to share with your friends.  Link back to this site and encourage them to "like" And Love it Too!  I will announce our first monthly give-away in the first blog post after we have achieved the 100 follower goal.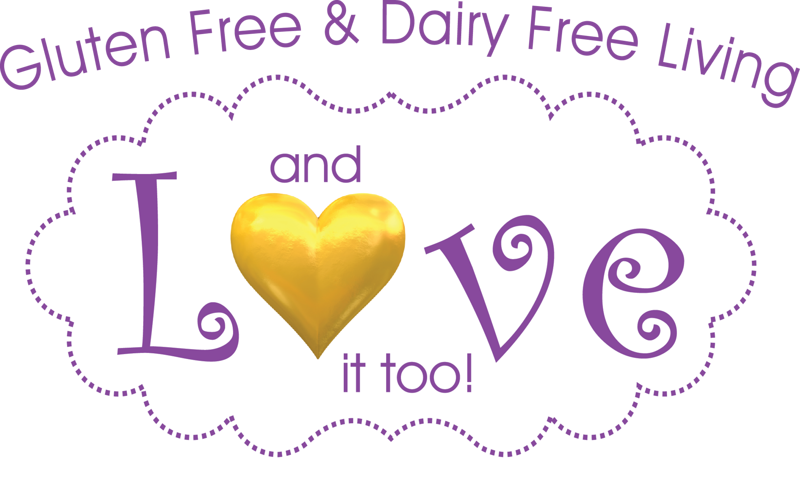 Did you notice my new logo?  Isn't it beautiful?  This logo is the result of the brilliant effort of an old friend from high school, Anessa Bigbee from Studio A Design.  🙂 Now that I am branded, I look forward to expanding my market in new and exciting ways (I promise to keep you in the loop as I grow!).  I strongly recommend Studio A Design for your graphic design and marketing needs…Anessa has a talent for turning your ideas into reality and is truly a pleasure to work with! 
I cannot tell you how excited I am to see this opportunity come to life, and how grateful I am that you have chosen to support my efforts along the way. Thanks everyone!  Have a great weekend.