When I started this website, I set out to show the world that no matter how challenging the food restriction, there is a way to still enjoy what you have to eat.
Heck, I don't want you to enjoy your food; I want you to love your food!
My second youngest daughter, at just 9 years old, has been through elimination diet after elimination diet; each one with the intent to hone in and determine allergic reactions to food.
In doing so we have eradicated eczema, helped her kidneys heal and improved her bowel function…mostly.
We're going to talk about poop for a moment so bear with me.
No matter what we have changed, my sweet little girl continued to have bowel issues.  Since infancy, her body seemed to have trouble signaling when she needed to poop.
Her chronic constipation has troubled her immune system, has led to a lifetime battle of UTI's and Kidney Infections and ultimately has caused her kidneys to be so riddled with scar tissue that specialists told us when she was just three years old that we must be cautious to ensure her kidneys receive no further damage…she has been hospitalized, scoped, prodded and pricked.
And still, she couldn't go poop.
Just a couple of weeks ago, I shared how it took the insight and instinct of a holistic practitioner to narrow in and determine what seems to truly be the root cause of her bowel issues.
While I won't go into too much more detail in this post, mainly because I have an amazingly mouthwatering and super easy recipe to share with you, I am dedicating next week to share what candida is, how we have determined that both my daughter and I have it and what we are doing to overcome the overgrowth of this yeast that is found within all of us.
There is one thing that is different about this elimination diet.
In order to keep Candida at bay, my daughter isn't simply eliminating one more ingredient from her diet…she is looking at a lifetime of managing sugar intake, avoiding yeast and fungal ingredients.
She will likely never be able to sit down and enjoy a whole watermelon on her own (come on, you know in the heat of summer downing an entire watermelon seems perfectly delicious)…and white sugar is out for good.
That is a lot for a 9 year old to digest.
Heck, that is a lot for me to digest!
And yet she is handling it like a trooper.
Probably because within three days of beginning the Paleolithic Approach to the Candida Elimination Protocol, her body started to tell her when to go poop!
And she hasn't had an issue since.
Now that is something to rejoice!
To help in this transition, ensuring she is getting the proper nutrition but keeping the Candida culprits at bay, we have come up with a few dessert-like treats that are aiding in her healing process but delicious enough to keep her happy as can be.
Despite the challenges, I want her to love what we are eating!
This simple dessert is her absolute favorite.
Heck, it's probably my favorite too.
With two candida-fighting ingredients…these bars are creamy, slightly sweet, filled with healthy fats, rich in magnesium, iron and fiber.
The best part? It only takes minutes to make!
The most difficult part is making…then not eating the coconut butter.
Using a high-speed blender, it takes about five minutes to turn coconut shreds into coconut butter.
No other ingredients, nothing else needed. A heck of a lot cheaper than purchasing it pre-made at the store.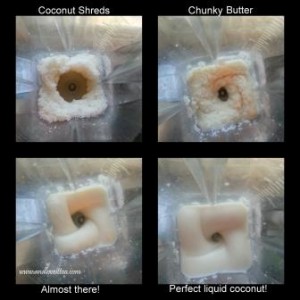 And yes, this is great on its own!
Whether you are following the Whole30, following the auto-immune protocol, doing a standard ACD looking to lose weight or just want something quick, easy and positively delicious…this dessert is for you!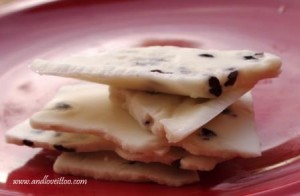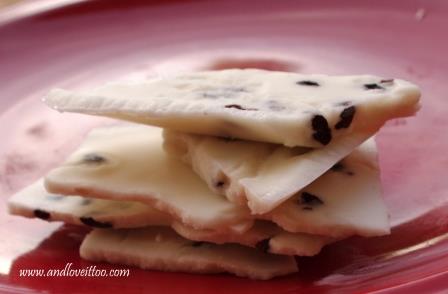 Coconut Butter Cacao Nib Bars (Candida-Fighting, Paleo, Vegan, Sugar-Free, GFCF, Whole30 and more!)
Ingredients
Instructions
Using a high-speed blender, blend down 2 cups of unsweetened coconut shreds by slowly increasing the speed from 1 to 5. Allow shreds to blend down until it reaches the 'chunky butter' stage. Add in remaining coconut shreds and continue to blend at 5 until shreds become liquid, tamper as needed.
Using a parchment-lined cookie sheet, pour a thin layer of coconut onto sheet and sprinkle cocoa nibs evenly over butter.
Refrigerate on cookie sheet for 20-30 minutes or until solid. Break into bars and keep refrigerated.
Serve cold.
Store any extra coconut butter in a glass jar and do your best to avoid eating it all at once!
Copyright And Love it, Too! May not be published or duplicated without written permission.
If you are interested in eliminating candida overgrowth using the same protocol we are, wishing to rest your system or simply jump start a better path to wellness, I will be opening an exclusive facebook group and hosting regular calls on treating candida and other ailments using this protocol as the basis. If you would like to be a part of this group and have complete access to meal calendars, exclusive recipes and more, please contact me with your name and e-mail address here.
Our first official group will begin August 1st. Because supplements and oils take time to process and ship, please contact me at your earliest convenience.
I look forward to hearing from you!