This is the third and final installment to this weekend's recipe bundle…I am really excited about this dish and must say, it is one of the better dishes I have made for my family since becoming gluten free.  The fact that this dish is completely vegan yet still rendered a "WOW!" from my meat eating, gluten loving, dairy filled husband speaks volumes to me. 
Years ago, long before I had babies to take care of, much less the five I have now, I used to enjoy the art of pasta making.  The challenge to create something so gourmet from so few ingredients thrilled me, and over the years I had grown quite skilled at making different types of pasta by hand. 
Then children came.  While creating fresh pasta is not difficult by any means, the thought of kneading and rolling the dough versus simply picking up a 99 cent packet of vermicelli from the store seemed a bit silly.  From this point I stopped challenging myself to make the pasta and instead perfected the flavors that went into the dish itself.  This challenge grew increasingly difficult when my daughter was diagnosed with her milk allergy, but tasty dishes still were certainly within reach.
Then I was diagnosed with Celiac.  Sigh.  At $3-$5 for a box half the size of a traditional 99 cent package, pasta dishes were no longer the economical solution for dinner. 
Fortunately, even in this little town where we live, there is an Asian food store nearby where I can purchase key items like rice flour for next to nothing.  While I favor high protein, high nutrition flours like almond and coconut flour for my everyday cooking, when it comes to pasta, rice flour is the easiest solution for a gluten free dish that tastes like the 'real' thing. 
The recipe below can be used for everything from linguini noodles to the ravioli I am going to share with you tonight.  Using flax seed in the mix adds great fiber and significant nutrition not usually available in rice flour alone.  
Whatever you choose to do with this recipe, have fun and truly enjoy!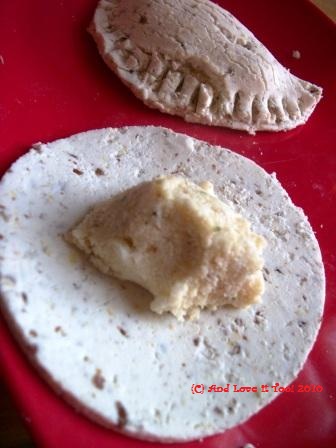 Cheeze Ravioli
1 batch Vegan Rice Pasta (recipe below)
1 c Seasoned Almond Ricotta Cheeze
1 c Daiya Mozzarella Cheese, shredded
1 jar Gluten Free, Dairy Free  Marinara Sauce
Parmesan Cheeze Sprinkles for garnish
Vegan Rice Pasta
3 ½ c Rice Flour
1 c Water
In large bowl, mix together Rice Flour and Flax Seed Egg Replacer.  Once well incorporated, slowly pour water about ¼ c at a time until dough is playable but not sticky.  Knead with flour covered hands for approximately 5 minutes and refrigerate in ball form for 20 minutes.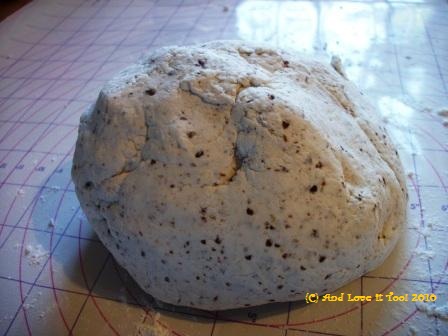 While waiting on pasta, mix together Almond Ricotta Cheeze and Daiya shreds.  Begin to boil water and just a pinch of salt in large stockpot.
Once pasta has cooled for the designated amount of time, proceed to roll dough on lightly floured pastry mat until dough is even and about 1/8 inch thickness. 
Using 3 inch cookie cutter, cut dough into small circles.  One by one, lightly moisten each circle around the edge immediately before filling with 1-2 tsp cheeze mix.  Fold circle in half and crimp lightly damp edges together using a fork as shown below.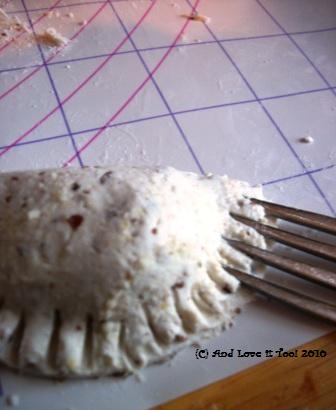 Once each ravioli has been filled and crimped properly, bring pasta to the boiling water placing just enough into the pot to line the bottom of the pan.  Pasta is cooked when it begins to float, approximately 5 minutes.  Using a slotted spoon, pull each ravioli out as they become ready, draining each thoroughly but not rinsing.  Continue to rotate until all ravioli have been cooked.
Serve with hot marinara sauce, parmesan cheeze sprinkles and a side salad.  Enjoy!
Makes 4-6 servings. 
Facebook followers: don't forget to share your favorite recipe from this site and encourage your friends to "Like" And Love it Too!  Once we hit the 100 follower's milestone, we will begin a monthly giveaway. Thank you again for all of your wonderful feedback. I appreciate your support and hope you have a wonderful week!