May is a very important month for our family.  A month dedicated to Celiac Awareness, I have found many reasons to share why it is I eat the way I do, and why I participate in the blogging community the way I do, this month. 
Unfortunately being the last month of school, as a teacher and parent, I have found it very difficult to find the time to sit and write for you, to sit and share my feelings about Celiac Disease and what it means to me. 
When I first revealed this dedicated domain, I shared my personal story and how my individual understanding of what Celiac Disease (CD) is has grown over time.  Had it not been for friends and family willing to share their own experience with CD, I would have not known to push harder when an elimination diet proved wheat to be a leading cause of several years' worth of illness and a more recently developed skin rash (which I later came to know as Dermatitis Herpetiformis (DH)). 
In fact, if it had been left to my healthcare provider, I should have been satisfied with being diagnosed with a wheat allergy and nothing more.
What is the big deal with having been diagnosed with Celiac Disease?  Why was it so important I know for certain that I didn't just have an allergy to wheat, you ask? 
First, one should understand that being wheat free is not equivalent to being gluten free.  Gluten is a protein found in wheat, barley and rye. 
There are many products that may prove to be wheat free, but contain ingredients such as barley malt flour, rye seed, or are processed on the same equipment with other gluten containing grains.  These products are not gluten-free.  For someone with CD, knowing the difference can literally be a matter of life or death. 
The Mayo Clinic identifies a wheat allergy as an abnormal immune system reaction to one or more proteins found in wheat…the site goes on to say that wheat allergy is different from a disorder known as celiac disease, an immune system reaction that causes inflammation in the small intestines when a person eats any food containing gluten, one type of protein found in wheat. 
Under Celiac Disease, The Mayo Clinic additionally states that celiac disease can cause abdominal pain and diarrhea.  Eventually, the decreased absorption of nutrients (malabsorption) that occurs with celiac disease can cause vitamin deficiencies that deprive your brain, peripheral nervous system, bones, liver and other vital nourishment…
An allergy to wheat is best managed through diet and medication, which can help when one is accidentally exposed to wheat containing products. 
At this time, there is no medication that will cure someone suffering from celiac, or that will help repair their intestine. The only way to effectively manage celiac disease is through a dedicated gluten-free lifestyle. 
Can you see why it was vital for me to know exactly what I have?  There is a significant difference between an allergy to wheat and celiac disease.
But celiac disease is extremely rare, right?
Not exactly.
As it stands, if you have no immediate relatives who have been diagnosed with celiac disease, there is a 1 in 133 chance that you will be diagnosed with celiac disease.  This number increases to a 1 in 22 chance if you do have an immediate relative who is diagnosed with celiac. 
Currently, the number of Americans with celiac disease far exceeds those who suffer from Autism, Crohn's Disease, Epilepsy, Unexplained Infertility, Lupus or any other number of syndromes.
Extending beyond celiac disease, it is interesting and extremely important to note that approximately 18 million Americans suffer from some form of gluten sensitivity. 
With this information readily available, one must wonder why the Food Allergen Labeling and Consumer Protection Act of 2004 did not identify gluten as one of the 8 ingredients required to be clearly identified per US FDA Labeling Provisions. 
The celiac community has been extremely busy this month, doing all they can to raise awareness. 
On May 4th, the first Gluten Free Labeling Summit was held in Washington, D.C. where the world's largest gluten-free cake was built.  Symbolizing the need for clear, accurate and reliable gluten-free labeling standards, and the big deal these standards symbolize in the lives of the millions of people who depend on accurate labeling for their health.  Please see 1in133.org for more information.
The Amazing Diane Eblin has been busy hosting a month-long event titled: 30 Days to Easy Gluten-Free Living.  With 30 different ways that prove how gluten free living is easy, fun and extremely tasty, this event is surely something you must visit! 
Other great events happen every week including: Slightly Indulgent Tuesdays, hosted by Amy Green of Simply Sugar and Gluten-Free; Allergy Friendly Fridays, hosted by Cybele Pascal of Allergen-Free Cuisine; Seasonal Sunday's, hosted by Brittany at Real Sustenance.
Monthly events raise awareness all throughout the year, including: Go Ahead Honey, It's Gluten Free!, an event created by Naomi Devlin of Straight Into Bed Cakefree and Dried; and Sweet or Savory which is hosted by Ricki Heller of Diet, Dessert and Dogs, as well as, Kim from Affairs of Living.
Finally, let's not forget my own bi-weekly event: Ingredient Challenge Monday, which I am proud to host along with Shea Goldstein of Dixie Chik Cooks. Focused on using whole foods that will increase the overall nutrition of our home and yours, feel free to join our challenge every-other week!  Be sure to check back often to see what surprises we have in store for you. xo
Tonight's recipe brings me to another very important event that happens in the month of May: Memorial Day. 
Traditionally observed in the United States on the last Monday of May, Memorial Day generally marks the beginning of Summer and is a day we gather together to enjoy food, friends and family. 
Let us not forget why we take time to celebrate this very special day.  Memorial Day, which was originally called Decoration Day, was proclaimed back in 1868 as a day set aside to observe and give thanks to those who have died in our nation's service.
As the wife of a United States Army Veteran, I can attest to the importance of giving thanks to the great men and women who have sacrificed everything for our sake. 
Please, in whatever celebration you hold this beautiful weekend, do take time to remember those who have died in service to protect the freedoms and liberties of this great nation. 
Inspired by this month's Sweet or Savory Challenge, I was thrilled to add carob to my personal repertoire. 
I must admit, prior to this, I had never worked with carob directly.  In fact, my only recollection of ever having tasted carob came through those little 'imitation chocolate' chips often featured at cheap corner ice cream shops.  Even so, I was pleasantly surprised at how easy roasted carob powder was to work with and at how remarkably chocolate-like this ingredient is. 
As devastating as it would seem for this self-proclaimed chocolate addict to be diagnosed with a chocolate allergy, I might just be able to survive so long as I have a ready supply of this tasty ingredient on-hand. 
Because there is no baking required to make this delightful cashew cheesecake, this dessert is truly the perfect treat to share at your beginning of summer event.
Wherever you choose to share this dessert, may you find many reasons to celebrate!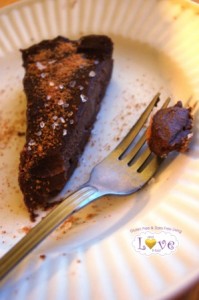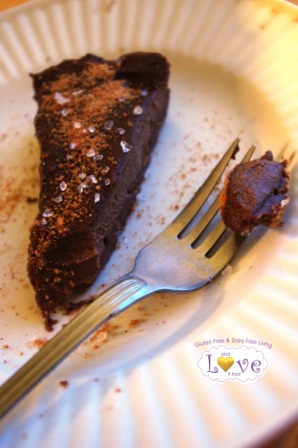 Salted Cayenne Roasted Carob Cheesecake (Gluten-Free, Casein-Free, Grain-Free, Vegan)
Crust:
1 ½ c Blanched Almond Flour
2 Tbs Roasted Carob Powder
½ tsp Ground Cinnamon
¼ c Coconut Oil, melted over low heat
Filling:
3 c Raw Cashews, soaked for at least 3 hours
¼ c Agave Nectar
2 Tbs Vanilla Extract
Topping (Optional):
1 Tbs Coarse Sea Salt
2 Tbs Palm Sugar
½ tsp Cayenne Pepper (more or less to taste)
For the crust, first mix together the almond flour, carob powder and ground cinnamon.  Slowly add melted coconut oil until the mixture is dryer than cookie dough, wetter than cookie crumbs.  Press mix into the base of a 9-inch pie or spring form pan, leaving just enough crust to cover half way up the sides. 
Prepare filling in a high-speed blender, adding all ingredients at once.  Tamper down the mix until the mix resembles cream cheese.  Be careful not to go too far, lest you end up with a carob cashew butter; which would be wonderfully tasty but not solid enough for a cheesecake.
Using a spatula, slowly pour filling over prepared crust and smooth down to ensure and even fill.  Allow to chill 20-30 minutes. 
Now at this point, you will have a beautifully chocolatey cheesecake that is ready to devour.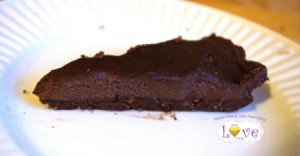 While this is a really great dessert in and of itself, the salty-sweet and spicy topping truly brings this dish to the next level. 
For the topping, simply mix together the coarse sea salt, palm sugar and cayenne pepper. ½ tsp cayenne was just enough for my guests to notice there was a little spice…feel free to add more or less, depending on your preference. Sprinkle as little or as much as you please on each individual slice, immediately before serving.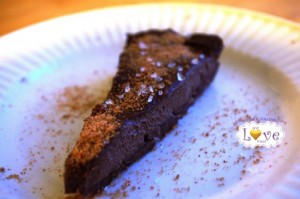 Now with this decadent topping in place, you have a dessert truly worthy of a holiday weekend.
Makes 1-9 inch pie.